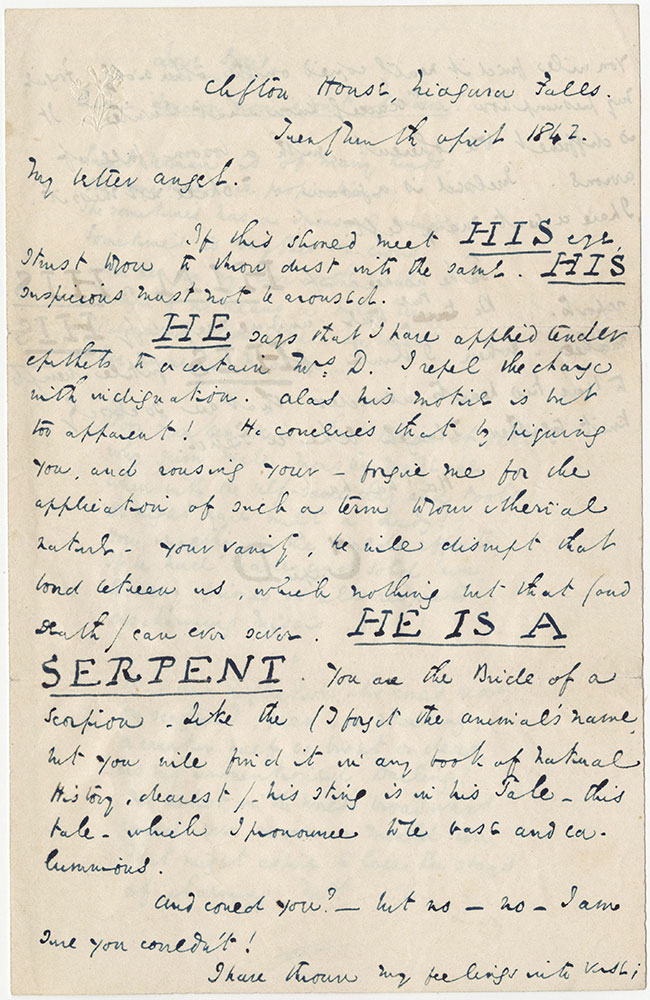 Item Info
Item No: cdc197001
Title: ALs to Mrs. Frances Wilkes Colden
Accession Number:
79-1166
Physical Description:
[3] pages
Transcription:
Clifton House, Niagara Falls.
Twenty Ninth April 1842.
My better Angel.
If this should meet HIS eye, I trust to you to throw dust into the same. HIS suspicions must not be aroused.
HE says that I have applied tender epithets to a certain Mrs. D. I repel the charge with indignation. Alas his motive is but too apparent! He conceives that by piquing you, and rousing your - forgive me for the application of such a term to your ethereal nature - your vanity, he will disrupt that bond between us, which is nothing but that (and Death) can ever sever. HE IS A SERPENT. You are the Bride of a Scorpion - Like the (I forget the animal's name but you will find it in any book of Natural History, dearest) - his sting is in his Tale - this tale - which I pronounce to be base and calumnious.
And could you? - but no - no - I am sure you couldn't!
I have thrown my feelings into verse; you will find it neatly copied on the other side. Forgive my presumption. I scarely know what I write. It is difficult to be coherent, with a bosom full of arrows. Inclosed is a groan. I shall not miss it. I have a great many left.
Take no heed of HIM or HIS reports. Be true to me, and we may defy HIS malice. - When I think of HIS futile attempts to tear two hearts asunder that are so closely knit together, I laugh like a Fiend.
Ha! ha! ha!
CupiD
LOVE SONG

Air - "London now is out of Town."

Sweet Woman is of many kinds;
She sometimes is propi-tious;
She sometimes has a Thousand minds;
Sometimes is rayther wi-cious.
Above her sex, my love doth shine,
Though by no means a bold 'un,
"I'd crowns resign, to call her mine"
- Her name is Missis ......
=
-Poor Frankenstein, that Prince of fools
Why grim male monster made he,
When with the self-same clay and tools
He might have build a Lady!
How wealthy in the Worlds effects,
If he had made and sold 'un,
So wery prime in all respects
As charming Missis ......!
=
But vain reflection! who could rear,
On scaffold, pier or starling,
A creetur half so bright or dear,
As my unmentioned Darling!
No artist in the World's broad ways
Could ever carve or mould 'un,
That might aspire to lace the stays
O charming Mrs......
==
MssDate:
Twenty Ninth April 1842
Media Type:
Letters
Source:
Rare Book Department
Recipient:
Colden, Frances Wilkes, b.1796?
Provenance:
Sotheby 14 Mar 79 through MacManus, EANX Christmas Card Fund SSXX Gratz HXX Benoliel N
Bibliography:
The Letters of Charles Dickens, Pilgrim Edition, Volume Three, 1842-1843, p. 219.
Country:
Creation Place Note:Clifton House
Country:Canada
City/Town/Township:Niagara Falls, Ontario
Call Number:
DL C673f 1842-04-29
Creator Name:
Dickens, Charles, 1812-1870 - Author
View other associated items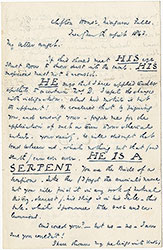 ALs to Mrs. Frances Wilkes Colden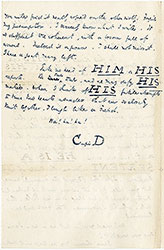 ALs to Mrs. Frances Wilkes Colden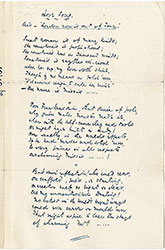 ALs to Mrs. Frances Wilkes Colden
Previous
Previous