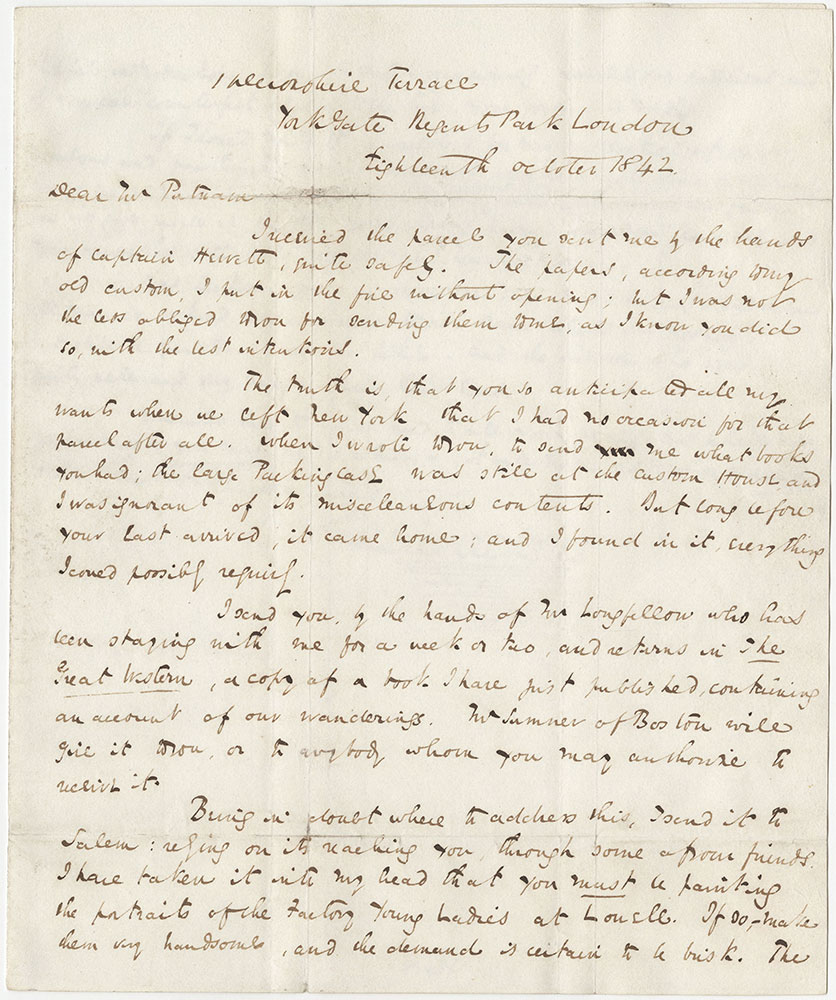 Item Info
Item No: cdc320701
Title: ALs to George W. Putnam
Accession Number:
87-634
Physical Description:
[2] pages
Transcription:
1 Devonshire Terrace I York Gate Regents Park London
Eighteenth October 1842
Dear Mr. Putnam
I received the parcel you sent me by the hands of Captain Hewett, quite safely. The papers, according to my old custom, I put in the fire without opening; but I was not the less obliged to you for sending them to me, as I know you did so, with the best intentions.
The truth is, that you so anticipated all my wants when we left New York, that I had no occassion for that parcel after all. When I wrote to you, to send me what books you had; the large Packing Case was still at the Custom House, and I was ignorant of its miscellaneous contents. But long before your last arrived, it came home; and I found in it, everything I could possibly require.
I send you, by the hands of Mr. Longfellow who has been staying with me for a week or two, and returns in The Great Western, a copy of a book I have just published, containing an account of our wanderings. Mr. Summer of Boston will give it to you, or to anybody whom you may authorize to receive it.
Being in doubt where to address this, I send it to Salem; relying on its reaching you, through some of your friends. I have taken it into my head that you must be painting the portraits of the Factory Young Ladies at Lowell. If so, -- make them very handsome, and the demand is certain to be brisk. The skilful introduction of a gold-watch occassionally, would be very judicious; and if you can counterfeit satin to the life, your fortune is made.
If I could make it, I would: for my recollection of your zealous and faithful services does not weaken with time or distance. Being no wizard however, [and] having no aunt or grandmother who is a fairy (as the good people in the story books always have) I can only send you, across the Atlantic, my best and heartiest wishes.
Mrs. Dickens joins in them, she says, most sincerly: and desires all manner of kind remembrances to you. Anne (who is very blooming, but still a spinster) does the like. And the children, who are quite well and very happy, send their loves.
Remember me to Julia, and to all your family. And believe me, however much you may see me abused (it will not be seldom or sparingly) still Faithfully
Your friend
Charles Dickens
Mr. George. W. Putnam.
MssDate:
Eighteenth October 1842
Media Type:
Letters
Source:
Rare Book Department
Notes:
Sent by Mail Steamer to George. W. Putnam, Salem, Massachusetts
Recipient:
Putnam, George Washington, 1812-1896.
Provenance:
Sawyer 1960, Gratz
Bibliography:
The Letters of Charles Dickens, Pilgrim Edition, Volume Three, 1842-1843, p. 350.
Country:
Creation Place Note:Devonshire Terrace
Country:England
City/Town/Township:London
Call Number:
DL P983 1842-10-18
Creator Name:
Dickens, Charles, 1812-1870 - Author
View other associated items