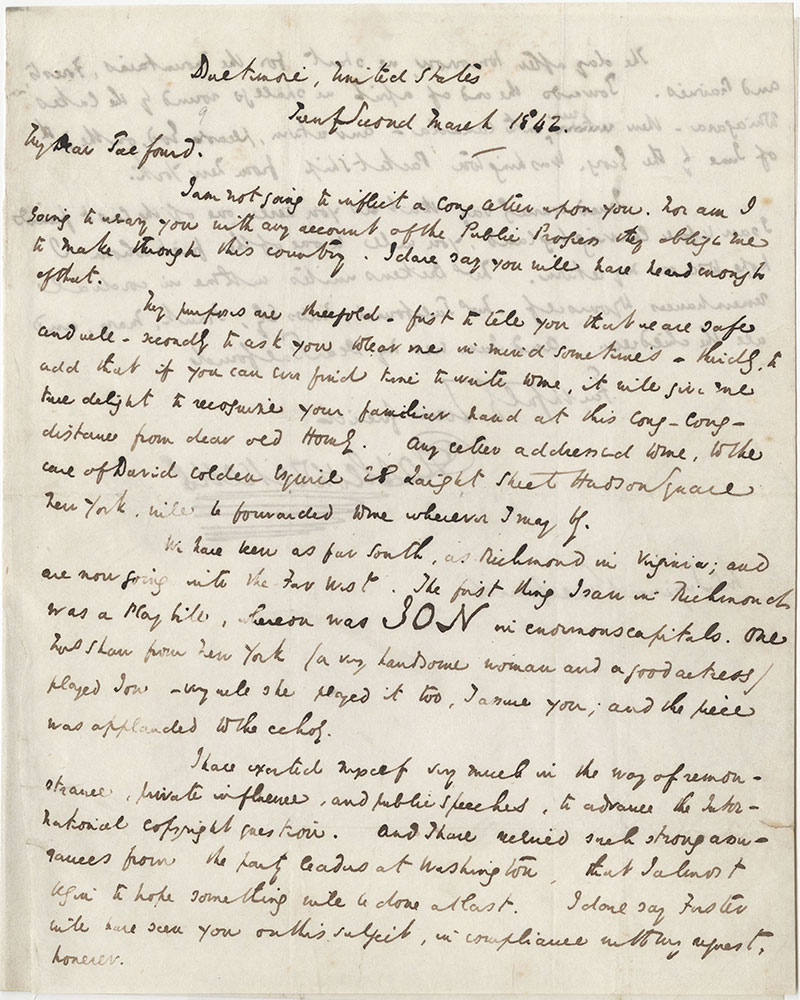 Item Info
Item No: cdc402001
Title: ALs to Thomas Noon Talfourd
Accession Number:
87-1674
Physical Description:
[3] pages
Transcription:
Baltimore, United States I Twenty Second March 1842.
My Dear Talfourd.
I am not going to inflict a long letter upon you. Nor am I going to weary you with any account of the Public Progress they oblige me to make through this country. I dare say you will have heard enough of that.
My purposes are threefold-first to tell you that we are safe and well-secondly to ask you to bear me in mind sometimes-thirdly, to add that if you can ever find time to write to me, it will give me true delight to recognize your familiar hand at this long-long-distance from dear old Home. Any letter addressed to me, to the care of David Colden Esquire at 28 Laight Street Hudson Square New York, will be forwarded to me wherever I may be.
We have been as far South, as Richmond in Virginia; and are now going into the Far West. The first thing I saw in Richmond was a Play bill, whereon was ION in enormous capitals. One Mrs. Shaw from New York (a very handsome woman and a good actress) played Ion-very well she played it too, I assure you; and the piece was applauded to the echoe.
I have exerted myself very much in the way of remonstrance, private influence, and public speeches, to advance the International Copyright question. And I have received such strong assurances from the party leaders at Washington, that I almost begin to hope something will be done at last. I dare say Forster will have seen you on this subject, in compliance with my request, however.
The day after tomorrow, we start for the Mountains, Forests, and Prairies. Towards the end of April we shall go round by the lakes to Niagara-then run into Canada-and return, please God, on the 7th. of June by the George Washington Packet Ship from New York.
I need scarecly say that as you were one of the last friends I saw before leaving England, you will be the first whom I hope to see on my return. Mrs. Dickens unites with me in cordial remembrances to yourself, Mrs. Talfourd, Miss Ely, Frank, Mary, and all the children. And I am ever My Dear Talfourd
Faithfully I Your Friend
Charles Dickens
Mr. Serjeant Talfourd.
MssDate:
Twenty Second March 1842
Media Type:
Letters
Source:
Rare Book Department
Notes:
Removed from album, Spring 1989.
Recipient:
Talfourd, T. N., 1795-1854
Provenance:
Hamill & Barker 5/55, Matlack CNX (album of 30 letters)
Bibliography:
The Letters of Charles Dickens, Pilgrim Edition, Volume Three, 1842-1843, p. 163 .
Country:
Country:United States
City/Town/Township:Baltimore, Maryland
Call Number:
DL T143 1842-03-22
Creator Name:
Dickens, Charles, 1812-1870 - Author
View other associated items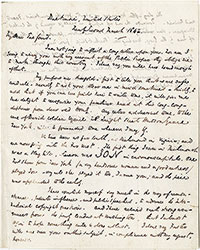 ALs to Thomas Noon Talfourd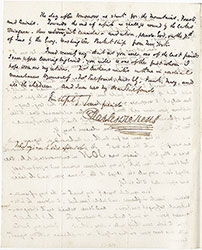 ALs to Thomas Noon Talfourd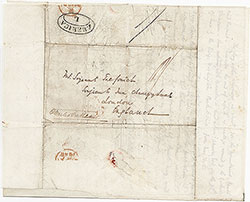 ALs to Thomas Noon Talfourd
Previous
Previous