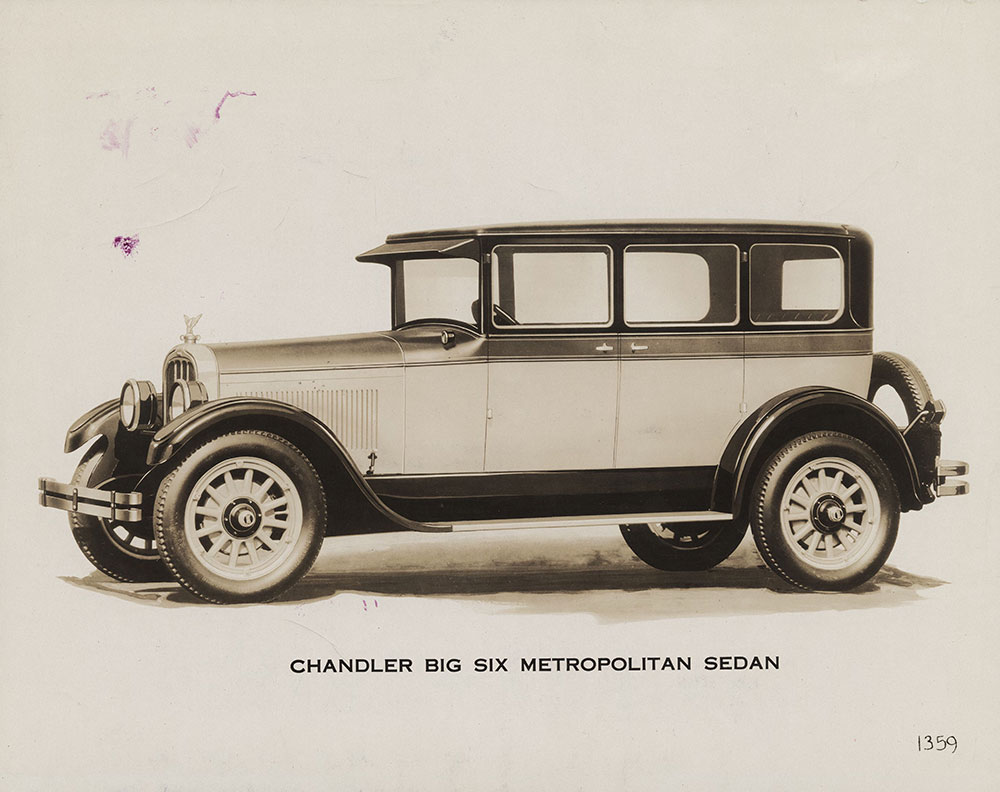 Item Info
Item No: arcd01567
Title: Chandler Announces New 5-Passenger Sedan
Media Type:
Photographic Prints
Source:
Automobile Reference Collection
Notes:
Big Six Metropolitan Sedan Deluxe Added to 1927 Line
Body Refinements- Overstuffed Mohair Upholstery- Striking Duotone LAcquer finish and complete appointments new model.
A peek at what the New York Show holds in store for motor fans was revealed in the announcement of the new luxurious 50pass. Sedan by the Chandler- Cleveland Motors Corporation. This latest Chandler, twentieth in the 1927 line and the eighth on the Big Six chassis, is powere dby Chandler's famed Pikes Peak motor, and will be known as the Big Six Metropolitan Sedan De Luxe.
Finished in a striking Duotone lacquer combination of ARdsley green and Apple green, with a neatly striped black bead and wheels of Apple green, the new Metropolitan De Luxe is easily the aristocrat of the 1927 line.
A quick glance shows its gracefully rounded, one piece extended roof and sun visor; the full nickel head and cowl lights; its slender steel corner posts and rigid clear-vision body which allows the utmost visibility; and the intimate duotone effect gained by edging the window ledges with Apple green, contrasting body color.
Creation Year:
1927
Subjects
Tools
For a high-resolution copy of this image contact the AACA Library.