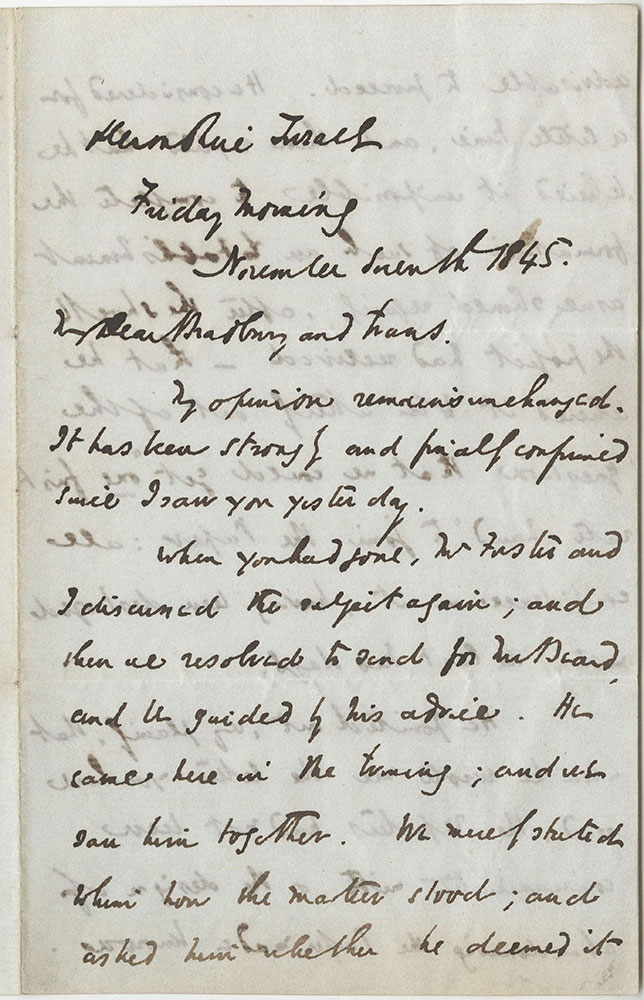 Item Info
Item No: cdc264001
Title: ALs to Bradbury and Evans
Accession Number:
87-1167
Physical Description:
[7] pages
Material:
paper
Transcription:
Devonshire Terrace
Friday Morning
November Seventh 1845.
My Dear Bradbury and Evans.
My opinion remains unchanged. It has been strongly and finally confirmed since I saw you yesterday.
When you had gone, Mr. Forster and I discussed the subject again; and then we resolved to send for Mr. Beard, and be guided by his advice. He came here in the Evening; and we saw him together. We merely stated to him how the matter stood; and asked him whether he deemed it advisable to proceed. He considered for a little time, and then replied that he believed it impossible to complete the formation of such an Establishment as we should require, after the shock the project had received – that he believed it to be utterly out of the question that we could get "one first-rate hand" to join the Paper: all confidence in it, having been destroyed within the last two days.
He pointed out, very plainly, that when he wrote me the letter you have read, the Reporters had not been communicated with, or the design of abandoning the Paper made known. Since that time he has seen, he thinks, all the gentlemen engaged, whom you have seen. He said that even in the first bitterness of their disappointment, they uttered no word to your disparagement or mine (even spoke of your honorable and candid manner to them in high terms) but intimated in so many words that there were evidently other parties in the background who had had the power of overthrowing a scheme full of promise, at a moment's notice: and that they never could feel themselves secure from a repetition of that proceeding. Some of them have already, with the view of releasing you, written to Easthope proposing to return. Others have made application to the Herald; others to the Times. In the little newspaper World our project is understood to have gone by the Board; and to make head against that impression, he considers hopeless.
Remember how strongly I urged this same consideration to you to day; and how I laboured to shew you that you were hardly Judges of its real force.
Mr. Beard spoke, very cheerfully and confidently, of your means of arranging these engagements, as some of the gentlemen fall (as he has no doubt they will) into new situations. He had believed them to be more numerous; and he knew, he said, that your exhibition of a liberal and manly spirit in the matter, had already met, and would meet, with the most sensitive and quick response. He stated the probable loss of a very small sum, compared with its apparent extent; and had no doubt of your ability to retire at no enormous sacrifice, and leave the pleasantest impression on the minds of these gentlemen. But everything brought him back to this – that to go on was desperate.
He said all this, in spite of a strong belief that the Paper had, before these circumstances, a great course open to it. Which he coupled with the certain knowledge that it had filled the Times people with dismay, and had been the cause of all sorts of councils and discussions in Printing-House Square.
My Dear Bradbury and Evans, in a truly earnest and affectionate Spirit, I assure you from my heart that I esteem and honor you the more, for what I have known of you since these occurrences. I hope and believe that a long course of mutual confidence and friendship, and mutual usefulness, is open to us. And I am lighter in my mind for you – who have occupied my thoughts in all this matter, quite as much as any personal considerations – when I turn my face upon this blighted scheme, as I do now, for the last time; and look to brighter plans in which we are to work together.
Ever Faithfully Yours
Charles Dickens
Messrs. Bradbury and Evans.
MssDate:
Friday Morning November Seventh 1845
Media Type:
Letters
Source:
Rare Book Department
Recipient:
Bradbury & Evans
Provenance:
Purchased through Quaritch at Sotheby's London, 12/18/86, lot 57, Benoliel Fund.
Bibliography:
Volume 4, pp. 430-431, The Letters of Charles Dickens, edited by Madeline House & Graham Storey ; associate editors, W.J. Carlton … [et al.].
Country:
Country:England
City/Town/Township:London
Creation Place Note:Devonshire Terrace
Call Number:
DL B726 1845-11-07
Creator Name:
Dickens, Charles, 1812-1870 - Author
View other associated items