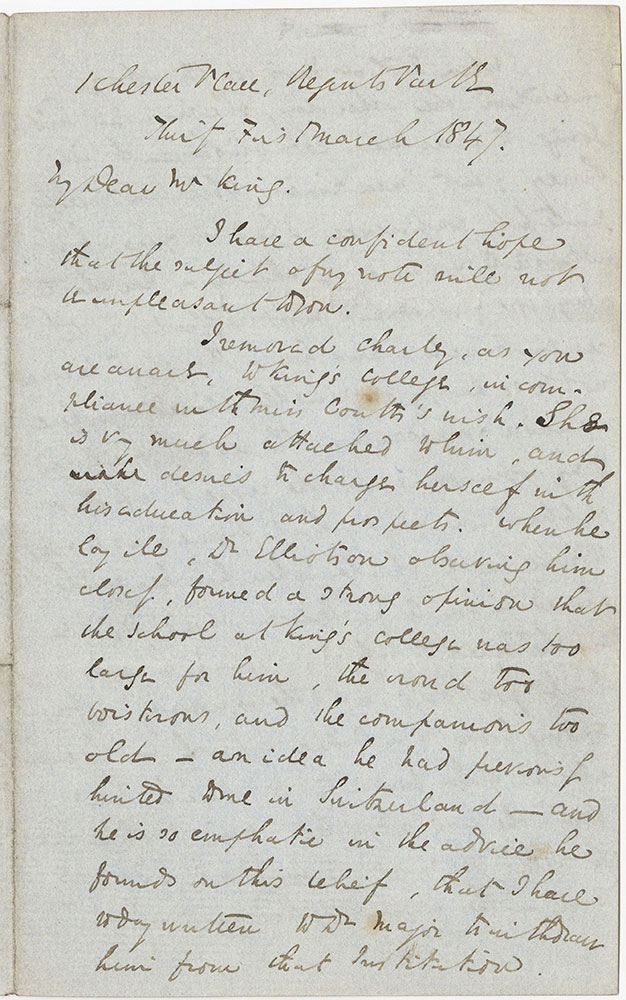 Item Info
Item No: cdc303301
Title: ALs to Joseph C. King
Accession Number:
87-404
Physical Description:
[3] pages
Material:
paper
Transcription:
1 Chester Place, Regents Park
Thirty First March 1847.
My Dear Mr. King.
I have a confident hope that the subject of my note will not be unpleasant to you.
I removed Charley, as you are aware, to King's College, in compliance with Miss Coutts's wish. She is very much attached to him and desires to charge herself with his education and prospects. When he lay ill, Dr Elliotson observing him closely, formed a strong opinion that the school at King's College was too large for him, the crowd too boisterous, and the companions too old—an idea he had previously hinted to me in Switzerland—and he is so emphatic in the advice he founds on this belief, that I have today written to Dr Major to withdraw him from that Institution.
When I told Miss Coutts of my intention the other day, she proposed his going to a certain establishment in Surrey: but I mentioned to her how much grateful confidence I had in you—how interested you were in Charley—how Charley always bore you in his most affectionate remembrances—and how I thought he could not be so happy or so well placed anywhere, as under your care. She readily yielded to my opinion; and the result of our deliberation was, that I would ask you to take back Charley when his health should be quite restored, and to give us the benefit of your counsel as time goes on, as to the expediency of sending him to a Public School, in the end; also as to the pursuit for which he seems the best adapted, and to which he seems the most to incline. If we can, in the course of his mental and physical development, find this out, Miss Coutts is very anxious to look about her, and prepare his way.
I write to you in entire confidence and without the least reserve. Such a friend as this lady, is most important to the child of course; and I should hardly feel justified in placing him under your charge, without telling you his exact position.
I think it will be better after a time— if you think so too—that he should be a weekly boarder at your house. But we will talk this over, before he comes. All I am anxious to do now, is to express my hope that you will like to have him, and to say that I am very sure he cannot have a better friend and tutor.
My Dear Sir
Faithfully Yours always
Charles Dickens
Joseph C. King Esquire
MssDate:
Thirty First March 1847
Media Type:
Letters
Source:
Rare Book Department
Notes:
At aged ten, Charley Dickens had entered the Junior Department at King's College, Cambridge. Charles Dickens was forced to withdraw his son from King's College because Charley fell ill. Charley went on to Eton College and eventually studied business in Germany.
Recipient:
King, Joseph Charles, ?1794-1854
Provenance:
Sessler, 1/1958, Matlack Fund.
Bibliography:
Volume 5, p. 48, The Letters of Charles Dickens, edited by Madeline House & Graham Storey; associate editors, W.J. Carlton…[et al.]
Country:
Creation Place Note:1 Chester Place, Regents Park
Country:England
City/Town/Township:[London]
Call Number:
DL K583 1847-03-31
Creator Name:
Dickens, Charles, 1812-1870 - Author
View other associated items