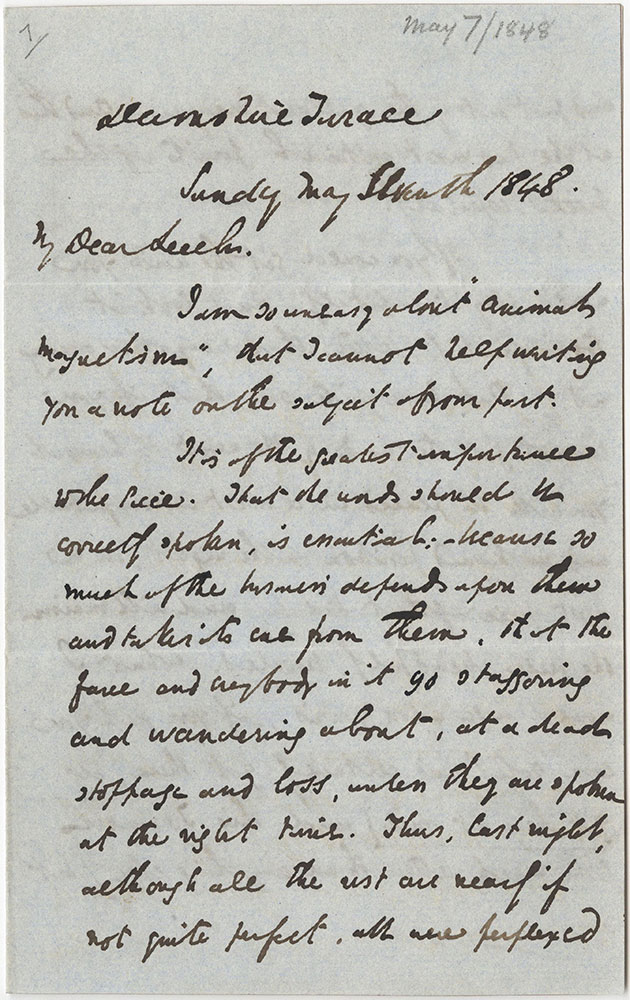 Item Info
Item No: cdc393301
Title: ALs to John Leech
Accession Number:
87-1536
Physical Description:
[4] pages + envelope
Transcription:
Devonshire Terrace
Sunday May Seventh 1848.
My Dear Leech.
I am so uneasy about "Animal Magnetism," that I cannot help writing you a note on the subject of your part.
It is of the greatest importance to the Piece. That the words should be correctly spoken, is essential:--because so much of the business depends upon them and takes its cue from them, that the farce and everybody in it go staggering and wandering about, at a dead stoppage and loss, unless they are spoken at the right time. Thus, last night, although all the rest are nearly if not quite perfect, all were perplexed and put out by the gallant Marquis. And this is at the two most critical points of the pieces, especially.
If you could get the words you would play it capitally, and look it too infinitely better than any other among us. But, I am quite sure that if you cannot get the words by the next Rehearsal, you will be placed in a most uncomfortable and awkward position on the night, in a fast piece of that kind, and will maim the piece dreadfully, besides. What I would urge upon you is,--if you feel you can safely and certainly get them, do get them at once (and this I should like much better than anything else) but if you have a doubt about it, or feel that you cannot get them, will it not be better to try and get someone else into the part, before it is too late? At a week's notice there would be little difficulty in filling it; but to let the time run out, without being perfect yourself or enabling us to become so either, would not only be injurious to the play but most mortifying to you, I am certain. Believe me, if you are not in a condition to rehearse such a character perfectly, at least three times, it is sure to be distressing on the night of performance. The rapidity of the farce, the interruptions of the audience, and the exaggeration of the whole thing are enough to drive words out of any head that does not hold entire command of them; and such a situation is very ridiculous.
Do think of this, and tell me when we meet tomorrow what you feel safest and surest in deciding on.
Always Faithfully Yours
Charles Dickens
John Leech Esquire.
P.S. I am not sure whether you have a Pass for the Haymarket Stage-Door. I enclose you one.
MssDate:
Sunday May Seventh 1848
Media Type:
Letters
Source:
Rare Book Department
Notes:
Leech played the role of Marquis de Lancy on May15. The Morning Herald (16 May) described him and Cruikshank as the "drollest of adjuncts" to Dickens and Lemon.
The Marquis role is significant in Acts II and III. In the last Act the Marquis pretends to be dead. The role was played my Macready's father in the first production, Covent Garden, Apr 1788.
Recipient:
Leech, John, 1817-1864
Provenance:
Benoliel, Mrs. D. Jacques 12/6/54
Bibliography:
The Letters of Charles Dickens, Volume Five: 1847-1849, ed. Graham Storey and K. J. Fielding. Oxford: Clarendon Press, 1981, p. 300.
Country:
Creation Place Note:Devonshire Terrace
Country:England
City/Town/Township:London
Creation Year:
1848
Call Number:
DL L516j 1848-05-07
Creator Name:
Dickens, Charles, 1812-1870 - Author
View other associated items