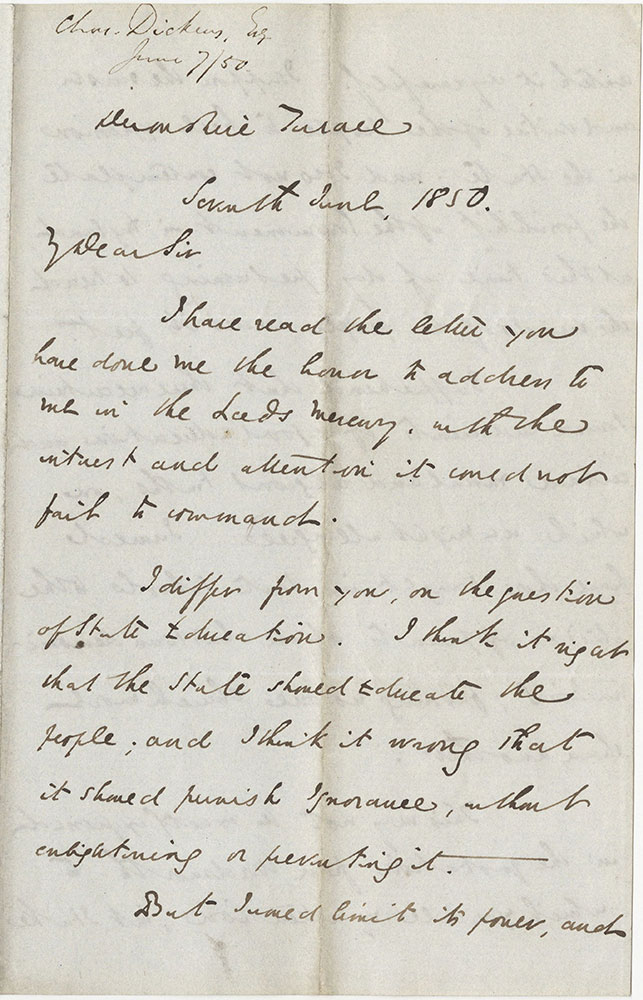 Item Info
Item No: cdc272601
Title: ALs to Sir Edward Baines
Accession Number:
87-107
Physical Description:
[4] pages
Transcription:
Devonshire Terrace I Seventh June, 1850.
My Dear Sir
I have read the letter you have done me the honor to address to me in the Leeds Mercury, with the interest and attention it could not fail to command.
I differ from you, on the question of Capital State Education. I think it right that the State should educate the people; and I think it wrong that it should punish Ignorance, without enlightening or preventing it.
But I would limit its power, and watch it very carefully. I suppose the sense and virtue of the people to have expression in the State; and I do not contemplate the possiblility of the Government in England, at this time of day, presuming to tread the minds of the people under its feet.
I apprehend that there are certain sound rudiments of a good education, and certain moral and religious truths, on which we might all agree. I would have those taught in State Schools, to the children of parents of all Christian denominations; favoring no one Church more than another.
This may not be exactly expressed in the quotation from Wordsworth to which you call my attention, but I take it to be in accordance with the general spirit of the passage. I am not the writer of the paper, nor have I ever had the least sympathy with the political views of the Late Poet.
In all my hopes and convictions as to the Education by the State, I look forward -- not backward. What Governments have done to pervert good things, Governments (at all events in England) can do no more.
We are both earnest, I am sure, in the cause of education, and of general advancement. We can agree to differ, and to pursue our great object by different roads. But you must not carry me thousands of leagues on mine without my own consent, or suppose that I would not set impassable barriers to the Government's power.
With much respect and all good will
I am My Dear Sir/ Very faithfully Yours
Edward Baines Esquire Charles Dickens
MssDate:
Seventh June, 1850
Media Type:
Letters
Source:
Rare Book Department
Notes:
Letter in response to an article in the Leeds Mercury, "Wordsworth, Dickens, and National Education", 1 June, 1850.
Notes:
Record created by HM/BZ
Recipient:
Baines, Edward, 1800-1890
Provenance:
Sawyer, 1964, Gratz Fund.
Bibliography:
The Letters of Charles Dickens, Pilgrim Edition, Volume Six, 1850-1852, p. 111.
Country:
Creation Place Note:Devonshire Terrace
Country:England
City/Town/Township:London
Call Number:
DL B161 1850-06-07
Creator Name:
Dickens, Charles, 1812-1870 - Author
View other associated items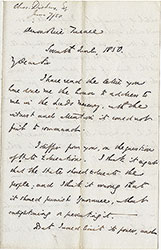 ALs to Sir Edward Baines
Previous
Previous