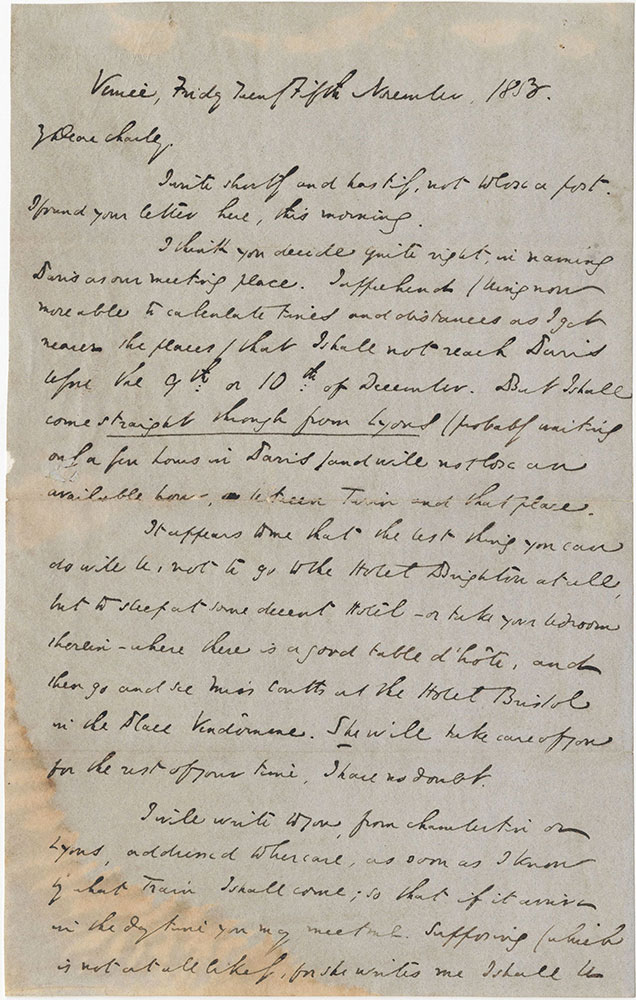 Item Info
Item No: cdc202001
Title: ALs to Charles Dickens JR.
Accession Number:
84-1359
Physical Description:
[2] pages + envelope
Transcription:
Venice, Friday Twenty Fifth November, 1853
My Dear Charley.
I write shortly and hastily, not to lose a post. I found your letter here, this morning.
I think you decide quite right, in naming Paris as our meeting place. I apprehend (being now more able to calculate times and distances as I get nearer the places) that I shall reach Paris before the 9th. or 10th. of December. But I shall come straight through from Lyons ( probably waiting only a few hours in Paris) and will not lose an available hour, between Turin and that place.
It appears to me that the best thing you can do will be, not to go to the Hotel Brighton at all, but to sleep at some decent Hotel--or take your bedroom therein--where there is a good table d'hôte, and then go and see Miss Coutts at the Hotel Bristol in the Place Vendôme . She will take care of you for the rest of your time, I have no doubt.
I will write to you, from Chambertin or Lyons, addressed to her care as soon as I know by what Train I shall come; so that if it arrives in the daytime you may meet me. Supposing (which is not at all likely; for she write me I shall be sure to find her there) Miss Coutts should have left Paris, explain about your letter to the Manager of the Hotel Bristol, and you will be sure to get it and to meet with all help and attention. If--observe this--if I don't find you at the Railway Terminus on my arrival, I will drive to the Hotel Bristol and ask where you are to be found.
I have not seen a paper for ages, and know none of the news you tell me about. Frank and Alfred will come home on the 23rd. We shall be too soon for them.
Ever Most affecy
Charles DIckens
MssDate:
Friday Twenty Fifth November, 1853
Media Type:
Letters
Source:
Rare Book Department
Notes:
Envelope with seal.
Record created by BZ.
Recipient:
Dickens, Charles Culliford Boz, 1836-1896
Provenance:
Goodspeed May 76, Benoliel Fund.
Bibliography:
The Letters of Charles Dickens, Pilgrim Edition, Volume Seven, pages 208-209.
Country:
Country:Italy
City/Town/Township:Venice
Call Number:
DL D555c3 1853-11-25
Creator Name:
Dickens, Charles, 1812-1870
View other associated items