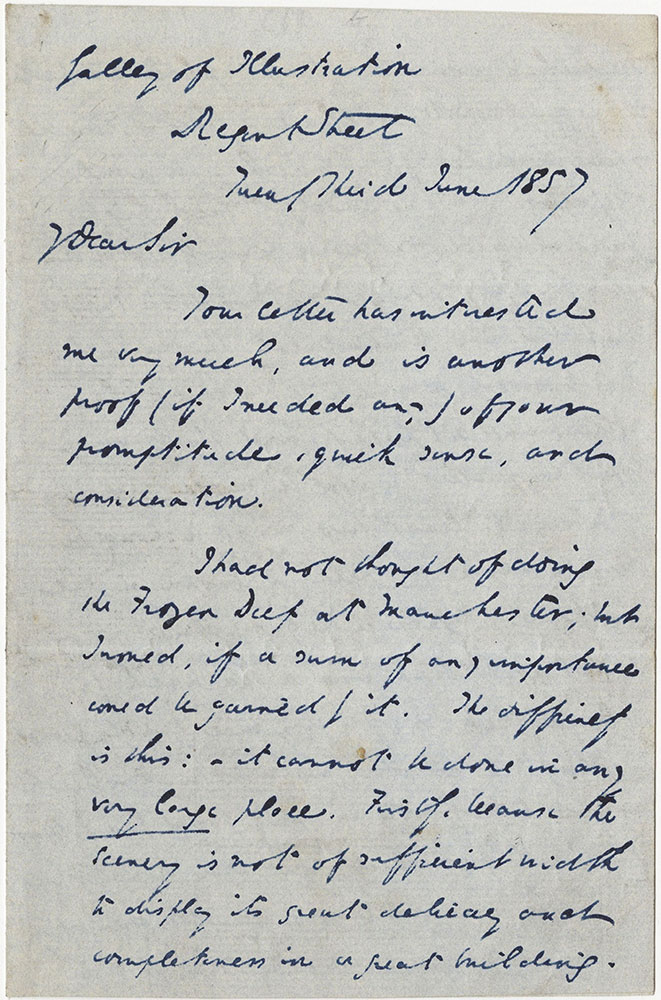 Item Info
Item No: cdc203601
Title: ALs to John Deane
Accession Number:
86-2798
Physical Description:
[4] pages
Transcription:
Gallery of Illustration
Regent Street
Twenty Third June 1857
My Dear Sir
Your letter has interested me very much, and is another proof (if I needed any) of your promptitude, quick sense, and consideration.
I had not thought of doing the Frozen Deep at Manchester; but I would, if a sum of any importance could be gained by it. The difficulty is this - it cannot be done in any
very large
place. Firstly, because the scenery is not sufficient width to display its great delicacy and completeness in a great building. Secondly, because I doubt if my Ladies would be as good as they really are - that is, could express themselves for as much - in a wilderness of space. If we could get such high prices as would make a Concert Room or the like, pay, I would not mind the trouble. But it is to remembered that a Railway Truck would be wanted to carry the rollers and set pieces, and that very expert Carpenters would be necessary, of whom at least two must be London-men to whom the piece is known in the working. Again - the gas fitting for a sunset of Telbin's, and a sea beach by Stanfield, is of a very nice kind; and although it involves no material which is not likely to be in any good Gas Fitter's shop, the gas would have to be brought in from the Main in a considerable quantity, and would require two intelligent men to work it, besides the personal direction of one of those two painters. Again, the stage must be a raised one. Again a little hanging platform is wanted from the roof, to hold two boys to "snow". Again, the stage must be from 30 to 40 feet deep. These are terrific requirements, but they are indispensable, and are perhaps more thatn you have thought of. And so much trouble was taken when I got the piece up, to render it curiously complete, that it is impossible to chop any little mechanical nicety out of it without spoiling it all - the whole thing so coheres and goes together.
Lastly, there are 30 people in it, and the moving of such a party for such a distance is expensive.
If any scheme should occur to your for making Manchester cry, through these means - say two nights, I would attentively consider it. But I do not myself know suitable place, not do I see any hopefuly means to making two or three hundred pounds by it, after deducting all charges.
Faithfully Yours always
Charles Dickens
John Deane Esquire
MssDate:
Twenty Third June 1857
Media Type:
Letters
Source:
Rare Book Department
Notes:
Transcription laid in.
Recipient:
Dean, John Connellan, 1816-1887
Provenance:
Richards July 73, Benoliel and Matlack
Bibliography:
The Letters of Charles Dickens, Pilgrim Edition, Volume Eight, 1856-1858, p. 358.
Country:
Country:England
City/Town/Township:London
Creation Place Note:Gallery of Illustration, Regent Street
Call Number:
DL D346 1857-06-23
Creator Name:
Dickens, Charles, 1812-1870 - Author
View other associated items