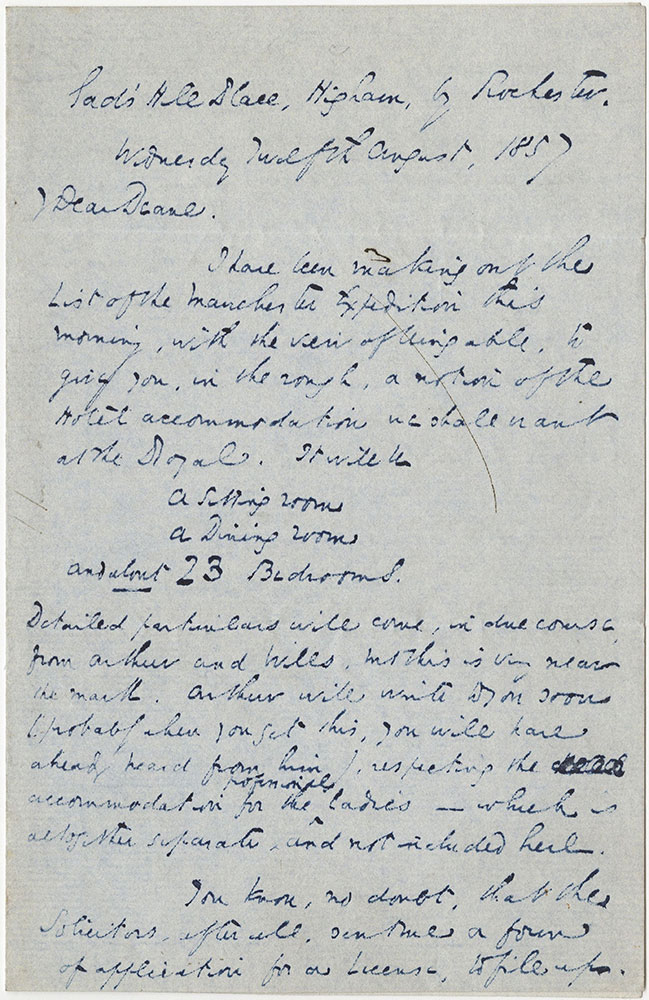 Item Info
Item No: cdc203801
Title: ALs to John Deane
Accession Number:
86-2799
Physical Description:
[3] pages
Transcription:
Gad's Hill Place, Higham, by Rochester
Wednesday Twelfth August, 1857
My Dear Deane.
I have been making out the List of the Manchester Expedition this morning, with the view of being able, to give you, in the rough, a notion of the Hotel accomodation we shall want at the Royal. It will be
A Sitting room
A Dining room
And
about
23 Bedrooms.
Detailed particulars will come, in due course from Arthur and Wills, but this is very near the mark. Arthur will write to you soon (probably when you get this, you will have already heard from him), respecting the accomodation for the professional ladies - which is altogether separate, and not included here.
You know, no doubt, that the Solicitors, after all, sent me a form of application for a License, to fill up. It extends only to the two nights, Friday and Saturday. But it has occurred to me that if the Play should be (as I hope it will, and as I mean to do my best to make it) a great go - a very marked impression and succss - it would make a wonderful addition to the Profits and very small addition to the success, if we could play on the Monday at Theatre prices. What to you think of the idea? If we entertain it, we must keep it impenetrably close, of course. But we
might
bring bills down to post on Saturday Evening to that effect. Now if we could do this, I suppose we must hazard the License for that night? - I mean, hazard the playing without one?
Or
, we could be armed with a Travelling License too, from the Chamberlain? I want particularly, to know your opinion on these points.
Faithfully Yours always
Charles Dickens
John Deane Esquire
P.S. We have made a very advanageous arrangement with the Great Western.
MssDate:
Wednesday Twelfth August, 1857
Media Type:
Letters
Source:
Rare Book Department
Recipient:
Dean, John Connellan, 1816-1887
Provenance:
Richards July 73, Benoliel and Matlack
Bibliography:
The Letters of Charles Dickens, Pilgrim Edition, Volume Eight, 1856-1858, p. 407.
Country:
Country:England
City/Town/Township:Higham, by Rochester
Creation Place Note:Gad's Hill Place
Call Number:
DL D346 1857-08-12
Creator Name:
Dickens, Charles, 1812-1870 - Author
View other associated items