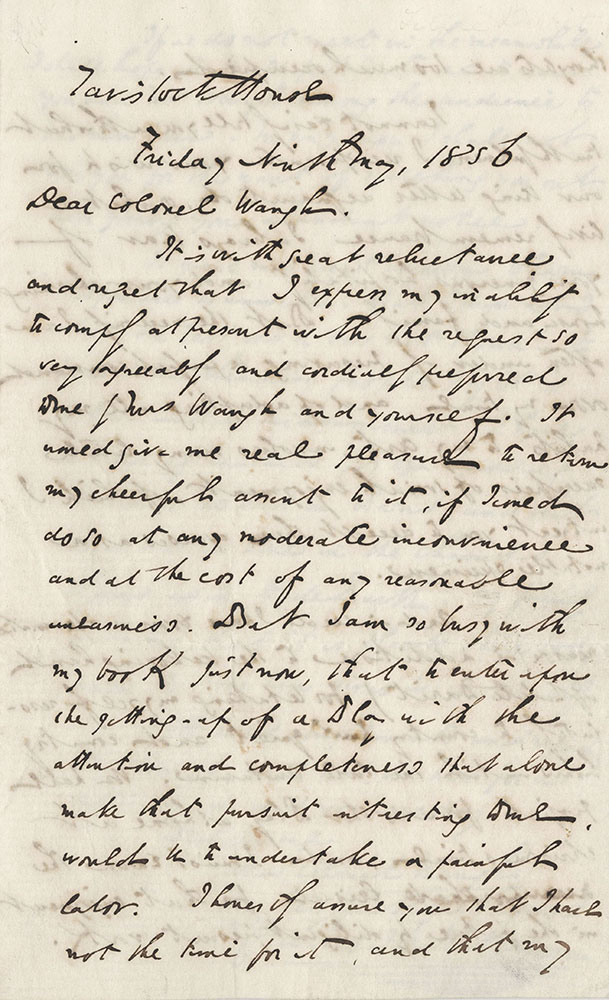 Item Info
Item No: cdc371801
Title: ALs to Col. Waugh
Accession Number:
87-898
Physical Description:
[4] pages
Material:
paper
Transcription:
Tavistock House
Friday Ninth May, 1856
Dear Colonel Waugh.
It is with great reluctance and regret that I express my inability to comply at present with the request so very agreeably and cordially preferred to me by Mrs. Waugh and yourself. It would give me real pleasure to return my cheerful assent to it, if I could do so at any moderate inconvenience and at the cost of any reasonable uneasiness. But I am so busy with my book just now, that to enter upon the getting-up of a Play with the attention and completeness that alone make that pursuit interesting to me, would be to undertake a painful labor. I honestly assure you that I have not the time for it, and that my thoughts are too much occupied.
I cannot easily tell you with what truthfulness I reciprocate your wish for our being better acquainted, or what a lively remembrance I always bear of your generous hospitality and your charming house and family. But the necessity I am often under of preserving a perfect command over my time, and of adapting all my habits to my Art, involves many little sacrifices of social enjoyment – of which I entreat you to accept these excuses as a notable specimen.
And indeed I have even a dramatic reason (in addition to the beckoning hand of Little Dorrit) for betaking myself resolutely to country quiet and country hours until the late Autumn. We have projects for another Play at home at Christmas time, and I must earn the leisure for that enjoyment in the future by diligent present work.
If we do not meet in the meanwhile, I shall hope to be so fortunate as to count you and Mrs. Waugh among the audience to our new piece. In any case I shall not lose you for the want of searching you out and giving you abundant notice.
It gives me great concern to learn that you are so unwell. But I know nobody whom the East wind has not blown into bed. Weather-wise people say it is to last until Midsummer. I have a kind of wicked joy in knowing that it is as bad in Paris, and that roses are as blue in the Champs Elysées as in Hyde Park. My family write me that it is black there too, and that the Sun gives in continually.
With kind compliments and regard to Mrs. Waugh, and best wishes for a better wind and your recovery,
Believe me
Dear Colonel Waugh
Very faithfully Yours
Charles Dickens
I am vexed not to have been at my dismantled house when Mrs. Wrottesley and your daughter called – but I am glad to have missed them too, when I think of the tremendous danger I should have fallen into, if I had seen them, of being utterly powerless to say No.
MssDate:
Friday Ninth May, 1856
Media Type:
Letters
Source:
Rare Book Department
Recipient:
Waugh, William Petrie, Col.
Provenance:
Gift of Mrs. D. Jacques Benoliel, 12/1956.
Bibliography:
Volume 8, pp. 115-116, The Letters of Charles Dickens, edited by Madeline House & Graham Storey ; associate editors, W.J. Carlton … [et al.].
Country:
Creation Place Note:Tavistock House
Country:England
City/Town/Township:London
Call Number:
DL W357c 1856-05-09
Creator Name:
Dickens, Charles, 1812-1870 - Author
View other associated items