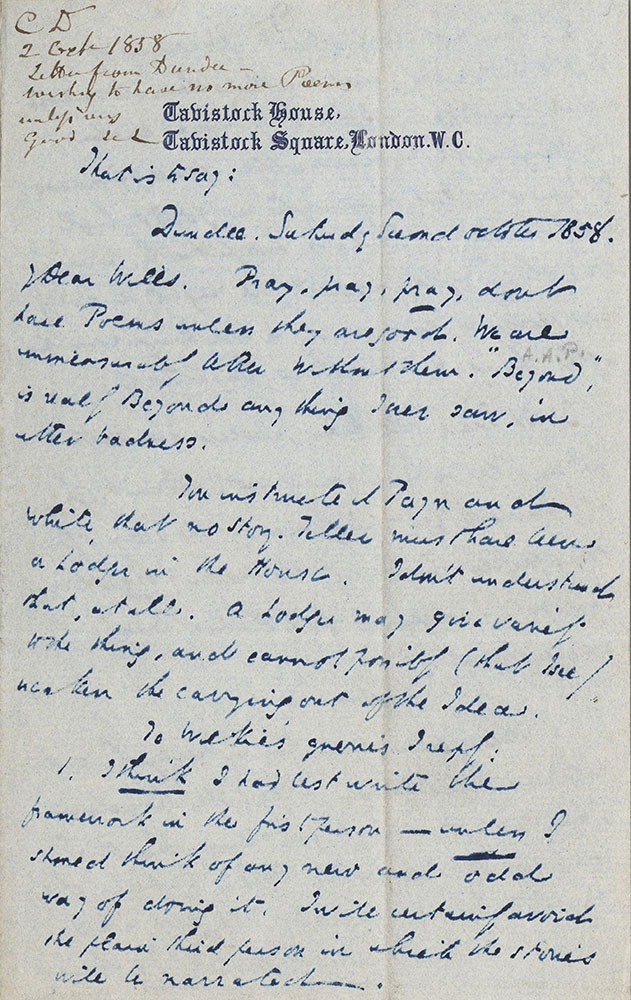 Item Info
Item No: cdc374101
Title: ALs to William Henry Wills
Accession Number:
87-921
Physical Description:
[4] pages
Material:
paper
Transcription:
Tavistock House,
Tavistock Square, London. W. C.
That is to say:
Dundee. Saturday Second October 1858.
My Dear Wills. Pray, pray, pray, don't have Poems unless they are good. We are immeasurably better without them. "Beyond", is really Beyond any thing I ever saw, in utter badness.
You instructed Payn and White, that no Story-Teller must have been a Lodger in the House. I don't understand that, at all. A Lodger may give variety to the thing, and cannot possibly (that I see) weaken the carrying out of the Idea.
To Wilkie's queries I reply:
1. I think I had best write the framework in the first person – unless I should think of any new and odd way of doing it. I will certainly avoid the plain third person in which the stories will be narrated.
2. I am not clear about following up the old Materials, and making them doomed and destructive. I think it would end the thing with unseasonable grimness. If I could build them into a good school, or infirmary, or child's hospital, or something of that sort, it might be a more pleasant end, and a working round of the thing to something brighter.
3. If I were Wilkie, unless I got an idea which would not admit of it, I would certainly make the story of some people who kept the house, the story. Indeed, I supposed that to have been understood.
___________
There was certainly in Edinburgh, a coldness, beforehand, about the Readings. I mention it, to let you know that I consider the triumph here, by far the greatest I have made. The City was taken by storm, and carried. The Chimes shook it; Little Dombey blew it up. On the two last nights, the crowd was immense, and the turn-away enormous. Everywhere, nothing was to be heard but praises – nowhere more than at Blackwood's shop, where there certainly was no predisposition to praise. It was a brilliant victory, and could have been represented in no mere money whatever.
My profit there was £200. My profit at Newcastle, £170 (the room in the latter place, very large.) My profit in September is £900. No doubt in reason this sum will have passed £1,000 before I begin the next Thousand in Glasgow.
The Carol will be read one night at Birmingham, and at Nottingham. Those are the places nearest to your hand I think.
My love to Mrs. Wills in which the girls unite. They were delighted with Edinburgh, and saw it, and all about it, on beautiful days. Payn went with us to Hawthornden, and we laughed all day. Conceive his telling me that Miss Martineau once told him and a certain Lake Doctor, face to face, that the reason why the Times succeeded with their Foreign correspondence, was because ------------------ they kept a clairvoyante to do it!!! "You may observe", says she, "that the Daily News is rapidly improving in that particular. Why? Because they have lately engaged a clairvoyante too!"
With which large button of arrogant conceit from the head and front of a strait waistcoat, I beg to subscribe myself
Ever Anti Politico-Economically
Anti De Morganically,
and the like,
CD
MssDate:
Saturday Second October 1858
Media Type:
Letters
Source:
Rare Book Department
Recipient:
Wills, William Henry, 1810-1880
Provenance:
Purchased from Sotheby, Suzannet sale, lot 279, via Maggs 11/23/7?.
Bibliography:
Volume 8, pp. 673-675, The Letters of Charles Dickens, edited by Madeline House & Graham Storey ; associate editors, W.J. Carlton … [et al.].
Country:
Country:Scotland
City/Town/Township:Dundee
Call Number:
DL W685 1858-10-02
Creator Name:
Dickens, Charles, 1812-1870 - Author
View other associated items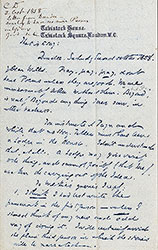 ALs to William Henry Wills
Previous
Previous