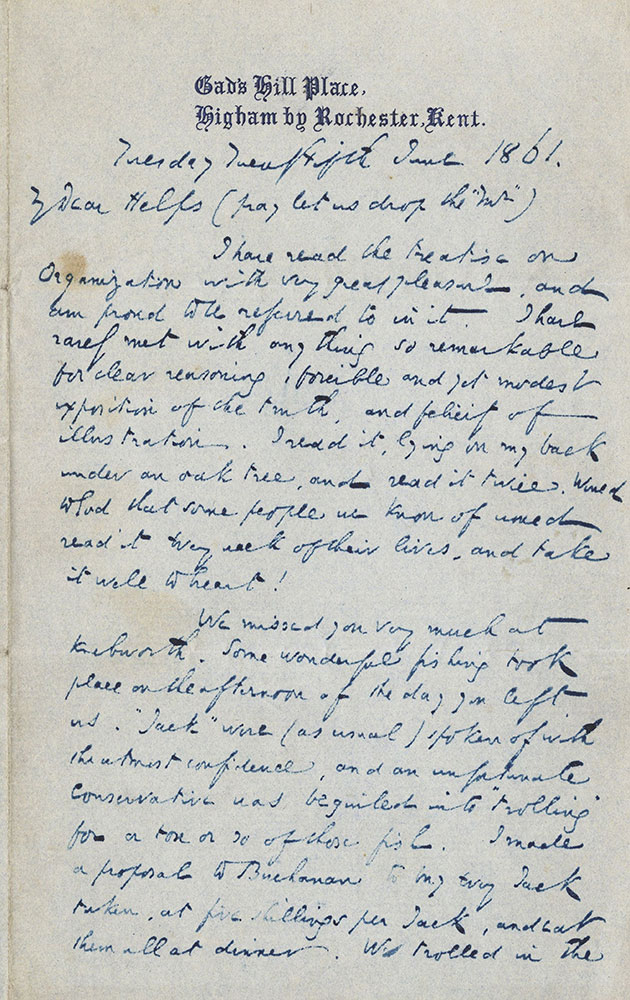 Item Info
Item No: cdc297801
Title: ALs to Arthur Helps
Accession Number:
87-350
Physical Description:
[2] pages
Transcription:
Gad's Hill Place
Higham by Rochester, Kent
Tuesday Twenty Fifth June 1861.
My Dear Helps (pray let us drop the "Mr.")
I have read the treatise on Organization with very great pleasure, and am proud to be referred to in it. I have rarely met with any thing so remarkable for clear reasoning, forcible and yet modest exposition of the truth, and felicity of illustration. I read it, lying on my back under an oak tree and read it twice. Would to God that some people we know of would read it every week of their lives, and take it well to heart!
We missed you very much at Knebworth. Some wonderful fishing took place on the afternoon of the day you left us. "Jack" were (as usual) spoken of with the utmost confidence, and an unfortunate Conservative was beguiled into "trolling" for a ton or so of those fish. I made a proposal to Buchanan to buy every Jack taken, at five shillings per Jack, and eat them all at dinner. We trolled in the neighbourhood of the spouting Lions, and they looked as if they spouted in scorn. Bulwer had the oddest impression that the new visitor was a crack fisherman and was eternally fishing--and such preparations were made for him in the way of Worms and other bait, as might have depopulated the Jack world. Whereas he told me (looking aghast at the various engines set ready for him) that he had not had a rod in his hand since he left Eton. You will not expect me to go through the form of assuring you that not a Jack appeared. A keeper affected to be sanguine, and pointed to particular spots where Jacks of five pounds were known to be, as he pretended; but he was a very honest man and despair stood in his eye.
The rampant little horse did not reappear, and my daughter was not without hope that he might have run away on his hind legs. More information was obtained concerning the hermit. If he were to faint one ight, he would probably be devoured by the Rats who swarm in that den of his. –I should not have stood so coolly at the bars, if I had known of their being so near.
Faithfully Yours always
Charles Dickens
Arthur Helps Esquire
MssDate:
Tuesday Twenty Fifth June 1861
Media Type:
Letters
Source:
Rare Book Department
Notes:
Jack are young pike fish.
The Conservative mentioned was "Horatio William Walpole, 4th Earl of Orford (1813-94), Conservative MP for East Norfolk 1835-7; one of the party, according to Forster, who visited the hermit." (see bibliography, p. 430)
Buchanan was probably William Buchanan, of Widbury Hill, Ware (p. 430).
The hermit: "James Lucas (1813-74, DNB), the "Hertfordshire Hermit;, whom CD, Helps, Lytton and Lord Orford had visited."
Recipient:
Helps, Arthur, Sir, 1813-1875
Provenance:
Benoliel, Mrs. D. Jacques 12/56
Bibliography:
The British Academy Pilgrim Edition: The Letters of Charles Dickens, Volume Nine, 1859-1861. Graham Storey, ed. Oxford: Clarendon Press, 1997, p. 430.
Country:
Country:England
City/Town/Township:Higham by Rochester, Kent
Creation Place Note:Gad's Hill Place
Creation Year:
1861
Call Number:
DL H369 1861-06-25
Creator Name:
Dickens, Charles, 1812-1870 - Author
View other associated items