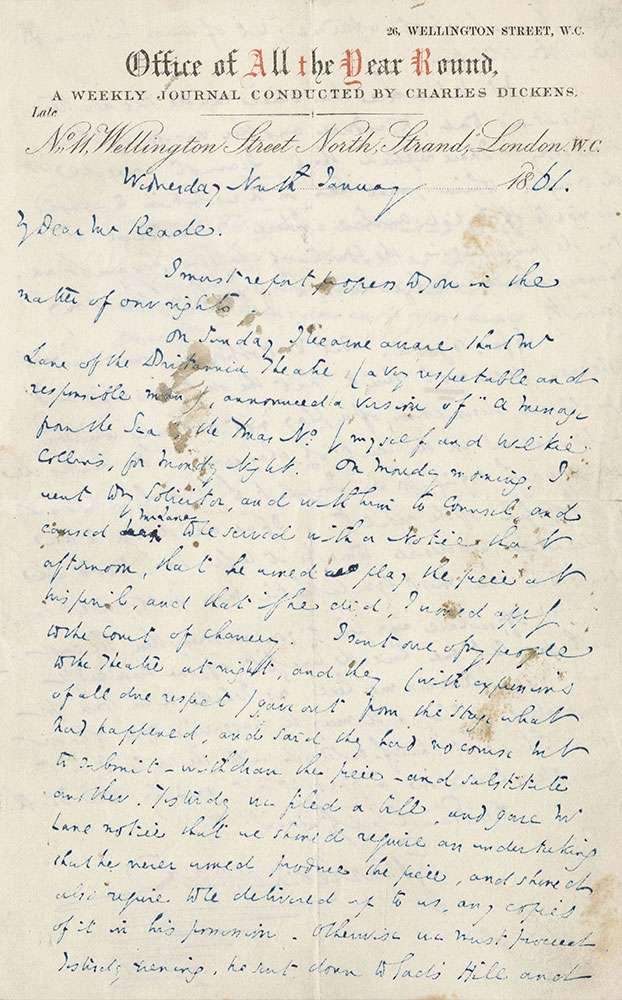 Item Info
Item No: cdc321001
Title: ALs to Charles Reade
Accession Number:
87-637
Physical Description:
[3] pages
Transcription:
OFFICE OF ALL THE YEAR ROUND
Wednesday Ninth January 1861
My Dear Mr. Reade.
I must report progress to you in the matter of our rights.
On Sunday I became aware that Mr. Lane of the Britannia Theatre (a very respectable and responsible man), announced a version of "A Message from the Sea", the Xmas No. by myself and Wilkie Collins, for Monday Night. On Monday morning, I went to my Solicitor, and with him to Counsel, and caused Mr. Lane to be served with a Notice that afternoon, that he would play the piece at his peril, and that if he did, I would apply to the Court of Chancery. I sent one of my people to the Theatre at night, and they (with expressions of due respect) gave out from the Stage what had happened, and said they had no course but to submit-withdraw the piece-and substitute another. Yesterday we filed a bill, and gave Mr. Lane notice that we should require an undertaking that he never would produce the piece, and should also require to be delivered up to us, any copies of it in his possession. Otherwise we must proceed. Yesterday evening, he sent down to Gad's Hill and Heaven knows where not, after me; but of course his business lies with my solicitor.
Mr. Nelson Lee has since made two written applications to me, to produce another version of the same story. I have replied that I cannot concede that right to him, and that in a resolution to uphold the rights of English Authors, I have determined to try the principle in the Court of Chancery, against any Manager who dramatizes a book of mine without my consent.
So far, so good. But Mr. Hobhouse, Counsel in the case, does NOT think that the duly registered and published description of the play not actually written, will serve us in the Court of Chancery. He thinks the point worth trying for an Injunction, but he is not at all hopeful of the result. If we are driven to application, we desire to make it before Page Wood, who seems to be the most sympathetic man in copyright cases.
If you have any point you can strengthen the case with, pray let me have the benefit of your knowledge and advice. Address me here, as I shall be in town for some days. I hope it may be reassuring to you to know that I have not halfentered into the contest, but am to be relied upon to fight it out grimly to the Death.
Ever Faithfully Yours
Charles Dickens
I caused it to be explained in writing to Lane (by my solicitor) that I had no hostility whatever towards him, and did not intend to make any demand upon him for costs.
MssDate:
Wednesday Ninth January 1861.
Media Type:
Letters
Source:
Rare Book Department
Recipient:
Reade, Charles, 1814-1884
Provenance:
Benoliel, Mrs. D. Jacques 12/56
Bibliography:
The Letters of Charles Dickens, Pilgrim Edition, Volume Nine, 1859-1861, pp. 366-367.
Country:
Country:England
City/Town/Township:London
Creation Place Note:Office of All the Year Round
Creation Year:
1861
Call Number:
DL R224 1861-01-09
Creator Name:
Dickens, Charles, 1812-1870 - Author
View other associated items