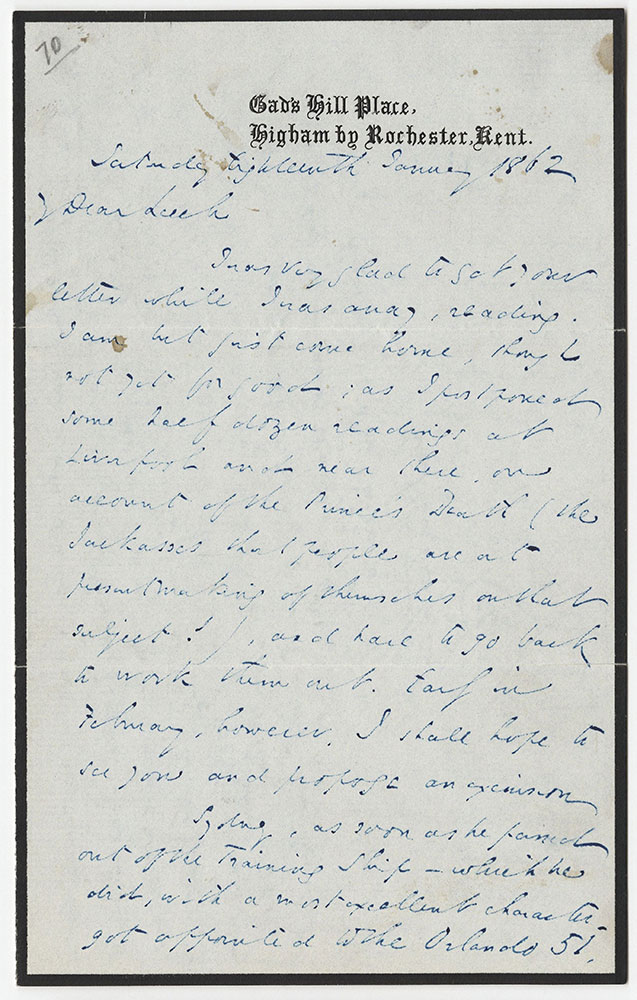 Item Info
Item No: cdc397501
Title: ALs to John Leech
Accession Number:
87-1598
Physical Description:
[3] pages
Transcription:
Gad's Hill Place
Higham by Rochester, Kent.
Saturday Eighteenth January 1862
My Dear Leech
I was very glad to get your letter while I was away, reading. I am but just come home, though not yet for good; as I postponed some half dozen readings at Liverpool and near there, on account of the Prince's Death (the Jack-asses that people are at present making of themselves on that subject!) and have to go back to work them out. Early in February, however, I shall hope to see you and propo(s)e an excursion.
Sydney, as soon as he passed out of the Training Ship—which he did, with a most excellent character—got appointed to the Orlando 51, the finest ship in the service I believe, and sailed instantly to put a final stop on America. While the Orlando lay waiting for sailing orders at Plymouth, a friend of mine there, an officer aboard another ship, kindly got leave for Sydney to go and dine with him and sleep in his cabin. Next morning while this officer was dressing in another Cabin, he observed that his servant (a big Marine) was choking with laughter. When he asked him, rather sternly, what was the matter, the servant said "Beg your pardon Sir, but that young gentleman in your cabin—might he be a connexion o'yourn Sir?"—"No."—"Beg your pard'n then Sir; hope there mightn't be no offence in my saying"—choking again, here "as the young gen'lm'n is so wery small, as I see him a standing on your portmanteau Sir to get himself on a level with the washing stand afore he could wash himself."
Another naval friend of mine whom I dare say you remember—Captain Tracy—did a good thing at Plymouth when I was reading there. He put his wife's opera cloak and wrappers behind my screen. Taking them up to go, and talking and rolling all the time sailor-like, he took up with them the dress trousers I had that moment taken off, (still talking and rolling) put the trousers with the greatest care round his wife's neck, with about five hundred people looking on and roaring with laughter.
Kind regard to Mrs. Leech
Ever Faithfully
CD.
MssDate:
Saturday Eighteenth January 1862
Media Type:
Letters
Source:
Rare Book Department
Notes:
Prince Albert had died on December 14, 1861. Pilgrim Vol. 9 speaks to cancelled readings by CD owing to the Prince's passing.
Sydney Dickens's ship sailed for Halifax in December 1861.
(Pilgrim Vol. 10, pp. 15-16)
Recipient:
Leech, John, 1817-1864
Provenance:
Benoliel, Mrs. D. Jacques 12/6/54
Bibliography:
The British Academy Pilgrim Edition: The Letters of Charles Dickens, Volume Ten, 1862-1864. Graham Storey, ed. Oxford: Clarendon Press, 1998, p. 15-16.
Country:
Creation Place Note:Gad's Hill Place
Country:England
City/Town/Township:London
Creation Year:
1862
Call Number:
DL L516j 1862-01-18
Creator Name:
Dickens, Charles, 1812-1870 - Author
View other associated items