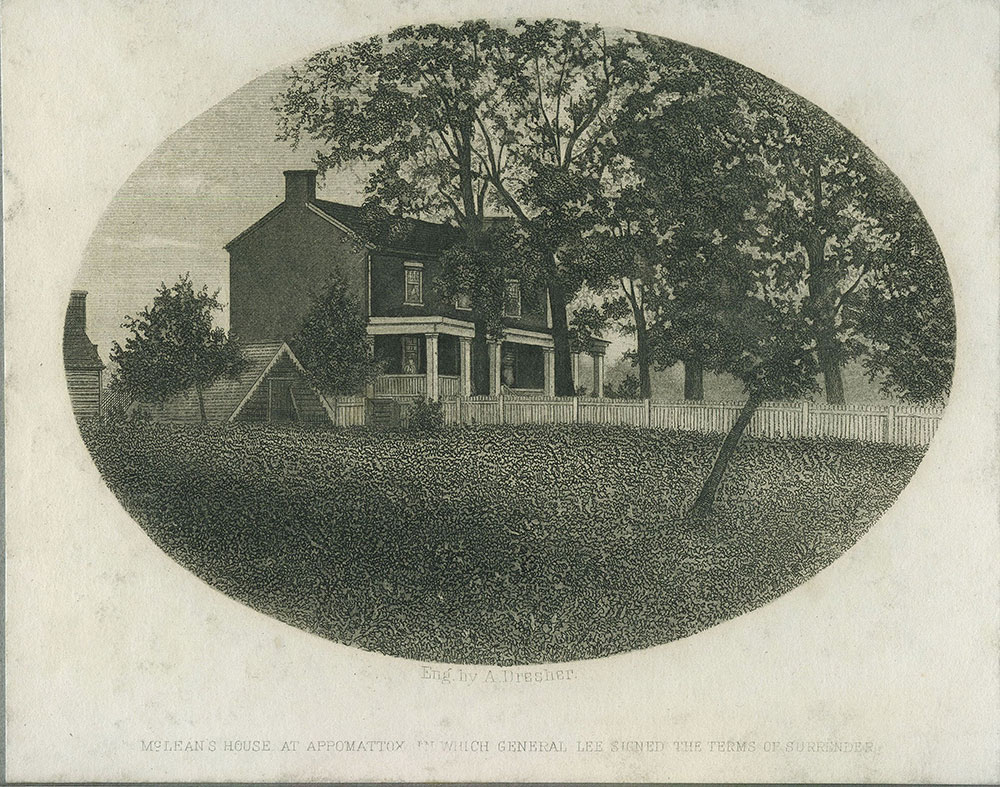 Item Info
Item No: pdca00104
Title: McLean's House at Appomattox in which General Lee Signed the Terms of Surrender
Additional Title: Eng. by A. Dresher.
Media Type:
Engravings
Source:
Print and Picture Collection
Bibliography:
General Lee Surrenders at Appomattox: Big Pic, April 9, 2010
After four long years of intense conflict, the American Civil War left both the Union and the Confederacy bloodied, burned and scarred.
Many of the battles that took place throughout the campaign occurred below the Mason-Dixon line, leaving the American South in shambles. Approximately 630,000 deaths, over one million casualties, and widespread disease and hunger took their toll on both the Confederate and Union armies.
On April 9, 1865, General Robert E. Lee surrendered the Confederate Army of Northern Virginia to General-in-Chief Ulysses S. Grant at the home of Wilmer and Virginia McLean in the town of Appomattox Courthouse, Va., signaling the end of the Civil War. This painting -- originally done by Keith Rocco -- highlights their meeting.
"It would be useless and therefore cruel," Lee remarked to a gathering of people outside the house before the meeting, "to provoke the further effusion of blood, and I have arranged to meet with General Grant with a view to surrender."
Lee arrived at the McLean home shortly after 1:00 p.m., followed a half hour later by Grant. The meeting lasted approximately an hour and a half. Grant wrote the terms for the surrender in the form of a letter from himself to Lee.
The terms allowed Confederate soldiers to keep their horses, granted them food rations and permitted them to return home without being tried for treason. However, while Confederate officers were allowed to keep side arms, all other soldiers had to turn over any military equipment to the Union.
Lee's surrender hastened other Confederate forces to follow suit. Soon after, Confederate President Jefferson Davis was captured in Georgia on May 10, 1865.
Today, the McLean house belongs to the National Park Service and was opened to the public on April 9, 1949 -- 84 years after it had held one of the most historic meetings in American history.
By Lauren Effron, for Discovery News
Credits: National Park Service, Library of Congress
Creator Name:
Dresher, A. - Engraver