The Hymnal of the Pietists of the Wissahickon
Fraktur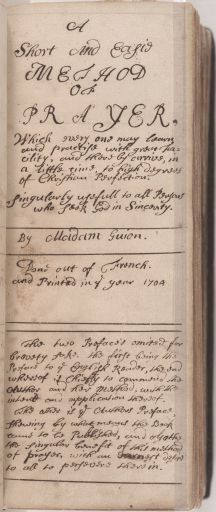 Item Info
Item No: frkm001000
Title: The Hymnal of the Pietists of the Wissahickon
Scripts/Text:
Fraktur; German script; Roman script
Language:
German; English; Dutch; Latin
Physical Description:
539 leaves
Material:
Laid paper; gall ink; calf leather; thread
Watermark:
Fleur-de-lis, Rittenhouse; lion en rampant, Villedary; 2 fragments, center edge of each leaf
Category:
Commonplace book (Tagebuch)
Media Type:
Manuscripts
Source:
Rare Book Department
Notes:
Additional titles of works copied into this manuscript include
Bernard, of Clairvaux, Saint: Jesu dulcis memoria
Kelpius, John: Poems
Teresa, of Avila, Saint: Meditations on the Song of Songs

Binding: Full calf with blind tooling; sewn through the fold on four cords.

Tête-bêche format: Similar to a tête-bêche, the creator of this Ms left 6 leaves blank, then copied the Jean-Marie Guyon A Short and Easie Method of Prayer 1704 translation [52 leaves]…into the front of the work, followed by 53 leaves of blank paper. The Ms was flipped to record hymns (text & music) in German, Dutch, and English, as well as descriptions of ecstatic religious experiences, and poetry at the back of the MS on an additional 428 leaves, so that when one text runs head-to-tail, the other runs tail-to-head. Like a tête-bêche, the two texts are bound together in a single spine, but unlike a tête-bêche, there is a back cover, and there are no double front covers.
Associated Names:
Selig, Johann Gottfried (1668-1745)
Provenance:
Borneman, Henry Stauffer, 1870-1955
Lehman, Benjamin, 1760-1839
Bibliography:
Christopher Boyd Brown, Singing the Gospel: Lutheran Hymns and the Success of the Reformation (Cambridge, Mass. London, England: Harvard University Press, 2005).
William Algernon Churchill, Watermarks in Paper in Holland, England, France, etc. in the XVII and XVIII Centuries (Amsterdam: M. Hertzberger, 1935), Repr. 1967, 1985, and 1990), Fig 117, Seven Provinces [Holland], Year=1707 p. LXXXIII, and p. [70].
Harrold E. Gillingham, "Benjamin Lehman, a Germantown Cabinetmaker," The Pennsylvania Magazine of History and Biography (Philadelphia: The Historical Society of Pennsylvania, 1930), Vol. LIV, No. 4, pp. 289-306.
Thomas L. Gravell and George Miller, American Watermarks 1690-1835 (New Castle, Delaware: Oak Knoll Press, 2002), Fig. 619, p. 134; Rittenhouse Papermill, 301-302.
Dard Hunter, Papermaking In Pioneer America (Philadelphia, PA: University of Pennsylvania Press, 1952), pp. 20-28.
Creation Year (Single Year or Range Begin):
ca. 1709
Image Dimensions Width:
19.7 cm
ShelfMark:
FLP Borneman Ms. 1
Creator Name:
Guyon, Jeanne Marie Bouvier de La Motte, 1648-1717 - Author
Kelpius, John, 1667?-1708 - Author
Bernard, of Clairvaux, Saint, 1090 or 1091-1153 - Author
Teresa, of Avila, Saint, 1515-1582 - Author