Dieses Noten=Büchlein gehöret Maria Fretzin Sing=Schüler In der Tieffronner Schule geschrieben worden 27ten November 1787
Fraktur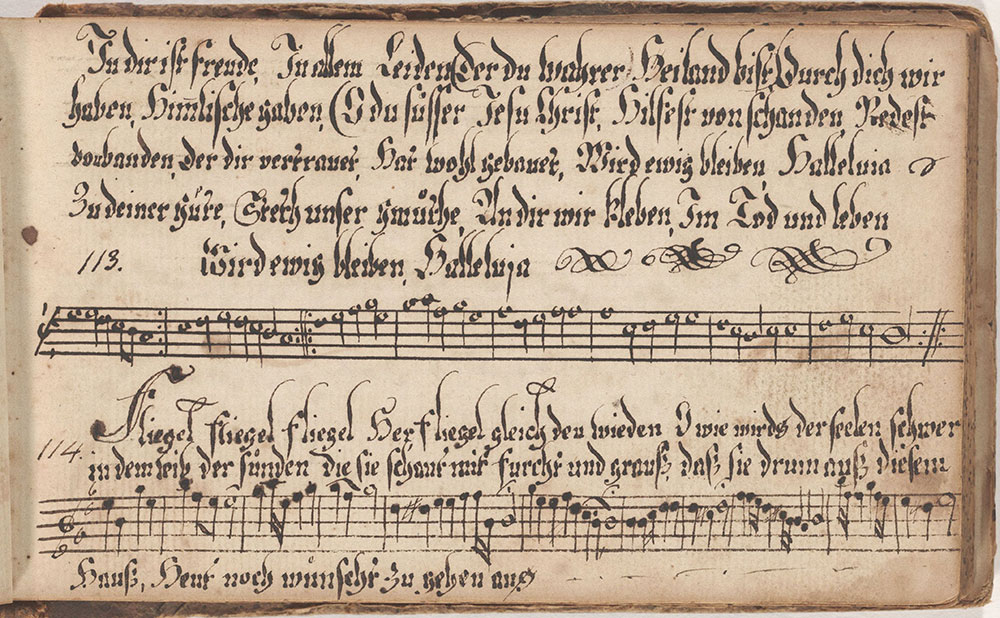 Item Info
Item No: frkm025000
Title: Dieses Noten=Büchlein gehöret Maria Fretzin Sing=Schüler In der Tieffronner Schule geschrieben worden 27ten November 1787
Creation Date:
11/27/1787
Scripts/Text:
Fraktur; German script; Roman script
Language:
German
Weiser Number:
827
Physical Description:
182 p; 18mo; oblong format
Material:
Laid paper; watercolor; ink; pressed board; leather; string
Category:
Tune Booklet (Notenbüchlein)
Media Type:
Manuscripts
Source:
Rare Book Department
Notes:
Accompanying Materials Laid or Tipped In:
• A note on a bookmark that the manuscript was exhibited in 1995.
• A note in black ink on lined wove paper " January 1st 1875 | I promise
to pay to James W Taylor Nine | teen dollars 75/100 with interest | for
money taken from | collections box | $19.75/100 Thomas G. Taylor "

Notes:
Binding: Quarter leather with pressed paper boards
Biographical Note:
Johann Adam Eyer (1755-1837) was active from 1779-1820 as a schoolmaster and Fraktur artist. He was also a musician. Eyer rewarded his students with beautifully decorated certificates of merit, created writing sample copy books, and introduced what is thought to be the first decorated tune booklets, for use by his students. He taught principally in Bucks, Chester, Lancaster, Northampton, and Monroe Counties (Pennsylvania).

Notes:
Full Title: This Little Tune Booklet Belongs to Maria Fretz, Singing Scholar at the Deep Run School, Written November 27, 1787
Physical Description: 1-25 [26] 27 [28] 29 [30] 31 [32] 33 [34] 35 [36] 37-182
Notes:
Scope and Content:
Maria Fretz is listed in Johann Adam Eyer's roll book for Deep Run, Bedminster Township's "late Winter term of scholars from 30 January to the last day of April 1786," along with Christian Fretz. There is a note that 15 shillings were paid, and that the children "quit 4 May." 7 shillings 6 pence was the payment per child per quarter, so 15 shillings was for both children.
This particular manuscript appears to be the first tune booklet where Eyer used birds as decorative elements. This is an early example of pressed paper board cover with a leather spine. The title page is glued onto the inside cover. There are 115 tunes to hymns some of which come from the Marburg Hymnal. Of the 182 pages in the tunebooklet, only 31 are devoted to the hymn titles and tune incipits. The rest are blank.
The idea of creating such a booklet to teach children the rudiments of musical notation so that they could learn to sing the melodies used in the hymns at church service seems to have been Eyer's. The hymnals used by their parents contained no music, but only the hymn verses with the indication "Mel." and the title of the hymn tune to which the congregation would sing the text. The metrics, and topic of the poetry usually determined which melodies were chosen.
Eyer's concept was a practical and useful one, and inspired many other teachers to create tune booklets for their students in which only the melody line of frequently used hymn tunes was written out. Each scholar had a booklet, usually 10.2 x 16.5 cm in size. The teacher created a title page describing the purpose of the booklet, and containing the name of the student, the school attended, and the date of the title's creation. The empty spaces on the title page were filled in with flowers, birds, and other elements common to Pennsylvania German decorated Fraktur. These titles are absolutely beautiful, and probably inspired the singing scholar to greater endeavors as he learned how to read music and sing the tunes that either the instructor or he would copy into the booklet.
The "singing schools" or singing classes flourished in Bucks, Lehigh, Montgomery, Chester and Berks Counties, Pennsylvania from about 1787 to 1845. Singing became a part of the school curriculum, and "singing schools" became popular.

Notes:
Title:
The title is hand-drawn; hand-colored; hand-lettered. The text in red and black ink is in the center, flanked to the left and right by a bird perched on a flower. Centered and at the bottom is a stave displaying a soprano clef, a key signature of one flat (b) on the fourth line, i.e. key of F major, and one sharp (⧣) on the second space, i. e. key of G major. The notes identified by name ascend in half steps beginning with the leading tone b, c, d, e, f, g, a, b, c, d, e, f. The entire bookplate is framed by a decorative border.

Associated Names:
Fretz, Maria
Provenance:
Borneman, Henry Stauffer, 1870-1955
Fretz, Maria
Bibliography:
"Johann Adam Eyer" in Cory M. Amsler, ed. Bucks County Fraktur. Kutztown, Pa.: Pennsylvania German Society, 1999, 256-261.
"Johann Adam Eyer" in Russell D. and Corinne P. Earnest, Papers for Birth Dayes: Guide to the Fraktur Artists and Scriveners. East Berlin, Pa.: Russell D. Earnest Associates, 1997, 2nd ed., vol. 1, 256-260 (biography).
Mary Jane Lederach Hershey. "The Notenbüchlein Tradition in Eastern Pennsylvania Mennonite Community Schools," in Cory M. Amsler, ed. Bucks County Fraktur. Kutztown, Pa.: Pennsylvania German Society, 1999, 139.
Johann Lindemann. In dir ist Freude Retrieved September 12, 2013 from The Online Library of Liberty, a project of Online Liberty Fund, Inc. at http://oll.libertyfund.org/?option=com_staticxt&staticfile=show.php%3Ftitle=2057&chapter=197647&layout=html&Itemid=27
John Joseph Stoudt. Early Pennsylvania Arts and Crafts. New York: A. S. Barnes and Co., 1964), 338 (title page).
Frederick S. Weiser. "IAE SD, the Story of Johann Adam Eyer (1755-1837)," in Ebbes fer Alle-Ebber, Ebbes fer Dich. Breinigsville, Pa.: Pennsylvania German Society, 1980, 437-506.

Image Dimensions Width:
10.5 cm
ShelfMark:
FLP Borneman Ms. 25
Creator Name:
Eyer, Johann Adam, 1755-1837, Attributed to - Decorator
Eyer, Johann Adam, 1755-1837, Attributed to - Scrivener