Hermodlisches Melodeÿe Büchlein Über Die bekanste Lieder Im Marburger Gesang buch Verfertiget vor Rossina Reinwalt Dir zur Ehr und Gott zur Ehr geschrieben den 15 October 1792
Fraktur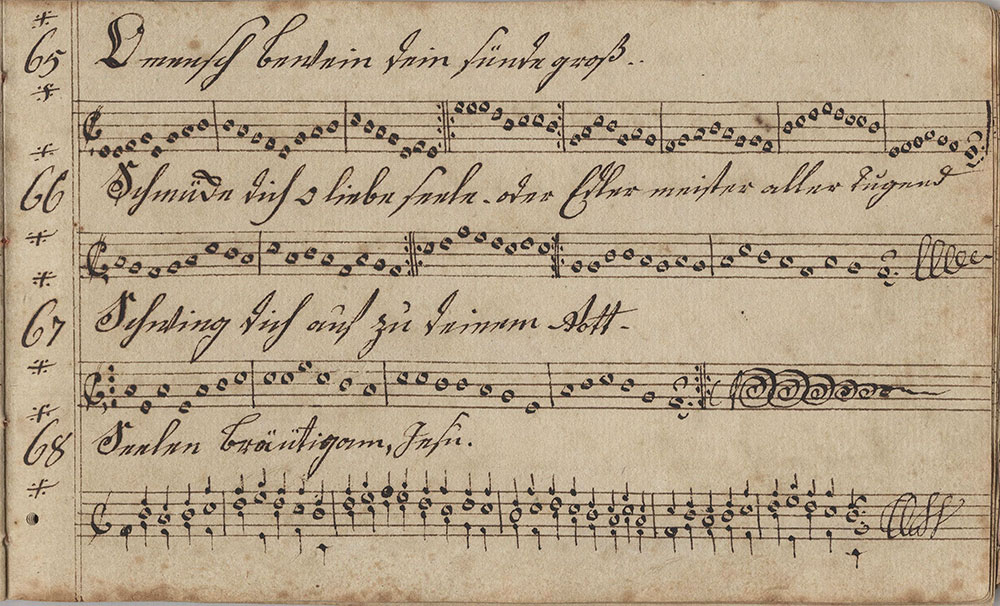 Item Info
Item No: frkm026000
Title: Hermodlisches Melodeÿe Büchlein Über Die bekanste Lieder Im Marburger Gesang buch Verfertiget vor Rossina Reinwalt Dir zur Ehr und Gott zur Ehr geschrieben den 15 October 1792
Creation Date:
10/15/1782
Scripts/Text:
Fraktur; German script
Language:
German
Weiser Number:
841
Physical Description:
28 p.; 18mo; oblong format
Material:
Laid paper; wrapper; decorated paper; diverse colored inks; watercolor; graphite; thread
Category:
Tune Booklet (Notenbüchlein)
Media Type:
Manuscripts
Source:
Rare Book Department
Notes:
Accompanying Materials Laid or Tipped In:
[A note in Roman block print in pencil on a half sheet of wove paper with translation of the title:] HARMONIUS SONG BOOK ABOUT THE THE MOST | FAMOUS SONGS IN THE MARBURGER GESANGBUCH | MADE FOR ROSSINA REINWALT | FOR OUR HONOR AND THE HONOR OF GOD WRITTEN | OCTOBER 15, 1792 | Bookplates | X/X
Binding:

Decorated paper board
Full Title Translation:
A Harmonious Booklet of Melodies from the Best Known Hymns in the Marburg Hymnal. Created for Rossina Reinwalt October 15, 1792. To Yours and God's Glory.
Biographical Note:
Per Dennis Moyer in his Fraktur Writings and Folk Art Drawings of the Schwenkfelder Library Collection, the Music Teacher Artist was an unidentified teacher in the Schwenkfelder School in Lower Salford Township, Montgomery County, who produced a number of outstanding Fraktur bookplates. The Schwenkfelder collection has three tune booklets from 1793 that he created—all contain decorated title pages, along with a child's reward of merit. The three-lobed flowers that flank the text on the titles are a distinctive feature of this decorator/scrivener.

Notes:
N. B.: See also FLP B-1.
Physical Description:

[1] 2-27 [28]
Scope and Content:
The titles of the first 16 melodies in this tune booklet are done in Fraktur script, and most of the melodies appear in half-note values. A number of calligraphic flourishes appear at the ends of the staves, along with some ornamental notation between the half notes. Thereafter, beginning with Nr. 17—all numerals being decorated above and below with dots in the four squares created by a cross—and ending at hymn Nr.100, the hymn titles appear in German script and in a sure hand; the notes are in whole note values with ornaments interspersed between the notes. Nr. 68 Seelen Bräutigam, Jesu...[ Marburg Hymnal, DXXIV 524, 10 verses, 411-413] is the only tune harmonized, mostly in 3 voices, frequently in first and second inversions, along with an added seventh now and then. Nos. 93, 94, 97, 98, 99 and 100 contain a great deal of ornamental notation in duple, triple, and quadruple sixteenth note figures between the whole notes. There are also frequent calligraphic flourishes at the end of the staves, an indicator that the melody continues. The harmonization, and ornamentation may be examples to familiarize the student with triad inversions, as well as the use of triad harmonics as consonant decorative ornaments.
The idea of creating such a booklet to teach children the rudiments of musical notation so that they could learn to sing the melodies used in the hymns at church service seems to have been Johann Adam Eyer's (1755-1837). The hymnals used by their parents contained no music, but only the hymn verses with the indication "Mel." and the title of the hymn tune to which the congregation would sing the text. The metrics, and topic of the poetry usually determined which melodies were chosen.
Eyer's concept was a practical and useful one, and inspired many other teachers to create tune booklets for their students in which only the melody line of frequently used hymn tunes was written out. Each scholar had a booklet, usually 10.2 x 16.5 cm in size. The teacher created a title page describing the purpose of the booklet, and containing the name of the student, the school attended, and the date of the title's creation. The empty spaces on the title page were filled in with flowers, birds, and other elements common to Pennsylvania German decorated Fraktur. These titles are absolutely beautiful, and probably inspired the singing scholar to greater endeavors as he learned how to read music and sing the tunes that either the instructor or he would copy into the booklet.
The "singing schools" or singing classes flourished in Bucks, Lehigh, Montgomery, Chester and Berks Counties, Pennsylvania from about 1787 to 1845. Singing became a part of the school curriculum, and "singing schools" became popular.

Title:
The title page (bookplate) is hand-drawn; hand-colored; and hand-lettered. The text in Fraktur and German script within a teardrop-shaped figure is in the center of the document. The space between the border, and the teardrop is filled with three-lobed flowers. Another tune booklet by the same artist was made for Christina Kriebel on May 10, 1793. N.B. Both Reinwalt and Kriebel are Schwenkfelder surnames.

Associated Names:
Reinwalt, Rossina
Provenance:
Borneman, Henry Stauffer, 1870-1955
Reinwalt, Rossina
Bibliography:
Henry S. Borneman. Pennsylvania German Bookplates. Philadelphia: Pennsylvania German Society, 1953, title page published as plate 19.
Mary Jane Lederach Hershey. "The Notenbüchlein Tradition in Eastern Pennsylvania Mennonite Community Schools" in Cory M. Amsler, ed. Bucks County Fraktur. Kutztown, Pa.: Pennsylvania German Society, 1999, footnote # 51, 132-133, Rossina Reinwalt, 146.
Marburger Gesang=Buch zur Uebung der Gottseligkeit in 649 Christlichen und Trostreichen Psalmen und Gesängen Hrn. D. Martin Luthers. und anderer Gottseliger Lehrer, Ordentlich in XII. Theile verfasset, Und mit nöthigen Registern auch einer Verzeichniß versehen, unter welche Titul die im Anhang befindlichen Lieder gehörig: Auch zur Beförderung des so Kirchen= als Privat= Gottesdienstes, Mit erbaulichen Morgen= Abend = Buß= Beicht= und Communion=Gebätlein vermehret. Germanton, Gedruckt und zu finden bey Christoph Saur, 1762.
Dennis K. Moyer. Fraktur Writings and Folk Art Drawings of the Schwenkfelder Library Collection. Kutztown, Pa.: Pennsylvania German Society, 1997, Teacher Artist, 151-152.
Frederick S. Weiser. "IAE SD, the Story of Johann Adam Eyer (1755-1837)" in Ebbes fer Alle-Ebber, Ebbes fer Dich. Breinigsville, Pa.: Pennsylvania German Society, 1980, 437-506.
Creation Place Town/Township:
Creation Place Note:Based on design elements: See Dennis Moyer. "Fraktur Writings and Folk Art Drawings of the Schwenkfelder Library," 151-152.
Region/County:[Montgomery]
City/Town/Township:[Lower Salford Township]
State/Province:[Pennsylvania]
Image Dimensions Width:
10.2 cm
ShelfMark:
FLP Borneman Ms. 26
Creator Name:
Music Teacher Artist, ca. 1792-1793, Probably - Decorator
Music Teacher Artist, ca. 1792-1793, Probably - Scrivener