Dieses Noten Buch gehört Eleonora Ruthin fleisserger Sing=Schüler in der Vincenter Schule in Chester County Geschrieben d. 12ten März Im Jahr des Herrn 1800
Fraktur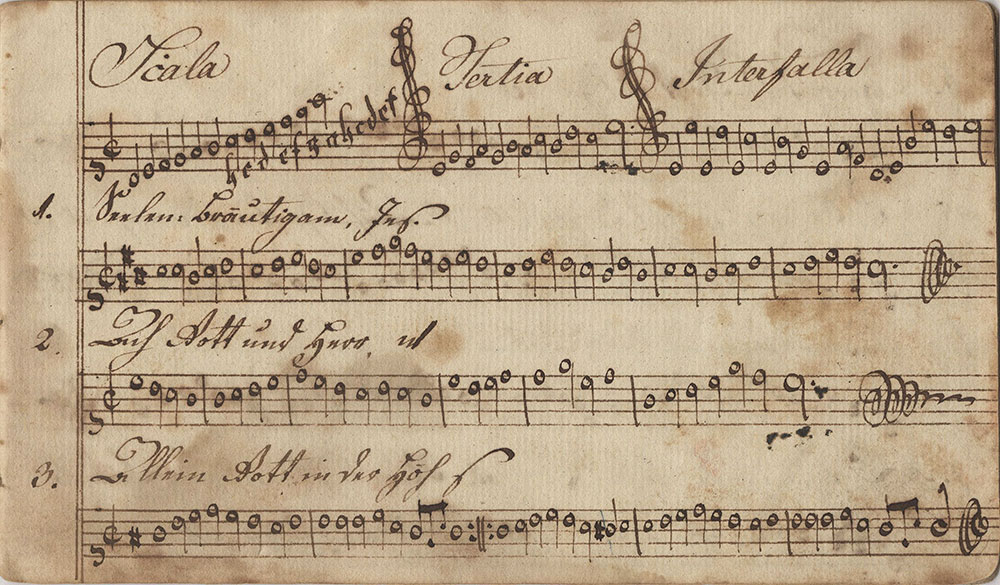 Item Info
Item No: frkm029000
Title: Dieses Noten Buch gehört Eleonora Ruthin fleisserger Sing=Schüler in der Vincenter Schule in Chester County Geschrieben d. 12ten März Im Jahr des Herrn 1800
Creation Date:
3/12/1800
Scripts/Text:
Fraktur; German script; Roman script
Language:
German
Physical Description:
20 p; 18mo; oblong format
Material:
Stiff paper wrapper; laid paper; watercolor; ink; thread
Category:
Tune Booklet (Notenbüchlein)
Media Type:
Manuscripts
Source:
Rare Book Department
Notes:
Binding:
Stiff paper wrapper
Biographical Note:
Johann Friedrich Eyer (1770-1827) was the younger brother of Johann Adam Eyer (1755-1855), and like him became a school teacher and Fraktur artist. He taught in Vincent and Pikeland Township in Chester County for about 10 years starting ca. 1791, as well as at Myerstown in today's Lebanon County up to ca. 1808. Friedrich then moved to Selinsgrove in Snyder County, and died there in 1827.
Full Title Translation:
This Tune Booklet belongs to Eleonora Ruth Diligent Singing Scholar in the Vincent School in Chester County Written 12 March in the Year of the Lord 1800
N. B. See also FLP B-1039.
Physical Description:
1-3 [4] 5-10 [11-18] 19-20
Scope and Content:
Borneman Ms. 29 was created for Eleonora Ruth by her teacher Johann Friederich Eyer (1770-1827) on March 12, 1800 while she was a singing scholar in the Vincent School, Chester County, Pennsylvania. The front and back flyleaves are recycled from writing practice exercises. Eleonora Ruth inscribed her name in Roman script between two exercise lines at the head of the front flyleaf (recto). The title page is located on page three and page four is left blank. The tune booklet begins on page five. As a teaching aid, J. F. Eyer includes a scale—soprano clef, key of C Major, 2/4 metrical sign—that ascends in half steps, commencing with the leading tone and in half note values. Following this, and on the same stave, there is an example given of intervals at the third beginning on the tonic C, ascending in half step intervals to the octave. Finally, the end of the stave is devoted to intervals at the octave, minor seventh, minor sixth, perfect fifth, major third, minor third, perfect fourth, major third, minor third, major second, perfect fifth, perfect fourth, major second, major second. Thereafter follow 20 hymn titles and tune incipits mostly from the Marburg Hymnal. A calligraphic flourish occurs at the end of each stave indicating that the melody continues.
The idea of creating such a booklet to teach children the rudiments of musical notation so that they could learn to sing the melodies used in the hymns at church service seems to have been Johann Adam Eyer's (1755-1837), Friedrich's older brother. The hymnals used by their parents contained no music, but only the hymn verses with the indication "Mel." and the title of the hymn tune to which the congregation would sing the text. The metrics, and topic of the poetry usually determined which melodies were chosen.
Eyer's concept was a practical and useful one, and inspired many other teachers to create tune booklets for their students in which only the melody line of frequently used hymn tunes was written out. Each scholar had a booklet, usually 10.2 x 16.5 cm in size. The teacher created a title page describing the purpose of the booklet, and containing the name of the student, the school attended, and the date of the title's creation. The empty spaces on the title page were filled in with flowers, birds, and other elements common to Pennsylvania German decorated Fraktur. These titles are absolutely beautiful, and probably inspired the singing scholar to greater endeavors as he learned how to read music and sing the tunes that either the instructor or he would copy into the booklet.
The "singing schools" or singing classes flourished in Bucks, Lehigh, Montgomery, Chester and Berks Counties, Pennsylvania from about 1787 to 1845. Singing became a part of the school curriculum, and "singing schools" became popular.
Title:
The title is hand-drawn; hand-colored; hand-lettered. The text in Fraktur and German script within a circle is in the center of the document. Flanking the inscription are two outward-facing birds in the lower corners, and in the upper corners two angels facing outwards blowing long straight-stemmed horns. Stemmed Flowers with red berries support the angels—as if ladders—from beneath. A simple line border frames the title page.

Associated Names:
Ruth, Eleonora
Provenance:
Borneman, Henry S., 1870-1955
Ruth, Eleonora
Bibliography:
Henry S. Borneman. Pennsylvania German Bookplates. Philadelphia: Pennsylvania German Society, 1953, title page published as plate 21.
"Johann Friedrich Eyer" in Russell D. and Corinne P. Earnest, Papers for Birth Dayes: Guide to the Fraktur Artists and Scriveners. East Berlin, Pa.: Russell D. Earnest Associates, 1997, 2nd ed., vol. 1, 261-262.
Marburger Gesang=Buch zur Uebung der Gottseligkeit in 649 Christlichen und Trostreichen Psalmen und Gesängen Hrn. D. Martin Luthers. und anderer Gottseliger Lehrer, Ordentlich in XII. Theile verfasset, Und mit nöthigen Registern auch einer Verzeichniß versehen, unter welche Titul die im Anhang befindlichen Lieder gehörig: Auch zur Beförderung des so Kirchen= als Privat= Gottesdienstes, Mit erbaulichen Morgen= Abend = Buß= Beicht= und Communion=Gebätlein vermehret. Germanton, Gedruckt und zu finden bey Christoph Saur, 1762.
John Joseph Stoudt. Pennsylvania German Folk Art: An Interpretation. Allentown, Pa.: Schlechter's, 1966, 198 (title page).
Don Yoder "Fraktur in Mennonite Culture" in Mennonite Quarterly Review 48, no. 3 (July 1974): 305-342; title page published as plate 7.

Creation Place Town/Township:
Creation Place Note:As per title page inscription
Region/County:Chester
City/Town/Township:Vincent Township
State/Province:Pennsylvania
Image Dimensions Width:
9.7 cm
ShelfMark:
FLP Borneman Ms. 29
Creator Name:
Eyer, Johann Friedrich, 1770-1827, Attributed to - Decorator
Eyer, Johann Friedrich, 1770-1827, Attributed to - Scrivener