Death Register of the Brothers and Sisters at Ephrata, 1728-1853
Fraktur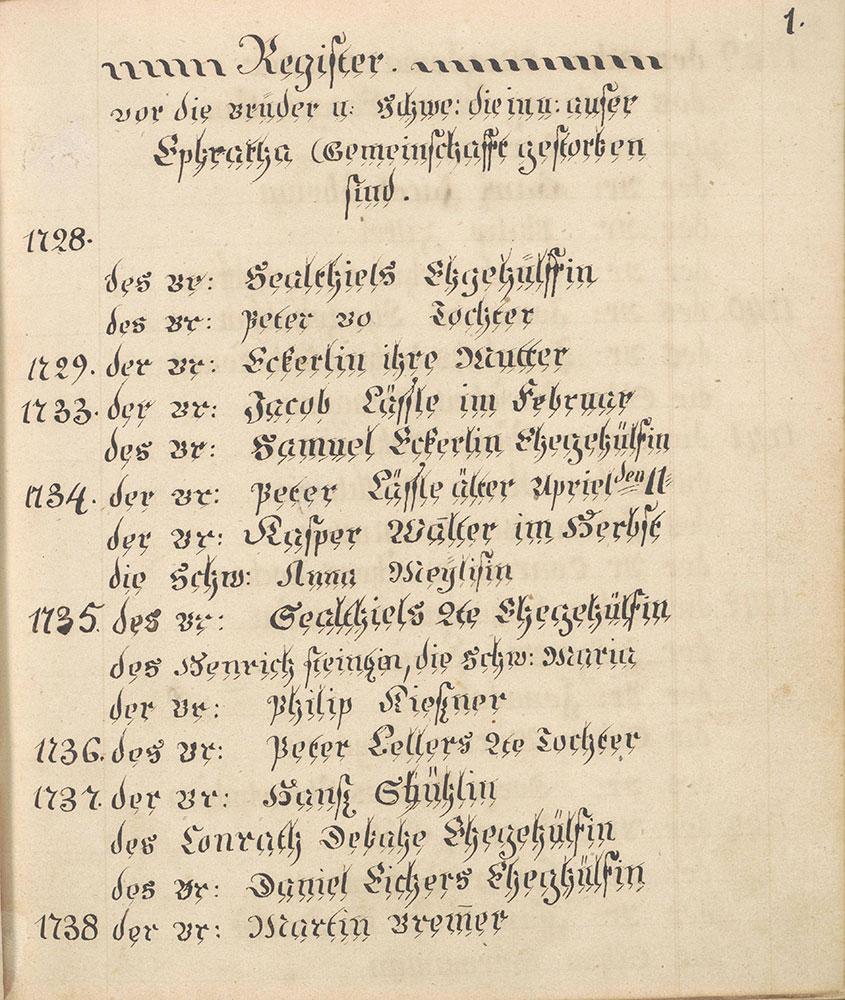 Item Info
Item No: frkm082000
Title: Death Register of the Brothers and Sisters at Ephrata, 1728-1853
Scripts/Text:
Fraktur
Language:
German
Physical Description:
45p [86 p blank: 2 flyleaves; 21-60; 73-90; 103-124]; 12 mo (approximate)
Material:
wove paper; gall ink; leather; thread
Category:
Register
Media Type:
Manuscripts
Source:
Rare Book Department
Notes:
Binding:
Quarter bound with marbled paper boards
Notes:
Biographical Note:
The Ephrata Cloister or Ephrata Community was a religious community established in 1732 by Johann Conrad Beissel at Ephrata, in what is now Lancaster County, Pennsylvania. The sect was separated into two celibate groups, one of single women and one of single men, as well as a proportionately larger number of married couples called householders, most of whom lived on nearby farms. After the death of Beissel in 1768, the number of followers markedly declined, and the monastic aspect was gradually abandoned, with the last celibate member dying in 1813. In 1814 the Society was incorporated as the German Seventh Day Baptist Church (or The German Religious Society of Seventh Day Baptists). Gottesacker or God's Acre is the Ephrata Cloisters cemetery where Conrad Beissel, Peter Bremmer, Anna Eicher, Valentin Mack, Peter Miller, and many others, including several generations of notable householder families such as the Konigmachers, Zerfasses, and Fahnestocks are buried.

Notes:
Full Title:
N. B. There are three death register titles in this Ms, along with a number of
biographical sketches:
1. Register vor die Brüder u: Schwe: die inn;auser Ephratha (Gemeinschafft gestorben sind
2. Vatter Friedsam…Bruder Agonius…Nun folgen die brüderliche geselschaft in Bethania
3. Register vor die Geselschaft der Schw: in Saron

Notes:
Scope and Content:
Death Register of the Brothers and Sisters at Ephrata, 1728-1853 is a copy of a death register for the brothers, sisters, and married couples, known as householders, for the Ephrata Community, or Ephrata Cloisters. The earliest entry is 1728 (wife of Brother Sealthiels, and Brother Peter Bo's daughter), and the last entry is 1853 (Elizaberth Fahnestock who died on March 19, 1853, aged 89 years, and 6 months. She was Benjamin Fahnestock's wife). There are many blank pages between the three lists: one for the celibate males who lived together in a building named Bethania; one for the celibate females who dwelled communally in a house named Saron, and one for the brethren who either were resident within or outside of the Cloisters on farms in the surrounding area. There are also thumbnail biographical sketches of a number of the members, most notably Conrad Beissel, founder of this religious group. We learn that Beissel died a quiet death surrounded by his followers, and that the hour was about noon when he left this world. This information is tucked away where few would ever see it, but it definitely was of importance to the scrivener, who noted it.

Associated Names:
Zittel, Philip
Provenance:
Oda, Wilbur H.
Bibliography:
Stones of Faith: Pennsylvania Germans and Their Gravestones: Ephrata Cloisters Cemetery.
Retrieved 22 June 2012 from http://www.pagstones.com/pgs_links.page.html
Bradley, John: Pushing William Penn's "Holy Experiment" to its Limits: Ephrata Cloister."
Retrieved 22 June 2012 from Pennsylvania Historical and Museum Commission online, http://tinyurl.com/85wo69a
Ephrata Cloisters History: Wikipedia
Retrieved 20 June 2012 from http://en.wikipedia.org/wiki/Ephrata_Cloister
Ephrata Cloisters History: Ephrata Cloisters
Retrieved 20 June 2012 from http://www.ephratacloister.org/history.htm
Ernst, James E. with an intro. by John J. Stoudt: Ephrata, a History, (Yearbooks) 25 (Allentown, Pa: Pennsylvania German Folklore Society, 1963).
Index for Ephrata Cloister People File (Ephrata Cloisters, Ephrata, PA, 2012), manuscript, Nr. 390.

Creation Place Town/Township:
Creation Place Note:Based on location of the Ephrata Cloisters
Region/County:Lancaster
City/Town/Township:Ephrata
State/Province:Pennsylvania
Creation Year (Single Year or Range Begin):
ca. 1853
Image Dimensions Width:
18.3 cm
ShelfMark:
FLP Borneman Ms. 82