Receipts by William Konigmacher on Behalf of the Society of Ephrata
Fraktur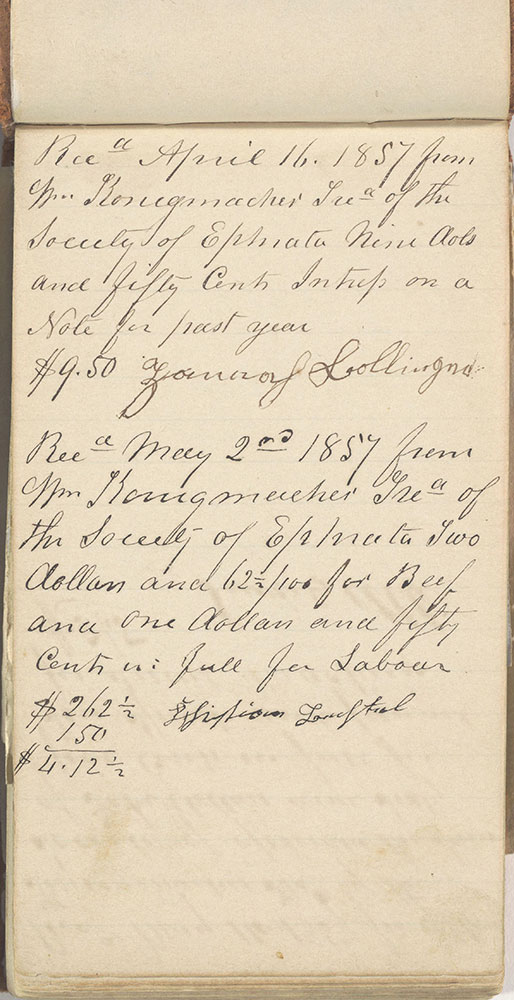 Item Info
Item No: frkm080000
Title: Receipts by William Konigmacher on Behalf of the Society of Ephrata
Scripts/Text:
Roman cursive
Language:
English
Physical Description:
152 p (9 p blank: 1, 3, 48, 78, 80, 118, 119, 133, 148); 18 mo (oblong)
Material:
wove paper; ink; graphite; leather; sealing wax
Category:
Receipts book (Quittungsbuch)
Media Type:
Manuscripts
Source:
Rare Book Department
Notes:
Accompanying Materials Laid or Tipped In:
There are circa 28 tipped in invoices/receipts, and one laid-in receipt in the manuscript.

Notes:
Binding:
Full suede with stamped diamond border on front and back boards; E S stamped below upper border on front board; In middle of binding: RECEIPTS stamped in gold on a black background, and bordered on left and right sides by two golden lines.
Notes:
Biographical Note:
The Ephrata Cloister or Ephrata Community was a religious community of celibates as well as a group of families, established in 1732 by Conrad Beissel at Ephrata, in what is now Lancaster County, Pennsylvania. The monastic aspect was gradually abandoned, with the last celibate member dying in 1813. In 1814 the Society was incorporated as the German Seventh Day Baptist Church (or The German Religious Society of Seventh Day Baptists). William Koenigmacher is listed as member nr. 390 in the Index for Ephrata Cloister People File, a manuscript kept by the current Ephrata Cloisters management. He was secretary/treasurer for the Society of Ephrata per our manuscript from 1857-1864.
Notes:
Scope and Content:
Receipts by William Koenigmacher on Behalf of the Society of Ephrata contains receipts issued to or by tradespeople/laborers/tax collectors, who rendered services for the Society of Ephrata from 4/16/1857-7/20/1864, and were paid by William Konigmacher, Secretary and Treasurer of the Society. Formulaic receipts "Rec on (date) from William Koenigmacher (Königmacher, Konigmacher, Konigmaker) (Secretary/Treasurer) of the Society of Ephrata (amount) for (services/taxes) (Signature of tradesperson, laborer, tax collector)" are rendered mostly by the same hand. Invoices, and slips of paper tipped in or laid in are often in the hand of the tradesperson / laborer / or tax collector who issued the bill.

Associated Names:
Steininger, Joseph
Bibliography:
Acts of the General Assembly of the Commonwealth of Pennsylvania (Philadelphia: Commonwealth of Pennsylvania Publication, 1814), Act 26, p. 20.
Ephrata Cloisters History: Wikipedia
Retrieved 20 June 2012 from http://en.wikipedia.org/wiki/Ephrata_Cloister
Ephrata Cloisters History: Ephrata Cloisters
Retrieved 20 June 2012 from http://www.ephratacloister.org/history.htm
Ernst, James E. with an intro. by John J. Stoudt: Ephrata, a History, (Yearbooks) 25 (Allentown, Pa: Pennsylvania German Folklore Society, 1963).
Index for Ephrata Cloister People File (Ephrata Cloisters, Ephrata, PA, 2012), manuscript, Nr. 390.

Secondary Place Town/Township:
Geographic Coverage State/Province:Pennsylvania
Geographic Coverage City/Town/Township:Lancaster
Geographic Coverage Note:Per receipt entries
Geographic Coverage Region/County:Lancaster
Creation Place Town/Township:
Creation Place Note:Per receipt entries
Region/County:Lancaster
City/Town/Township:Ephrata
State/Province:Pennsylvania
Creation Year (Single Year or Range Begin):
1864
Image Dimensions Width:
9.4 cm
ShelfMark:
FLP Borneman Ms. 80
Creator Name:
Konigmacher, William, 1797-1881 - Author
Konigmacher, William, 1797-1881 - Scrivener