Leidger oder Debit und Credit Buch vor Johannes Funck Im Jahr 1789
Fraktur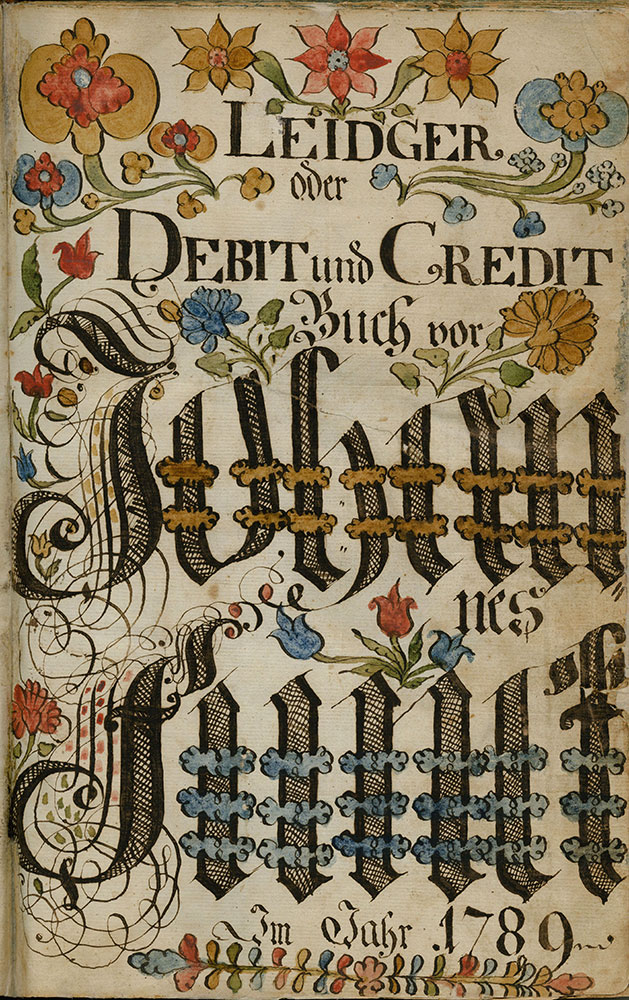 Item Info
Item No: frkm151000
Title: Leidger oder Debit und Credit Buch vor Johannes Funck Im Jahr 1789
Scripts/Text:
Fraktur; German script; Roman script; Roman print
Language:
German; English
Weiser Number:
173
Physical Description:
222 leaves
Material:
Laid paper, ink, watercolor
Watermark:
DR; David Rothermel; [253]
Transcription:
[First entry: Verso; Page] 2 \ Anno 1789 \ February 15 \ Friedrich Drager Dr \ £, S, d \ Eine seite Sohl Leder wiegt \ 16 Lb @ 1/6 d p. Lb ----- 1 £/ 4 S/ 0 d/ Die \ Eine Seite Ober Leder ----- \ 0 £/ 12 S/ 0 d \ zu ein seid hernisch leter wiegt 11 lb @ 17 d p:
[Recto; Page] 3 Anno 1789 \ Februar/ry 15th \ Per Contra \ Eine Kalb Haut wiegt 13 lb \ @ \ 8d p: lb \ 0 £ / 8 S/ 8 d \ zu empfangen 18 in gutt 0 / 18/ 0

Translation:
[First entry: Verso; Page] 2, February 15, 1789 Debit Friedrich Drager for one side of sole leather weighing 16 lb @ 1 shilling, 6 pence per lb.------ 1 £, 4 shillings, 0 pence. The one side of upper leather------ 0 £, 12 Shillings/ 0 pence…One side of harness leather weighs 11 lb @ 17d p.
[Recto; Page] 3 , February 15, 1789, Credit one calf skin weighing 13 lbs. @ 8 pence per lb. 0 £//8 Shillings/8 pence…to receive 18 shillings credit.

Category:
Account book (Kontobuch)
Media Type:
Manuscripts
Source:
Rare Book Department
Notes:
Binding:
Quarter bound in leather over decorated paper on boards. Raised bands on spine.
Watermark:
David Rothermel, a papermaker in Maidencreek Township, Berks county, PA, is the maker of the paper used in this Ms. Fig. 309 in Thomas Gravell's American Watermarks…is taken from the Delaware Historical Society Collection, Pattern Papers, place of use: Dover DE; date of document: 1787. The DR watermark has been found on papers dated as early as 1783.

About the manuscript:
On front end paper in precise contemporary 20th century cursive script with lead pencil: " Bookplate the work of | Johannes Ernst \ Spangenberg \ teacher in Lutheran and/ Reformed schools \ at Easton 1767 \ died 1814 \ Examples of work known 1783-1812"
The bookplate and letters to the Index are attributed to Johannes Ernst Spangenberg (c. 1755-1814). The bookplate has been very carefully repaired with rice paper. Vid: Free Library of Philadelphia Digital Frakture Collection, FLP B-1032 [http://tinyurl.com/89uqthv].
From Feb 12, 1789-1796 one finds entries for mostly leather-related items [pp. 1-225].
From 1796—1815 there are a great number of weaving entries (John Funk's son Samuel Funk learned weaving per a note in Ms.), as well as carting costs, indentures, spinning, stone coal, costs for expenses and people making trips to Lancaster, mowing, haying, promissory notes, work entries for various & sundry people for farm duties such as planting corn, hoeing cabbage, building materials such as logs, spikes… [pp. 228-252].
The original ledger is hand-ruled in gall ink for Year, Entry, £, S, and Pence up to p. [253]. It is paginated to 252 pages-noted on verso of each leaf. N.B. Up to p. 80, the recto & verso are paginated and numbered. Thereafter, only the verso is paginated and numbered, counting as one leaf (i.e. recto & verso count as one leaf). A gap of 20 pages unlined and then additional pages for 1805, 1802, 1811, 1816, 1814, etc. follow no chronological order.
There is evidence of torn-out pages in the back of the Ms. Later hands contributed pencil signatures, notes, scribbles, and drawings from ca. 1910 with the name Mamie Fillman and Telford, PA.
There are several inserts of various dates in the ledger recording a property assessment for John Funck; two promissory notes; poems; etc.
Associated Names:
Spangenberg, Johann Ernst
Provenance:
Funk, John
Funk, Samuel
Yoder, Levi
Bibliography:
"Johannes Ernst Spangenberg" in Russell D. and Corinne P. Earnest, Papers for Birth Dayes: Guide to the Fraktur Artists and Scriveners (East Berlin, Pa.: Russell D. Earnest Associates, 1997), 2nd ed., vol. 2, pp. 717-719.
Monroe H. Fabian, "The Easton Bible Artist Identified," in Pennsylvania Folklife 22, no. 2 (Winter 1972): 2-14; published as fig. 9.
Thomas L. Gravell, and George Miller, American Watermarks 1690-1835 (New Castle, De: Oak Knoll Press, 2002), Fig. 309, 219; p. 69.
James F. Magee, Jr., " Berks County Paper Mills, Paper Makers, and Watermarks, 1747-1832," in Historical Review of Berks County 13, no. 3 (1948), p. 77.
Pennsylvania Folklife (Fall 1958): published on p. 25.
Donald A. Shelley, The Fraktur-Writings or Illuminated Manuscripts of the Pennsylvania Germans (Allentown, Pa.: Pennsylvania German Folklore Society, 1961), published as fig. 49.

Secondary Place County:
Geographic Coverage State/Province:[Pennsylvania]
Geographic Coverage Note:Based on artist's location
Geographic Coverage Region/County:[Northampton]
Creation Place Town/Township:
Creation Place Note:Based on an insert of an 1809 property assessment for John Funk by John Brock Assessor of Springfield Township
Region/County:Bucks
City/Town/Township:Springfield
State/Province:Pennsylvania
Creation Year (Single Year or Range Begin):
1850
Image Dimensions Width:
31.5 cm
ShelfMark:
FLP Borneman Ms. 151
Creator Name:
John Funk - Author
Samuel Funk - Author
Attributed to Johannes Ernst Spangenberg (c. 1755-1814) - Decorator
Attributed to Johannes Ernst Spangenberg (c. 1755-1814) - Scrivener
John Funk - Scrivener
Samuel Funk - Scrivener