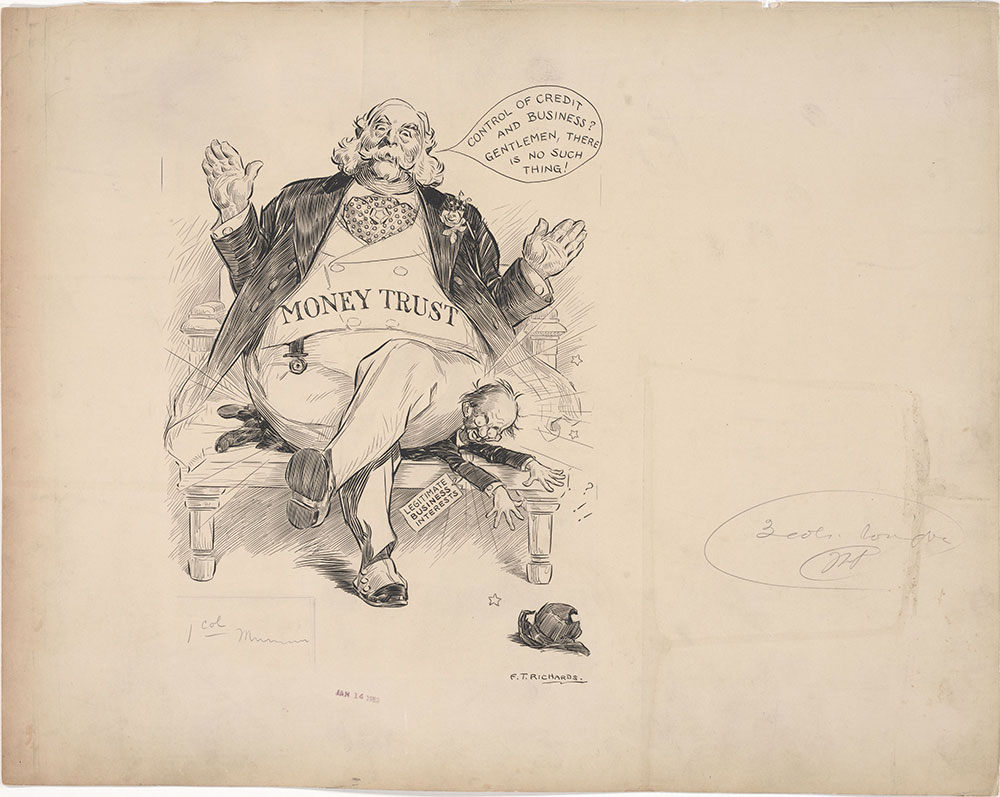 Item Info
Item No: PIXC00070
Title: Money Trust
Creation Date:
1/14/1913
Publication Date:
1/14/1913
Media Type:
Cartoons (Commentary)
Source:
Print and Picture Collection
Notes:
"Prior to 1913, panics were common occurrences, as investors were unsure about the safety of their deposits. The Federal Reserve Act gave the 12 Federal Reserve banks the ability to print money in order to ensure economic stability. In addition to this task, the Fed had the power to adjust the discount rate/the fed funds rate and buy & sell U.S. treasuries."

Source: http://www.investopedia.com/terms/f/1913-federal-reserve-act.asp#ixzz26NRfeuIc
The Federal Reserve Act (ch. 6, 38 Stat. 251, enacted December 23, 1913, 12 U.S.C. ch.3) is an Act of Congress that created and set up the Federal Reserve System, the central banking system of the United States of America, and granted it the legal authority to issue Federal Reserve Notes (now commonly known as the U.S. Dollar) and Federal Reserve Bank Notes as legal tender. The Act was signed into law by President Woodrow Wilson.
For more information link to: www.federalreserve.gov/aboutthefed/section1.htm