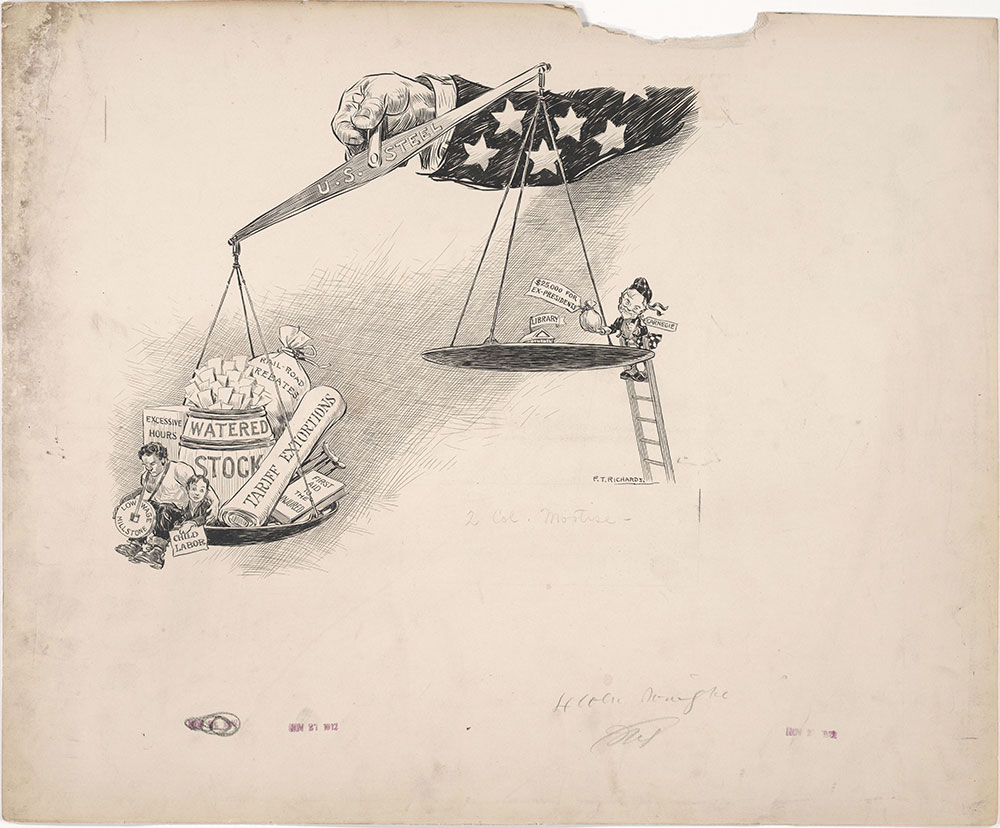 Item Info
Item No: PIXC00086
Title: Carnegie's Contributions to Society
Additional Title: 11/27/1912
Creation Date:
11/27/1912
Publication Date:
11/27/1912
Media Type:
Cartoons (Commentary)
Source:
Print and Picture Collection
Notes:
This cartoon is meant to imply that the negative aspects of Andrew Carnegie's influence in the United States far outweighed his positive contributions. Carnegie, a highly successful industrialist and founder of the Carnegie Steel Company, was also notable for his philanthropic efforts. These included the donation of over $40 million to support the creation of more than 1,600 new public library buildings. The cartoonist also referenced Carnegie's offer to provide a $25,000 pension to all future former U.S. Presidents (though lawmakers declined this offer). The other side of the imbalanced scale holds the negative aspects of Carnegie's influence. Represented among these are child labor, low wages and excessive hours for his employees, as well as unethical business practices.
Sources:
Ginsberg, W. (2008). CRS Report for Congress - Former Presidents: Pensions, Office Allowances, and Other Benefits. Retrieved from: < http://fpc.state.gov/documents/organization/109502.pdf >
National Parks Service. (2012). Carnegie Libraries: The Future Made Bright. Retrieved from: < http://www.nps.gov/nr/twhp/wwwlps/lessons/50carnegie/50carnegie.htm >
Country:
Country:United States
State/Province:Pennsylvania
Creator Name:
Richards, Frederick T. (1864-1921) - Artist