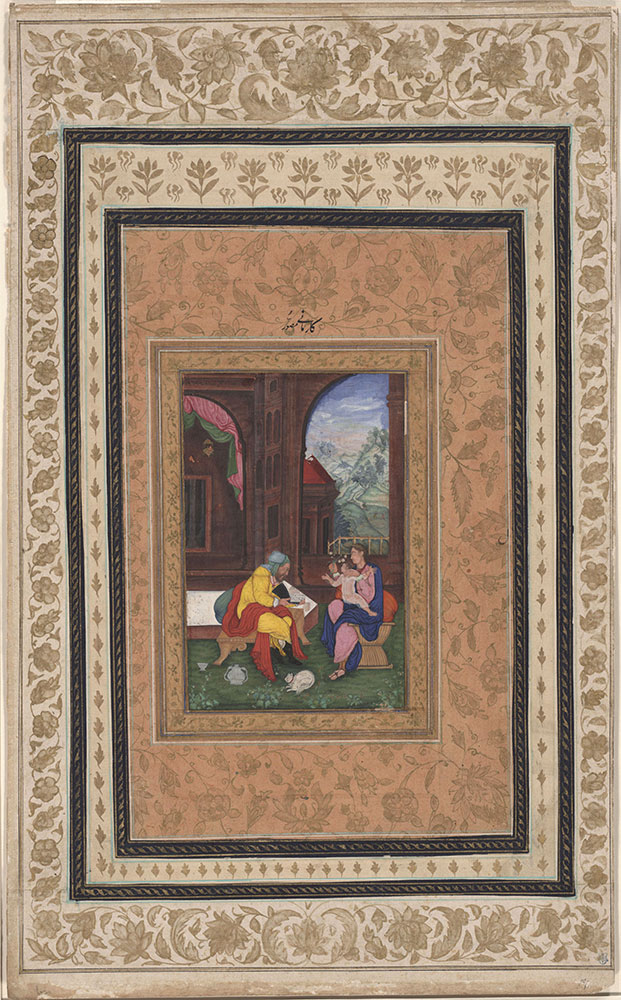 Item Info
Item No: mcom00701
Title: The Holy Family
Additional Title: A Copy of a European Painting
Media Type:
Manuscripts
Source:
Rare Book Department
Notes:
*******
This item appeared in the exhibition "Sacred Stories: The World's Religious Traditions" in the Rare Book Department, August 2015-January 2016.
This is the label from that exhibition:
From the earliest stages in the development of Islamic Mughal painting, court artists consulted European paintings and prints. This painting is inspired by European Christian sources, showing Mary and Joseph with a book in Arabic.
Notes:
A Persian inscription on the upper border of this album page reads 'kar-iMani musavvir" (work of Mani, the painter). An artist called Mani contributed to a number of illustrated manuscripts produced at Akbar's court, but no European-themed paintings are associated with his oeuvre. A more likely candidate for the authorship of this painting is Keshav Das (also known as Kesu Das), to whom is credited a range of paintings done after and inspired by European paintings.
Notes:
This highly accomplished painting shows the Virgin and Child with St. Joseph, who sits enveloped in colorful, draping fabrics and holds a codex on whose pages are written an illegible text in Arabic script. While clearly inspired by a European print or painting, the original source has yet to be identified. A curious parallel can be found in Andrea del Sarto's Madonna del Sacco of 1525, which portrays St. Joseph in strict profile, one hand displaying an open book as the other rests on a sack. An engraving after this fresco, which is located in the Basilica della Santissima Annuziata, Florence, may very well have travelled to Akbar's court during the last decades of the 16th century. In the Mughal painter's hands, however, the Madonna del Sacco would have been radically transformed and further embellished, with the figure of St. Joseph and the prominent Italianate arches the only traces of the fresco's composition.
Notes:
We are grateful to Yael Rice for the previous catalog entries excerpted from the exhibition catalog for "Akbar: The Great Emperor of India."
Bibliography:
Carvalho, Pedro De Moura., and W. M. Thackston. Mir'āt Al-quds (Mirror of Holiness): A Life of Christ for Emperor Akbar : A Commentary on Father Jerome Xavier's Text and the Miniatures of Cleveland Museum of Art, Acc. No. 2005.145. Leiden: Brill, 2012. Print. P. 124.
Gian Carlo Calza, editor. Akbar: The Great Emperor of India. Milano: SkirEditore S.p.A./Roma: Fondazione Roma, 2012. Catalog for an exhibition at the Fondazione Roma Museo, Palazzo Sciarra, 23 October 2012 - 3 February 2013.
Roe, Thomas, and William FOSTER. The Embassy of Sir Thomas Roe to India, 1615-19 ... Edited by Sir William Foster ... New and Revised Edition. Pp. lxxix. 532. Humphrey Milford: London, 1926. Print. P. 213, 224.
Creation Year (Single Year or Range Begin):
1625
Call Number:
Lewis M 70
Creator Name:
Keśavadāsa, 1555?-1617? - Artist
View other associated items