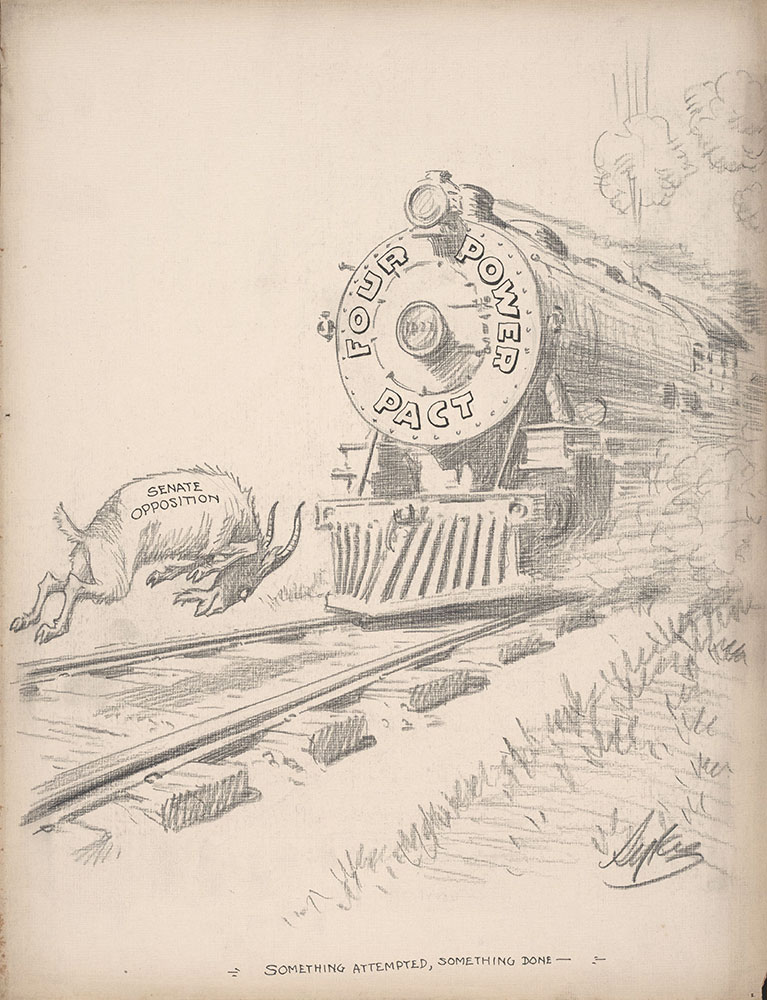 Item Info
Item No: pixc00986
Title: Something Attempted, Something Done
Additional Title: Something Attempted, Something Done
Publication Date:
3/18/1922
Media Type:
Cartoons (Commentary)
Source:
Print and Picture Collection
Notes:
The Four Power Treaty was signed by the United States, Great Britain, France, and Japan on December 13, 1921. It was approved by the Senate on March 24, 1922, with an amended resolution.
As part of the treaty, the four countries agree to respect the Pacific holdings of the other signing parties; to confer with them in case of territorial dispute among the Four; and mutual consultation with each other if their rights in the pacific should be threatened by an outside Power.
Sources
[1] Department of State Publication. (1938). "Treaty between the United States of America, the British Empire, France, and Japan, Signed at Washington December 13, 1921." in Papers Relating to the Foreign Relations of the United States 1922: Volume 1. Washington, DC: Department of State Publication. Retrieved from: http://avalon.law.yale.edu/20th_century/tr1921.asp.
[2] Bellamy, Francis Rufus. (1922). "April 5, 1922: Not Allies But Friends." in The Outlook Volume 130: p. 536-537. Retrieved from: http://books.google.com/books?id=8cMGAQAAIAAJ&pg=PA536&lpg=PA536&dq=four+power+treaty+and+senate+opposition&source=bl&ots=4CKKTB4hzu&sig=aCtMVYrBt5Js5h6qO9xMHYbHFJg&hl=en&sa=X&ei=mUNzVL37DYubgwTc6YOIBA&ved=0CCYQ6AEwAg#v=onepage&q=four%20power%20treaty%20and%20senate%20opposition&f=false
[3] Senators End Snarl on 4-Power Treaty, Pass Supplements. (1922, March 28). New York: The New York Times. Retrieved from: http://query.nytimes.com/mem/archive-free/pdf?res=9E03EFDD1639EF3ABC4051DFB5668389639EDE
Bibliography:
Sykes, Charles Henry. "Something Attempted, Something Done." Evening Public Ledger (Philadelphia, PA). 1922, March 18: p. 8.
Creator Name:
Sykes, Charles Henry, 1882-1942 - Artist