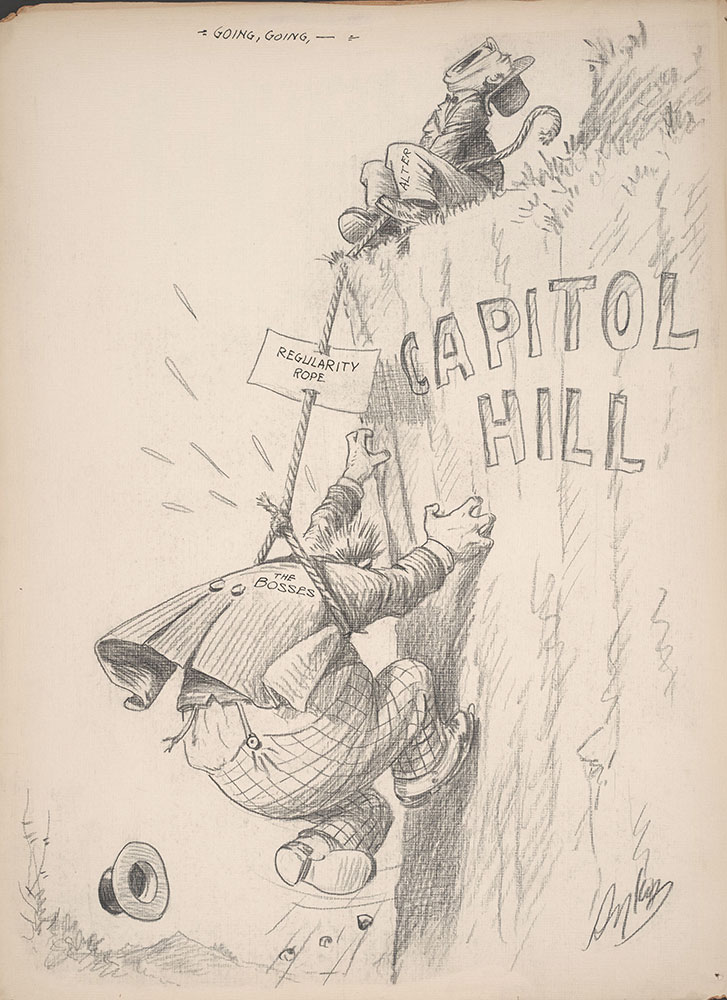 Item Info
Item No: pixc01024
Title: Going, Going
Additional Title: Going, Going
Media Type:
Cartoons (Commentary)
Source:
Print and Picture Collection
Notes:
A man, labeled as Alter, braces himself on the edge of Capitol Hill, pulling on the regularity rope to haul up "the bosses," who seem to be too heavy to pull up.
Alter is likely George E. Alter, and the political bosses likely refer to the Republican political machine bosses in Philadlephia, led by William S. Vare.
"Capitol Hill" may also refer to the organization of political bosses: "Of the Vare machine in Philadelphia there are left only mourners and refugess embittered to the bone. The so-called Capitol Hill organization is a shabby ruin" May 18, 1922
[Sources]:
Beers, Paul B. Pennsylvania Politics Today and Yesterday: The Tolerable Accommodation. University Park: Pennsylvania State University Press, 1980. Web. https://books.google.com/books?id=6SpJJmkNDFEC&pg=PA85&lpg=PA85&dq=george+e+alter+vs+pinchot&source=bl&ots=JnEaqboMBc&sig=yWAnmJCV8xdN9I8EhKTBu1_6Ab0&hl=en&sa=X&ei=iGW1VOmsAYijNonFgeAI&ved=0CCUQ6AEwAQ#v=onepage&q=george%20e%20alter%20vs%20pinchot&f=false
McLarnon, John Morrison. Ruling Suburbia: John J. McClure and the Republican Machine in Delaware County, Pennsylvania. Newark: University of Delaware, 2003. Web. https://books.google.com/books?id=uVQFw6j-sRQC&pg=PA70&lpg=PA70&dq=george+e+alter+and+bosses&source=bl&ots=ZmECWJGtPi&sig=yN-zS1Kv53OArtieoFuAQYHEmBE&hl=en&sa=X&ei=O2W1VJ4niJw2o9qA-A0&ved=0CCgQ6AEwAg#v=snippet&q=machine%20alter&f=false.
"The Bosses Go Down And Out." Evening Public Ledger 18 May 1922: 8. Print.
Creator Name:
Sykes, Charles Henry, 1882-1942 - Artist
Subjects