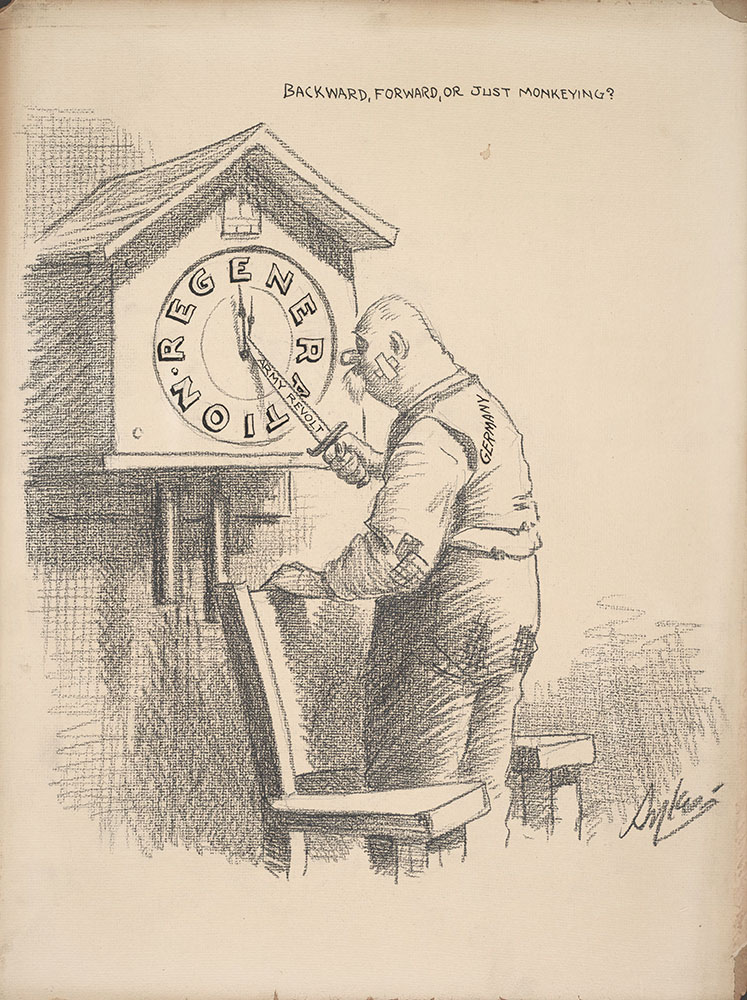 Item Info
Item No: pixc01029
Title: Backward, Forward, or Just Monkeying?
Additional Title: Backward, Forward, or Just Monkeying?
Publication Date:
3/15/1920
Media Type:
Cartoons (Commentary)
Source:
Print and Picture Collection
Notes:
The cartoon depicts Germany moving the clock hands, attempting to make change through army revolts.
"In March 1920, the Free Corps took over Berlin. Ebert and the government had to leave the city. The Free Corps were lead by Wolfgang Kapp - a right wing nationalist who hated the government for signing the Versailles Treaty. This incident is called the Kapp Putsch. A putsch is an attempt to take over a country by the use of force. The Free Corps was joined by the Berlin police. The putsch failed because the workers of Berlin, who were not sympathetic to the Free Corps, went on general strike and paralysed the city. There were no buses, trams, trains and fuel supplies were ended. Kapp held Berlin for just 100 hours before he fled to Sweden. The putsch failed miserably. But once again, it was not the government that restored order. The government's power was being maintained by others.
"Also in March 1920, the workers of the Ruhr - Germany's wealthiest industrial region - formed a Red Army of 50,000 men. The Germany Army managed to defeat this threat to start with, but it was only finally put down by the Free Corps who shot over 2000 workers."
"Early Problems of Weimar Germany." History Learning Site. Accessed 13 Jan. 2015. http://www.historylearningsite.co.uk/weimar_republic_problems.htm
Bibliography:
Sykes, Charles Henry. "Backward, Forward, or Just Monkeying?" Evening Public Ledger (Philadelphia, PA). 1920, March 15: p. 8.
Creator Name:
Sykes, Charles Henry, 1882-1942 - Artist