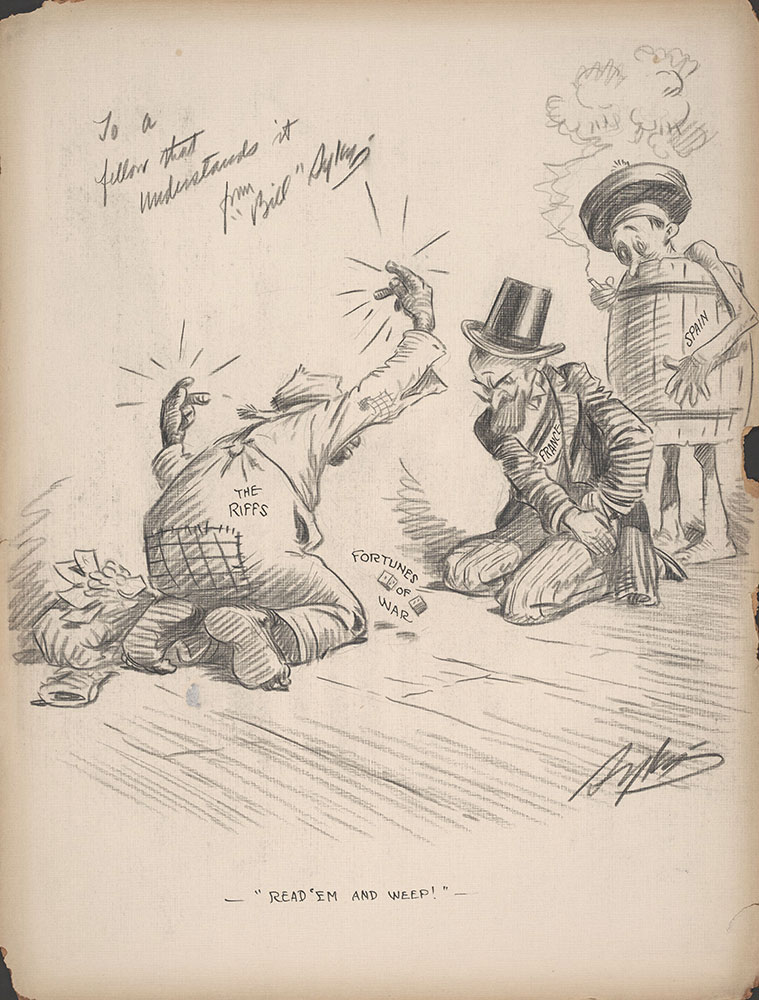 Item Info
Item No: pixc01053
Title: Read'em And Weep!
Additional Title: Read'em And Weep!
Media Type:
Cartoons (Commentary)
Source:
Print and Picture Collection
Notes:
An inscription from Sykes reads: "To a fellow that understands it. from "Bill" Sykes" --- A series of guerrilla attacks by Abd el-Krim's forces on Spain's advanced fortifications in June–July 1921 culminated a retreat empowered the Rif who were behind the Spanish lines, and Abd el-Krim and his followers pushed the Spanish forces back to Melilla. In a matter of weeks, Spain had lost all of the territory it had occupied since 1909 and suffered anywhere from 8,000 to 10,000 deaths. --- For the final attack commencing on 8 May 1925, the French and Spanish had ranged 123,000 men, supported by 150 aircraft, against 12,000 Rifians. Superior manpower and technology soon resolved the course of the war in favor of France and Spain. [Sources] "Rif War". Encyclopaedia Britannica. Encyclopaedia Britannica Online. Encyclopaedia Britannica Inc., 2015. Web. 03 Feb. 2015. --- Wikipedia contributors. "Rif War." Wikipedia, The Free Encyclopedia. Wikipedia, The Free Encyclopedia, 28 Jan. 2015. Web. 3 Feb. 2015.
Creator Name:
Sykes, Charles Henry, 1882-1942 - Artist