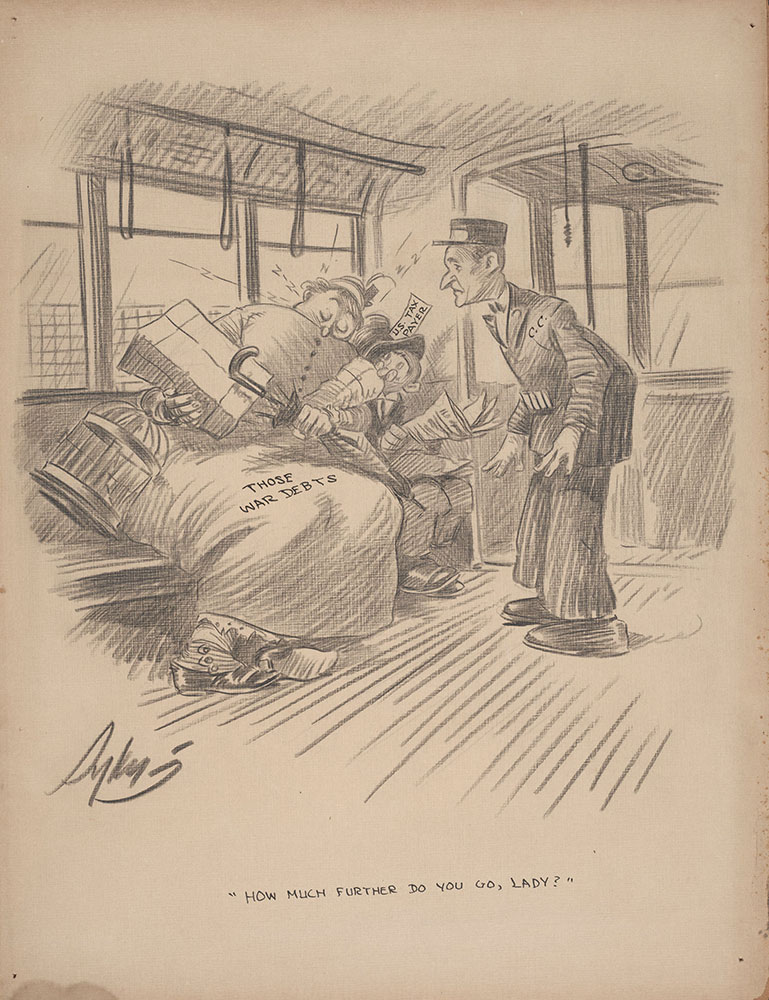 Item Info
Item No: pixc01054
Title: How Much Further Do You Go, Lady?
Additional Title: How Much Further Do You Go, Lady?
Media Type:
Cartoons (Commentary)
Source:
Print and Picture Collection
Notes:
The United States government was not much clearer than the British about its policy. Some business circles were coming round to the idea of cancelling or reducing Allied debts in return for economic advantages for the United States; but most public and Congressional opinion was convinced that the Allies had done well out of their territorial gains and that debt payment would alleviate the lot of the American taxpayer. --- With the Dawes Plan, loans are made to the Germans to repay Britain and France. Then Britain and France repay the U.S. to help reduce the national debt. President Coolidge believed the wartime debts owed the United States by the Allies had to be paid. Coolidge works hard on arms reductions to avoid war, cut military spending and get surpluses for a reduction of the debt. Manufacturers, farmers, and workers want tariffs and the GOP supports this, because tariffs keep the U.S. debt low. [Sources] "Foreign Policy." Calvin Coolidge Presidential Foundation. n.d. Web. 3 Feb. 2015. http://coolidgefoundation.org/presidency/foreign-policy/. --- Orde, Anne. "British Policy and European Reconstruction after the First World War." Cambridge: Cambridge University Press, 1990.
Creator Name:
Sykes, Charles Henry, 1882-1942 - Artist