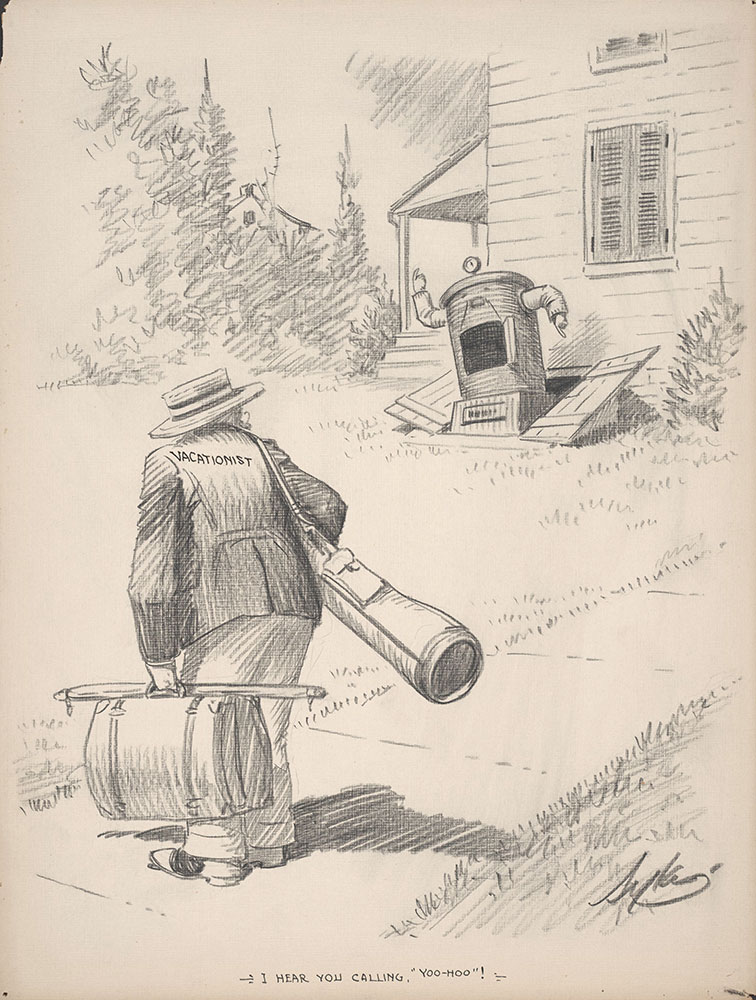 Item Info
Item No: pixc01066
Title: I Hear You Calling, "Yoo-Hoo!"
Additional Title: I Hear You Calling, "Yoo-Hoo!"
Publication Date:
8/11/1922
Media Type:
Cartoons (Commentary)
Source:
Print and Picture Collection
Notes:
Coal operators and the United Mine Workers of America (UMWA) had agreed in 1919 to wage increases and other gains for worker; however, when that contract expired on March 31, 1922, operators determined to roll back these gains. The UMWA and operators could not agree on a new contract, so John L. Lewis, president of the UMWA, led some 610,000 miners out on strike during the first week of April. This was the first national strike by both anthracite and bituminous miners....The national strike extended into the summer, when UMWA leaders, mine owners, and federal government officials began negotiating a new contract. The Harding administration pressed for a settlement to end the strike and avoid a coal shortage. On August 15, 1922, operators and the UMWA signed a contract that preserved workers' gains of 1919.
The "vacationist" may refer to miners who went on a "vacation" strike, individual strikers staying away on a so-called vacation.
[Sources]
Perlman, Selig. A History of Trade Unionism in the United States,. New York: Macmillan,1922. Print.
"Windber Strike of 1922-1923 Historical Marker." Explore PA History. 2011. Web. 6 Feb. 2015. <http://explorepahistory.com/hmarker.php?markerId=1-A-2CF>.
Bibliography:
Sykes, Charles Henry. "I Hear You Calling, 'Yoo-Hoo'!" Evening Public Ledger (Philadelphia, PA). 1922, August 11: p. 8.
Creator Name:
Sykes, Charles Henry, 1882-1942 - Artist