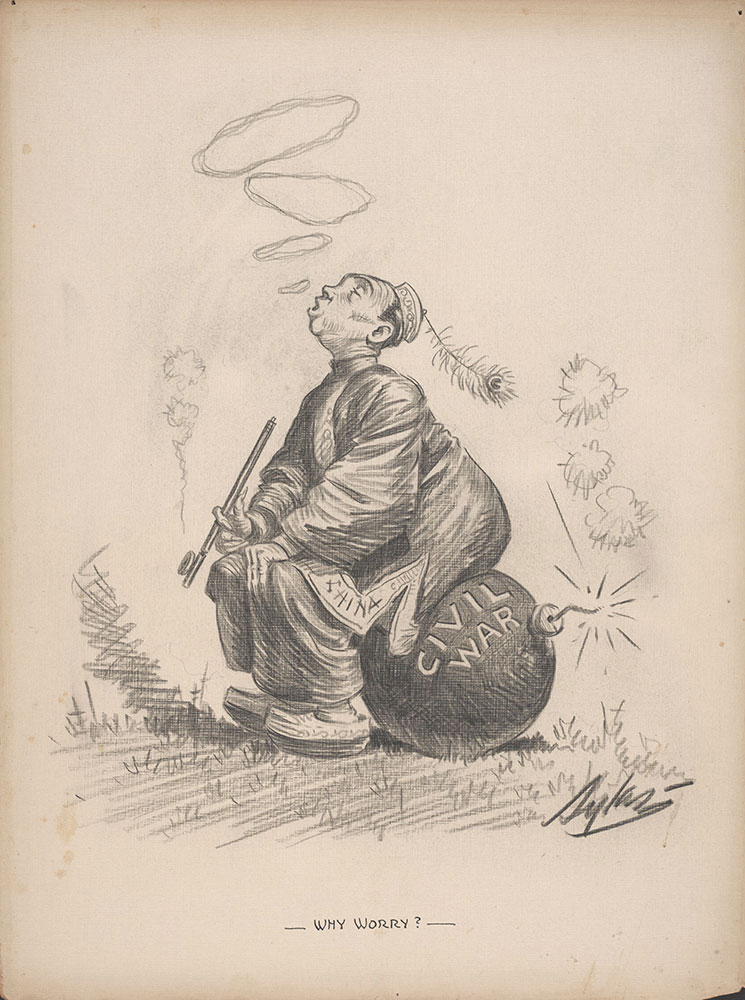 Item Info
Item No: pixc01104
Title: Why Worry?
Additional Title: Why Worry?
Media Type:
Cartoons (Commentary)
Source:
Print and Picture Collection
Notes:
During the 1920's, China was divided in a power struggle began between the Communist Party of China (CCP) and Kuomintang (KMT). By 1928, the CCP was expelled and China was nationalized under the KMT. However, the Communist Party of China resurfaced on November 1, 1931 when it proclaimed the Jiangxi providence as the Chinese Soviet Republic. The army of the Republic of China, under the leadership of Chiang Kai-shek tried to destroy the Communist army in 1934, however, Chiang failed but did cause the CCP to flee northward in the Long March.
Also in 1931, Japan began to occupy Manchuria and established a puppet government called Manchukuo. The Japanese aggression in China became full blown on July 7, 1937, the beginning World War II. By 1939, Japan controlled most of the east coast of China, while Chiang blockaded the Communists in the northwest region. By 1944, the United States began to help nationalist China, but the nationalist remained weak due to high inflation and economic strife.
In January of 1946, the two factions of China began to have another power struggle. The KMT, supplied by the United States, controlled the cities, while the CCP had a strong hold in the countryside. To make matters worse, high inflation demoralized the citizens and military. By 1948, the CCP began to wage war against the KMT, taking control of Manchuria and working its way south. On October 1, 1949, with the retreat of the KMT to Taiwan, Mao Zedong established the People's Republic of China.
Bowblis, John. "Overview." China in the 20th Century. King's College History Department, 12 Apr. 2000. Web. 6 Mar. 2015. http://departments.kings.edu/history/20c/china.html.
Creator Name:
Sykes, Charles Henry, 1882-1942 - Artist