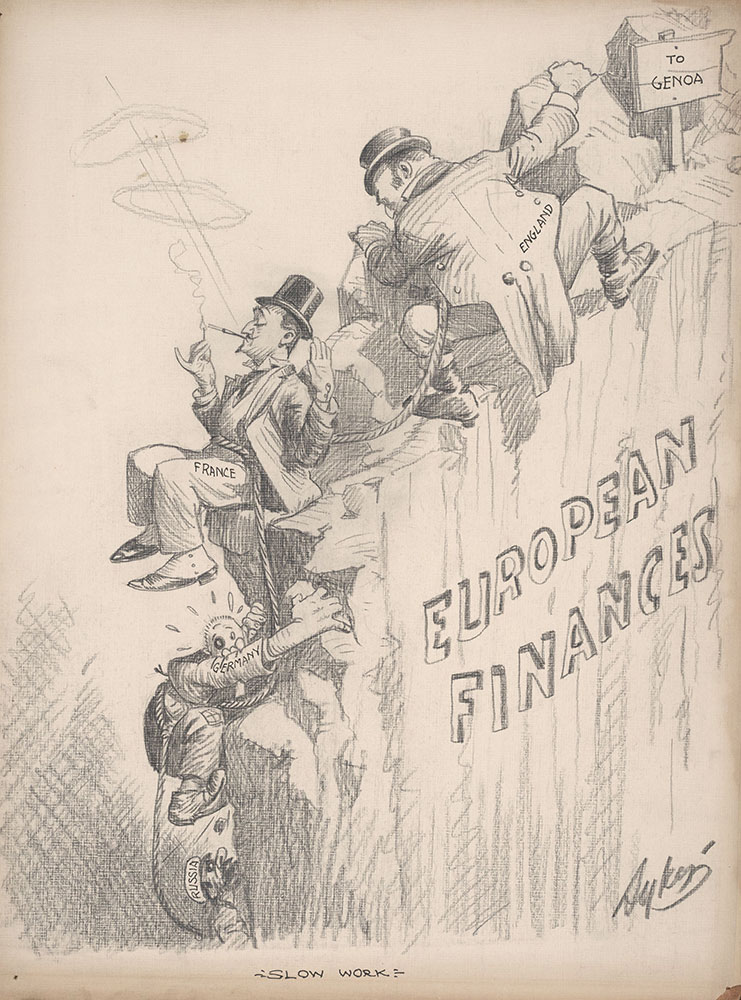 Item Info
Item No: pixc01111
Title: Slow Work
Additional Title: Slow Work
Media Type:
Cartoons (Commentary)
Source:
Print and Picture Collection
Notes:
"The Genoa conference provides a leading example of the rationale for international organizations such as the LON [League of Nations] in the 1920s.... Such organizations can develop principles on which economic policies are formed and executed in the interest of international peace and progress. Given that international monetary arrangements were in disarray in the early 1920s following the breakdown of the pre-1914 gold standard, monetary policy and exchange rate issues came to the fore. The conference emphasized exchange rate stabilization through currency reform, making all currencies exchangeable against gold..."
Endres, A. M., and Grant A. Fleming. International Organizations and the Analysis of Economic Policy, 1919-1950. Cambridge: Cambridge UP, 2002. Print.
"The year 1921 signaled the necessity for adjustments in the peace settlement. Things had not settles down. The Allied camp was badly split over an array of European and colonial issues. Germany grudgingly accepted a considerably scaled-down reparations figure in May but then threatened to default. Soviet Russia, exhausted by civil and foreign wars, disease, and famine, signed treaties with Poland and its Baltic neighbors and made overtures to the West, offering vague terms of debt repayment and alluring trade and investment opportunitiesin return for aid and recognition."
Fink, Carole, Axel Frohn, and Jürgen Heideking, eds. Genoa, Rapallo, and European Reconstruction in 1922: Edited by Carole Fink, Axel Frohn and Jurgen Heideking.Cambridge: Cambridge U, 1991. Print.
Creator Name:
Sykes, Charles Henry, 1882-1942 - Artist