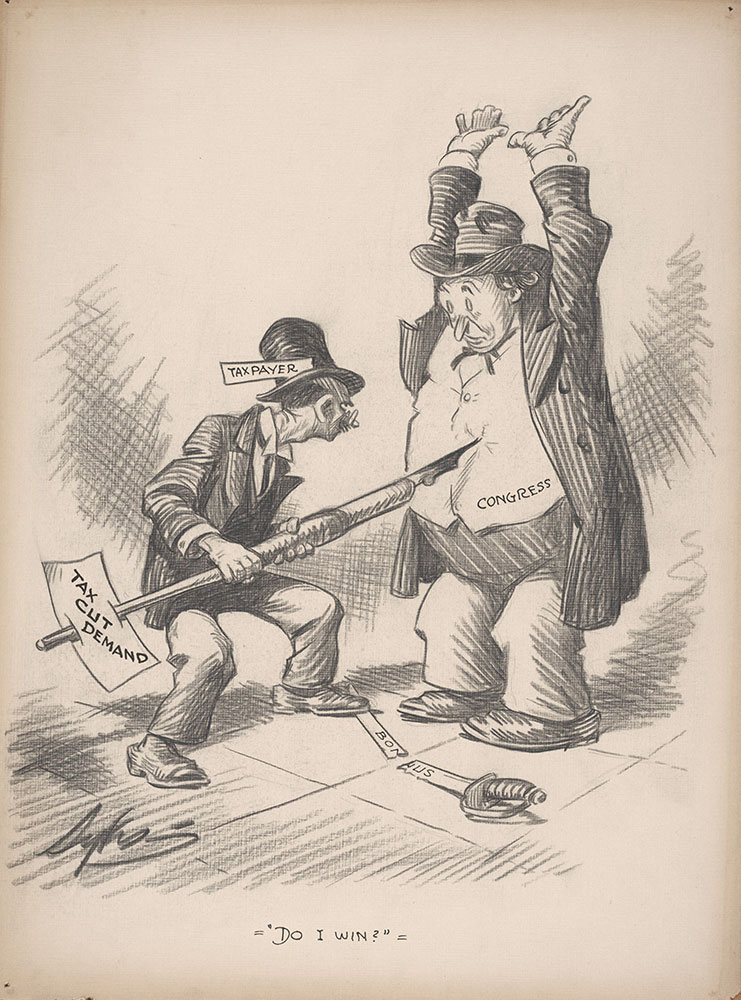 Item Info
Item No: pixc01115
Title: Do I Win?
Additional Title: Do I Win?
Publication Date:
1/12/1924
Media Type:
Cartoons (Commentary)
Source:
Print and Picture Collection
Notes:
"The World War Adjusted Compensation Act (43 Stat. 121), known as the Bonus Bill, created a benefit plan for World War I veterans as additional compensation for their military service.
"Veterans, with strong support from the newly formed American Legion, led that movement, but Democratic and Republican political progressives also supported it. What became the Bonus Bill originated in the 1920 Fordney Bill.... In 1922, however, Congress shed the education and home purchase options and passed a bonus-only bill of approximately $4 billion. Still too expensive, President Warren G. Harding promptly vetoed it for being fiscally irresponsible.
"By 1924 most Americans, including some well-known business leaders like William Randolph Hearst, favored some form of additional benefits. Most fiscal conservatives, however, thought additional benefits too costly and the specific proposals unlikely to strengthen the economy. Secretary of the Treasury Andrew W. Mellon typified this group, preferring instead to lower taxes rather than burden the government with additional spending. Nevertheless, Congress reconsidered a version similar to the failed 1922 bill and passed it over President Calvin Coolidge's veto."
Delaney, David G.. "Bonus Bill (1924)." Major Acts of Congress. 2004. Encyclopedia.com. 17 Mar. 2015. http://www.encyclopedia.com/doc/1G2-3407400032.html.
Bibliography:
Sykes, Charles Henry. "Do I Win?" Evening Public Ledger (Philadelphia, PA). 1924, January 12.
Creator Name:
Sykes, Charles Henry, 1882-1942 - Artist