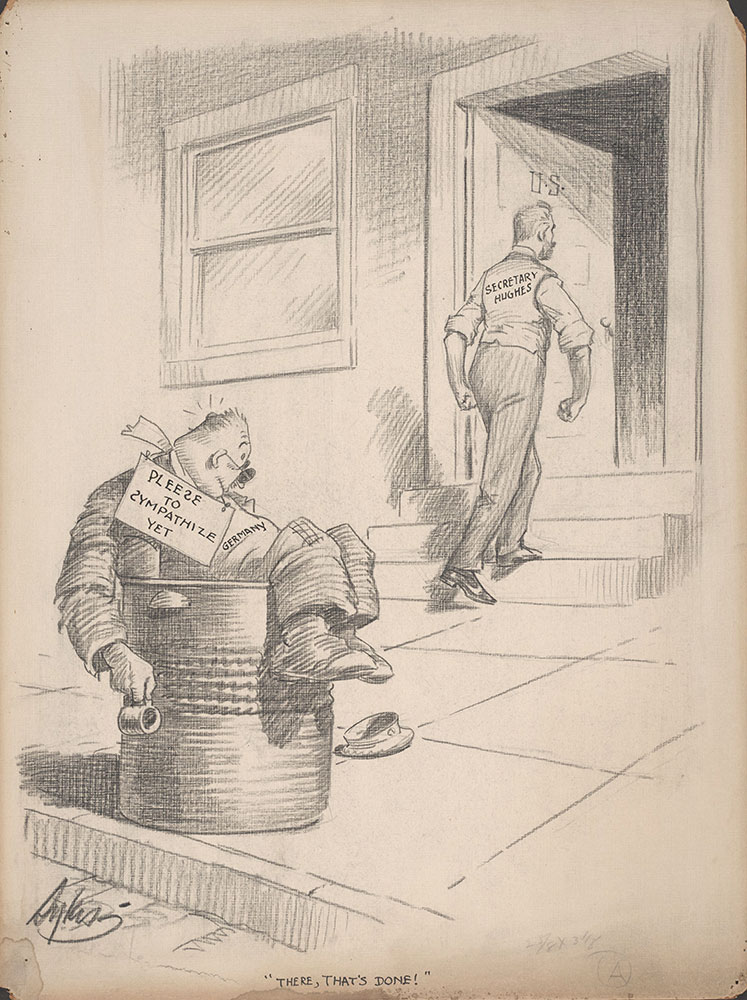 Item Info
Item No: pixc01139
Title: There, That's Done
Additional Title: There, That's Done
Publication Date:
5/4/1921
Media Type:
Cartoons (Commentary)
Source:
Print and Picture Collection
Notes:
"The success of the administration in foreign relations is going to depend largely upon Secretary Hughes....Commenting editorially upon the reply of Secretary Hughes to Foreign Minister Simons, of German, the London Times said: 'Mr. Hughes has given Germany the best of sound advice, and has in unmistakable form outlined policies which the urgency of the situation requires. The attitude of America on the reparations subject has been perfectly straight-forward and perfectly consistent.'"
"American Entry in Reparations Issue Doubtful." Evening Public Ledger (Philadelphia, PA). 1921, May 4: p. 4.
"President Harding was elected in part because of his call for a return to "normalcy," and as a result Hughes implemented a foreign policy that pursued only the most limited connection to the League or the principles of collective security laid out during the Wilson administration."
"Charles Evans Hughes." Biographies of the Secretaries of State. U.S. Department of State: Office of the Historian. Web. 7 Apr. 2015. https://history.state.gov/departmenthistory/people/hughes-charles-evans.
Bibliography:
Sykes, Charles Henry. "There, That's Done." Evening Public Ledger (Philadelphia, PA). 1921, May 4: p. 10.
Creator Name:
Sykes, Charles Henry, 1882-1942 - Artist