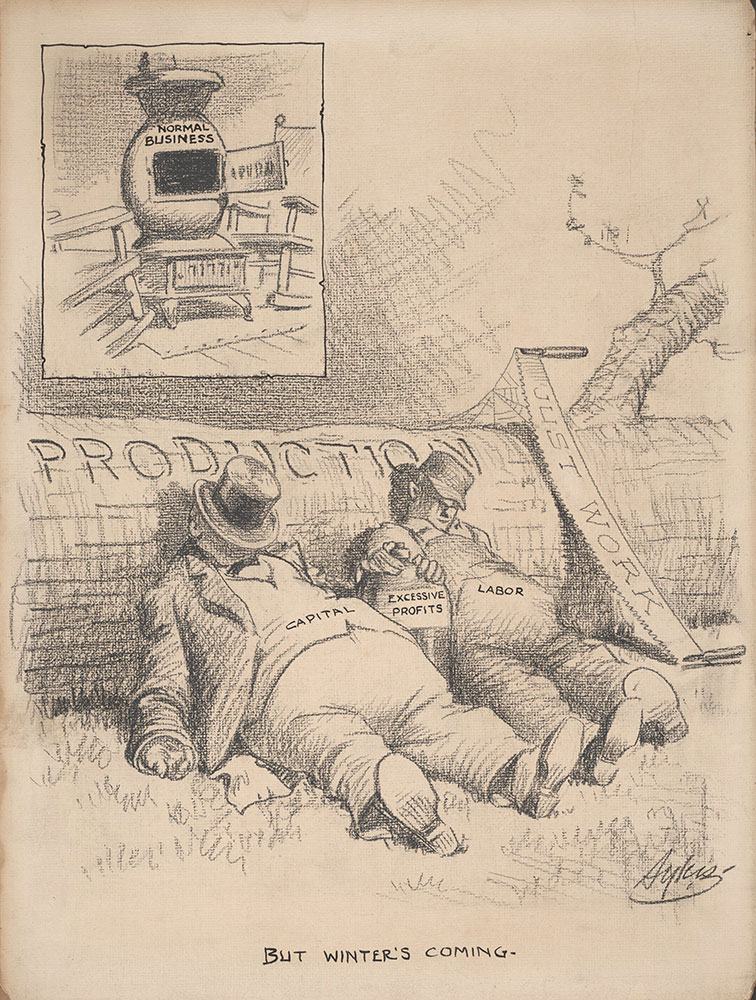 Item Info
Item No: pixc01141
Title: But Winter's Coming
Additional Title: But Winter's Coming
Publication Date:
10/14/1919
Media Type:
Cartoons (Commentary)
Source:
Print and Picture Collection
Notes:
"No issue ignited the partisan divide in postwar America more than the nationwide labor strikes of 1919-1921. The "labor vs. capital" battle pitted industrial workers who demanded higher wages in the postwar inflation economy against the industrialists who rejected unions as the product of foreign-inspired anarchist and Bolshevik (Communist) agitators. The general public, angered by the strike-induced product shortages and frightened by the postwar unrest that fueled the Red Scare, overwhelmingly sided with 'capital.'"
"Prosperity: Labor Strike." America in Class: Becoming Modern, America in the 1920s. National Humanities Center. Web. 10 Apr. 2015. http://americainclass.org/sources/becomingmodern/prosperity/text6/text6.htm.
"The country is suffering now because we have not produced enough to make the products plentiful. The remedy is not to decrease production by stopping work, nor by working fewer hours a day; but to do our utmost to mine more coal, raise more meat and potatoes and wheat and manufacture more clothing."
"Robinson Crusoe's Policy Applicable to This Country." Evening Public Ledger (Philadelphia, PA). 1919, October 14: p. 10.
Bibliography:
Sykes, Charles Henry. "But Winter's Coming." Evening Public Ledger (Philadelphia, PA). 1919, October 14: p. 10.
Creator Name:
Sykes, Charles Henry, 1882-1942 - Artist