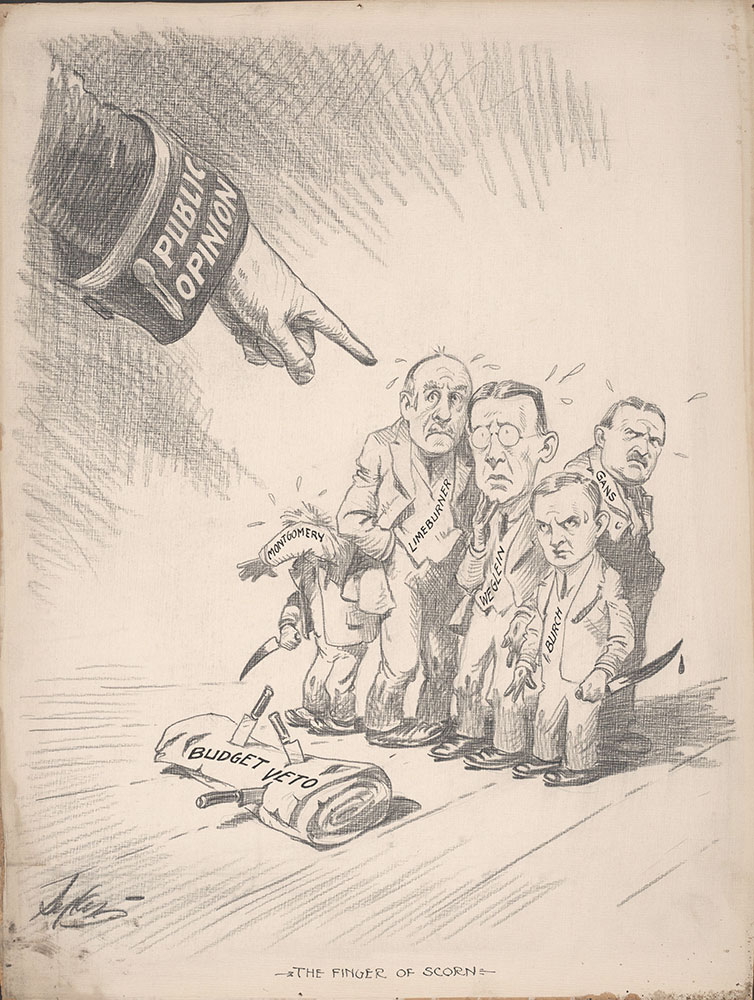 Item Info
Item No: pixc01150
Title: The Finger of Scorn
Additional Title: The Finger of Scorn
Publication Date:
12/22/1920
Media Type:
Cartoons (Commentary)
Source:
Print and Picture Collection
Notes:
"Drastic cuts totaling $328,940 were made in the Municipal Court's budget appropriation for 1921 by Mayor Moore today in forwarding the budget to Council.
"The Mayor's action, taken in the face of "advice" from Senator Penrose not to interfere with the Municipal Court, creates a crisis in municipal affairs here.
"The sweeping vote, which iliminates hundreds of jobs in the Municipal Court, is a direct challenge to the political power of Judge Brown.
"Thirteen of the twenty-one votes in Council are needed this afternoon to override the Mayor's veto which also affects the labor item of the commissioners of Fairmount Park, children's agents under the county commissioners and inspectors in the Bureau of Weights and Measures."
"Mayor Reduces Municipal Court Budget $328,940: First Real 'Showdown' of Administration to Come Today in Council's Effort to Override Veto." Evening Public Ledger (Philadelphia, PA). 1920, December 20: p. 1.
Bibliography:
Sykes, Charles Henry. "The Finger of Scorn." Evening Public Ledger (Philadelphia, PA). 1920, December 22: p. 8.
Creator Name:
Sykes, Charles Henry, 1882-1942 - Artist