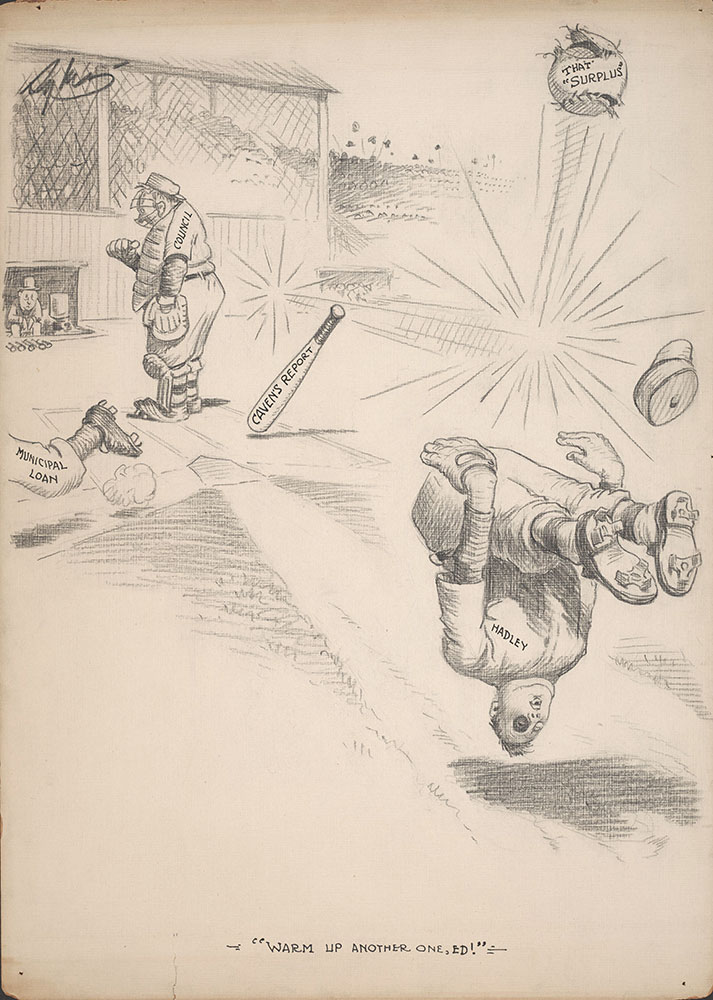 Item Info
Item No: pixc00104
Title: "Warm Up Another One, Ed!"
Additional Title: "Warm Up Another One, Ed!"
Publication Date:
10/11/1921
Media Type:
Cartoons (Commentary)
Source:
Print and Picture Collection
Notes:
"If any one supposes that Councilmen Weglein and Gaffney are surprised that there is no real unencumbered loan balance such as appeared in the statement issued with the indorsement of Controller Hadley, he must believe that these gentlemen are more stupid than they are supposed to be.
"The analysis of the Hadley-Weglein-Gaffney figures which was begun by heads of departments on Saturday and was continued on Monday is not intended to supply information to the City Council. They knew all the time that the figures were misleading. They put them forth as a pretext for holding up the loan, authority to make which the Mayor asked of the City Council....
"Take, for example, the item of an unencumbered balance of $2,600,000 for new sewers which Controller Hadley said appeared on his books. Director Caven says that work to be done for which bids have already been received and for which bids will soon be called for will use up all but $105,000 of the old sewer loan. An item of $1,000,000 for new sewers was included in the proposed loan and the small unexpended balance from the old loan would be added to the proceeds of the new loan, but it is so small that little can be done with it."
"The Farce Of It." Evening Public Ledger 11 October 1921: pg 8. Print.
Bibliography:
Sykes, Charles Henry. "Warm Up Another One, Ed!" Evening Public Ledger (Philadelphia, PA). 1921, October 11: p. 8.
Creator Name:
Sykes, Charles Henry, 1882-1942 - Artist