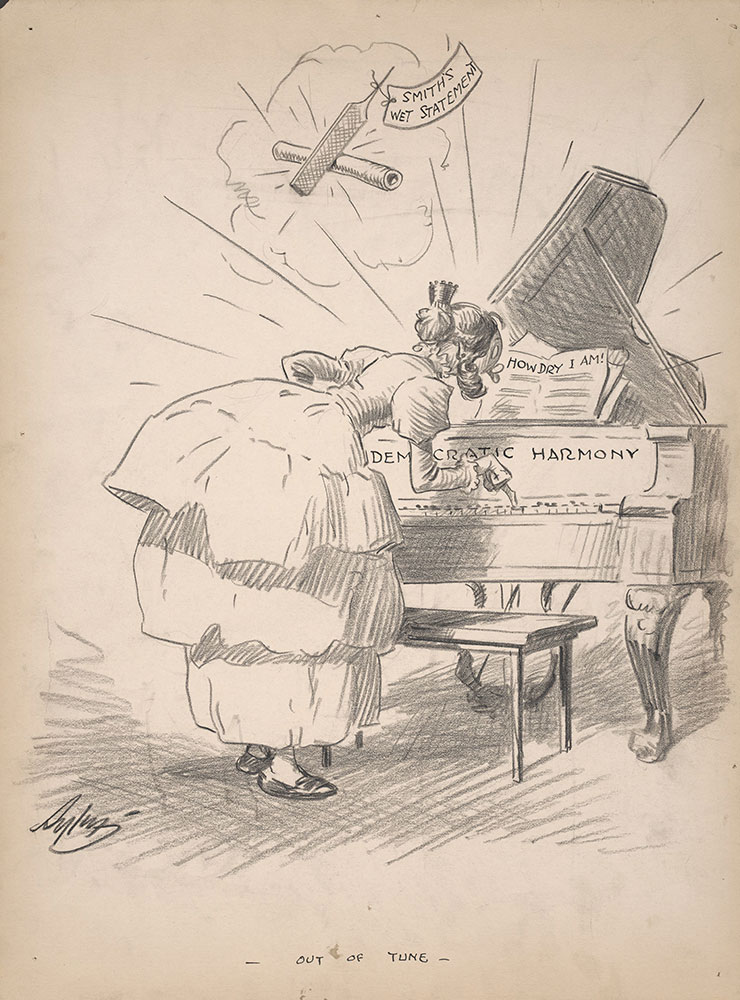 Item Info
Item No: pixc00209
Title: Out of Tune
Additional Title: Out of Tune
Publication Date:
6/23/1928
Media Type:
Cartoons (Commentary)
Source:
Print and Picture Collection
Notes:
"Smith finally secured the Democratic presidential nomination in 1928. He was the first Catholic to win a major-party presidential nomination. A major controversial issue was the continuation of Prohibition. Smith was personally in favor of relaxation or repeal of Prohibition laws, which were embedded in the nation's Constitution, but the Democratic Party split north and south on the issue."
"Al Smith." Conservapedia. 25 Dec. 2012. Web. 17 Sept. 2015. http://www.conservapedia.com/Al_Smith.
"Smith's statement:
'It is well known that I believe there should be fundamental changes in the present provisions for national prohibition, based, as I stated in my Jackson Day letter, on the fearless application to the problem of the principles of Jeffersonian democracy.
'While I fully appreciate that these changes can only be made by the people themselves through their elected legislative representatives, I feel it to be the duty of the chosen leader of the people to point the way which in his opinion leads to an sane, sensible solution of a condition which I am convinvced is entirely unsatisfactory to the great mass of our people.
'Common honesty compels us to admit that corruption of law enforcement officials, bootlegging and lawlessness are now prevalent throughout this country.
'I am satisfied that without returning to the old evils that grew from the saloon, which years ago I held and still hold was and ought always to be a defunct institution in this country, by the application of the democratic principles of local self-government and states' rights, we can secure real tmperance, respect for law, and eradication of the existing evils.'"
"Daniels Scores Gov. Smith For Wet Statement." The Southeast Missourian [Cape Girardeau, MO] 30 June 1928: pg 1. Print.
Bibliography:
Sykes, Charles Henry. "Out Of Tune." Evening Public Ledger (Philadelphia, PA). 1928, June 23.
Creator Name:
Sykes, Charles Henry, 1882-1942 - Artist