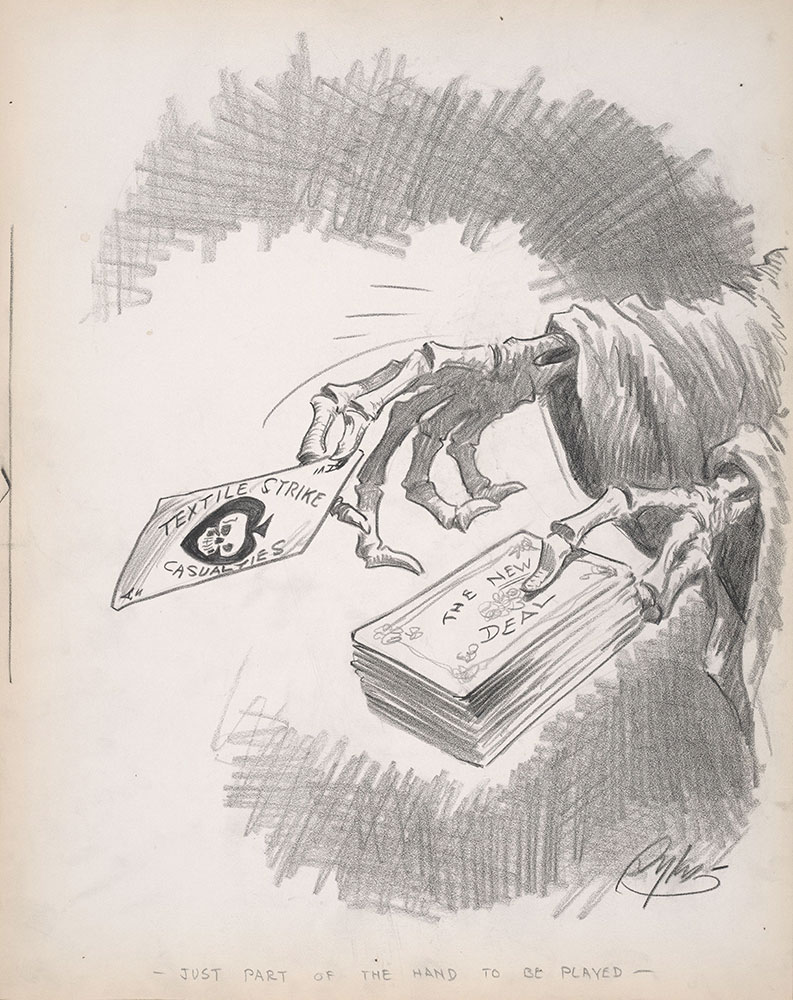 Item Info
Item No: pixc00302
Title: Just Part Of The Hand To Be Played
Additional Title: Just Part Of The Hand To Be Played
Media Type:
Cartoons (Commentary)
Source:
Business, Science and Industry Dept.
Notes:
"The textile workers' strike of 1934 was the largest strike in the labor history of the United States at the time, involving 400,000 textile workers from New England, the Mid-Atlantic states and the U.S. Southern states, lasting twenty-two days.
"Violence between guards and picketers broke out almost immediately. The major known incidents include:
in Trion, Georgia, a picketer and mill guard died in a shootout on September 2
guards killed two picketers in Augusta, Georgia on September 2
six picketers were shot to death and more than twenty other picketers wounded, most shot in the back as they were fleeing the picketline, in Honea Path, South Carolina on September 6"
Casualty figures vary in Saylesville, Rhode Island following martial law, after picketers battled troops in a 36-hour incident.
"Textile Workers Strike (1934)." Wikipedia. Wikimedia Foundation. Web. 5 Nov. 2015. https://en.wikipedia.org/wiki/Textile_workers_strike_(1934).
Notes:
Created for Evening Public Ledger, date unknown.
Creator Name:
Sykes, Charles Henry, 1882-1942 - Artist