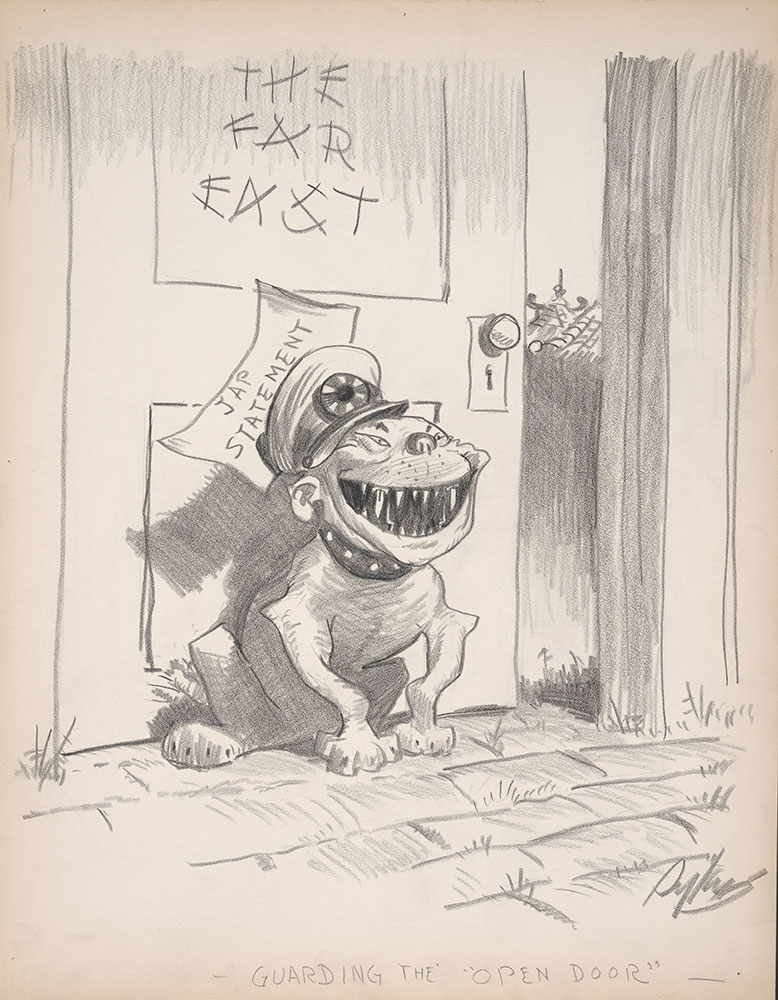 Item Info
Item No: pixc00335
Title: Guarding The "Open Door"
Additional Title: Guarding The "Open Door"
Media Type:
Cartoons (Commentary)
Source:
Print and Picture Collection
Notes:
"On 17th April 1934, the Japanese Foreign Office issued the 'Amau Statement' warning the Powers who subscribed to the Nine-Power Treaty (Annex No. B-10) that the Japanese Government would not tolerate any interference with her plans in China. Although Hirota later explained, upon inquiries, to the American Ambassador Grew, that the "Amau Statement" had been issued without his approval or knowledge, the fact remains that the "Amau Statement" truly represented Japan's policy towards China."
Clancey, Patrick. "Chapter V: Japanese Aggression Against China Sections III-VII, Section III: The Plan to Advance Further Into China." HyperWar: International Military Tribunal for the Far East. HyperWar Foundation. Web. 4 Dec. 2015. https://www.ibiblio.org/hyperwar/PTO/IMTFE/IMTFE-5a.html.
To read correspondance of the U.S. Ambassador in Japan Joseph C. Grew concerning the Amau Statement, see the papers listed below:
United States Department of State. "Further Japanese political and economic penetration into China, 1934-1936." Papers relating to the foreign relations of the United States, Japan: 1931-1941. Stored in University of Wisconsin Digital Collections. Pp. [221]-246. PDF (9.1 MB). http://digicoll.library.wisc.edu/cgi-bin/FRUS/FRUS-idx?type=div&did=FRUS.FRUS193141v01.i0009&isize=M
Notes:
Created for Evening Public Ledger, date unknown.