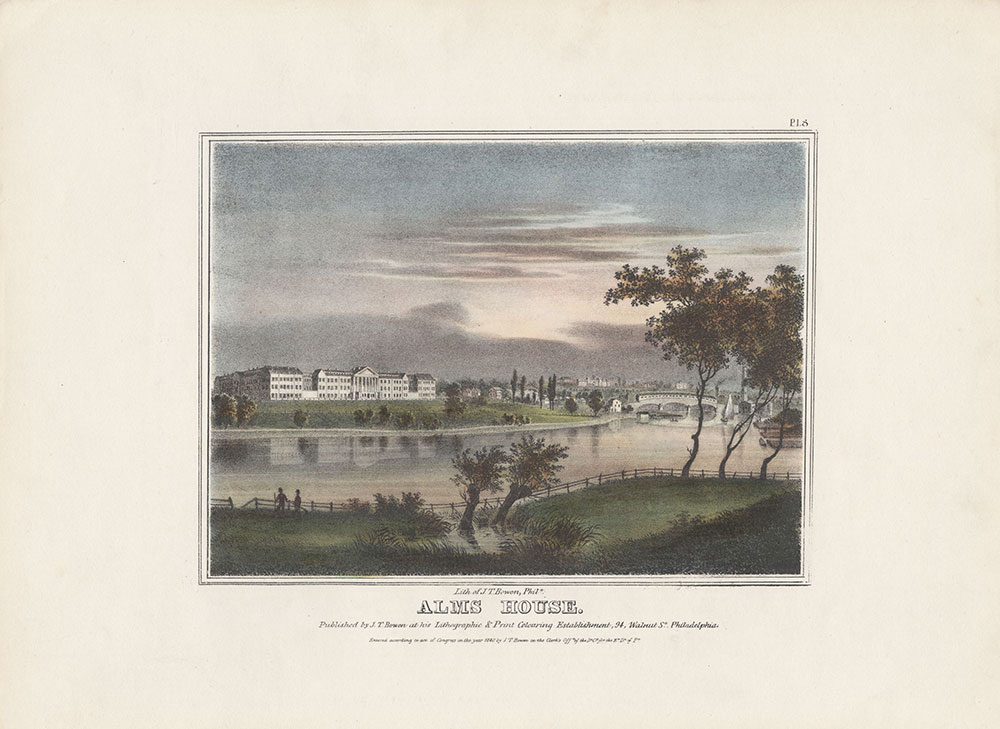 Item Info
Item No: pdcp00793
Title: Alms House
Historic Street Address:
34th Street and University Avenue
Media Type:
Lithographs
Source:
Print and Picture Collection
Notes:
John Caspar Wild (1804-1846)
Swiss-born and Paris-trained artist, John Caspar Wild moved to Philadelphia in 1832. He travelled around the city, creating watercolors of newly built and impressive buildings, using them as the basis for lithographic prints, which could be reproduced in great numbers. With his partner J. B. Chevalier he issued a series of 20 prints, released in monthly parts in 1938 as Views of Philadelphia and Its Vicinity.
Wild's prints were originally issued in parts - four prints each month for the first five months of 1838. The 20 plates were followed by the four panoramas from the State House steeple. This was followed by the second edition (still in 1838), which consisted of all 20 plates in one bound volume. "Poetical illustrations" of each image were written by Ezra Holden and Andrew McMakin, the proprietors of the Saturday Courier. Holden wrote the prose and McMakin wrote the poetry.
Not long after the Views of Philadelphia was published, Wild moved west to St. Louis and turned his focus to that city and the Mississippi Valley. The copyright and lithographic stones to view his Views of Philadelphia were bought by J. T. Bowen, who published another edition in 1838 and a new edition of the work with hand-colored plates in 1848. Wild died in Davenport, Iowa at the young age of 42.
Notes:
Alms House (Blockley Almshouse, then The Philadelphia Hospital, then Philadelphia General Hospital)
Darby Road (Now Woodland Ave below Walnut)
Notes:
Hand-colored lithograph, published in Philadelphia by J.T. Bowen, 1840.
Notes:
Scharf & Westcott, vol. 2, pg. 1681
Notes:
What nobler object can out thoughts employ,
While dwelling in this world of smiles and tears,
Then to increase a fellow sufferer's joy,
And soothe the needy, bow'd by weight of years.
No "Pamper'd menial," grown in office proud,
Repels the famish'd suppliant from the door;
A princely charity is here endow'd, --
A home of lasting refuge for the poor.
No hovel rude, or drear abode is here, -
A parital shelter from the driving blast -
Whose shivering inmates shed the bitter tear
Of want or woe above the scant repast.
Far from the city's hot infectious breath, -
Where sickness enters at each latchless door
And scatters round it dark disease and death, -
Is rear'd this noble PALACE FOR THE POOR!
A lovelier scene no pencil e'er might trace,
To art an honor, and to nature true;
The Schuylkill mirroring, in its tranquil face,
The varied forms, that gem the charming view.
Upon its kind projectors may there rest
The smiles of Providence, in health and store,
And may the fond pray'r springs warmest in the breast:
"MAY GOD BLESS THOSE WHO AID THE SUFFERING POOR!"
-Andrew McMakin, Views of Philadelphia and Its Vicinity, 1838

Geocode Latitude:
Geocode Longitude:-75.196545
Geocode Latitude:39.943653
Creator Name:
Wild, J. C. (John Caspar), approximately 1804-1846 - Lithographer
Bowen, John T., approximately 1801-1856? - Lithographer