Birth and Baptismal Certificate (Geburts und Taufschein) for Johann Henrich Mes
Fraktur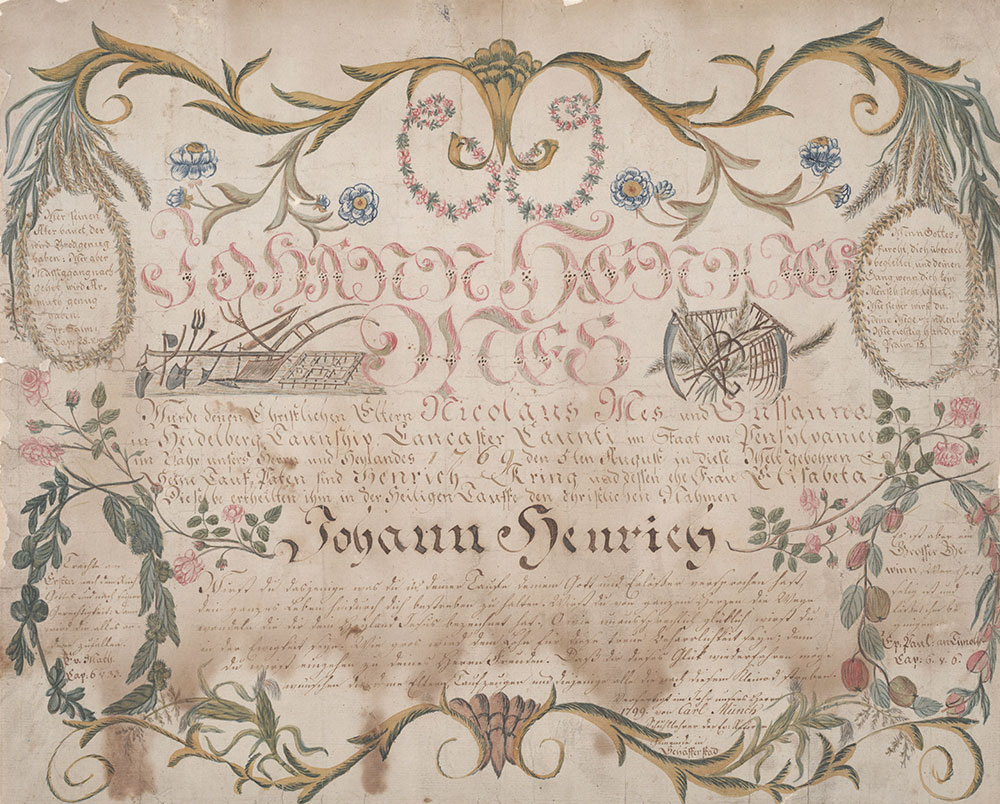 Item Info
Item No: frk00002
Title: Birth and Baptismal Certificate (Geburts und Taufschein) for Johann Henrich Mes
Scripts/Text:
Fraktur; German script
Language:
German
Weiser Number:
353
Physical Description:
Leaf
Material:
Laid paper; watercolor; ink
Transcription:
JOHANN HENRICH \ MES \ Wurde denen Christlichen Eltern Nicolaus Mes und Sussanna \ in Heidelberg Taunship, Lancaster Caunti im Staat von Pensylvanien / im Jahr unsers Herrn und Heylandes 1769 den 5ten August in diese Welt gebohren. \ Seine Tauf=Paten sind Henrich Kring und dessen ehe Frau Elisabeta. \ Dieselbe ertheilten ihm in der heiligen Tauffe den christlichen Nahmen \ Johann Henrich
Wirst du dasjenige was du in deiner Taufe deinem Gott und Erlöser versprochen hast, \ dein ganzes Leben hindurch dich bestreben zu halten. Wirst du von ganzem Herzen die Wege \ wandeln, die dir dein Heyland Jesus bezeichnet hat. O wie unaussprechlich glücklich wirst du \ in der Ewigkeit seyn. Wie gros wird dein Lohn für diese treue Beharrlichkeit seyn; denn \ du wirst eingehen zu deines Herrn Freuden. Daß dir dieses Glück wiederfahren möge \ wünschen dir deine Eltern, Taufzeugen und diejenige alle die nach diesem Kleinod streben. \ Verfertigt im Jahr unsers Herrn 1799. von Carl Münch \ Schullehrer der Ev=Reform \ Gemeinde in \ Schäfferstad
[in wreath top left]
Wer seinen \ Aker bauet, der \ wird Brod genug \ haben: Wer aber \ Müssiggang nach \ gehet wird Ar= \ muth genug \ haben. \ Spr: Salm: \ Cap 28. v. 19.
[in wreath top right]
Wenn Gottes= \ furcht dich überall \ begleitet und deinen \ Gang, wenn dich kein \ Mensch steht leitet; \ Wie sicher wirst du \ deine Wege wandlen! \ Wie richtig handlen. \ Psalm 15.
[in wreath bottom left]
Trachte im \ Ersten nach dem Reich \ Gottes und nach seiner \ Gerechtigkeit: dann \ wird dir alles an= \ dere zufallen. \ Ev. Math. \ Cap: 6 v 33.
[in wreath bottom right]
Es ist aber ein \ Grosser Ge= \ winn, Wer Gott \ selig ist und \ läßet ihn be= \ gnügen. \ Ep. Paul an Timothy \ Cap: 6. v. 6.
Translation:
Johann Henrich Mes was born into this world to the Christian parents Nicolaus Mes and Sussanna in Heidelberg Township, Lancaster County in the state of Pennsylvania in the year of our Lord and Savior 1769, August 5. His sponsors are Henrich Kring and his wife Elisabeta. The same gave him in the holy baptism the Christian name Johann Henrich.
Throughout your whole life you will strive for what you promised to your God and redeemer through your baptism. With all your heart you will go the way that your Savior Jesus has shown you. O how indescribable happy will you be in eternity. How great will be your reward for your faithful persistence for you will go into your Lord's joy. That you will experience this fortune is the wish of your parents, sponsors and all those who strive for this treasure. Prepared in the year of the Lord 1799 by Carl Münch, schoolteacher of the Evangelical Reformed congregation in Schaefferstown.
[in wreath top left]
He that tills his land shall have plenty of bread: but he that follows after vain persons shall have poverty enough. Proverbs 28:19.
[in wreath top right]
If the fear of God accompanies you everywhere and your course, If no human being steadily leads you, How surely you will find your way, how rightly act. Psalm 15
[in wreath bottom left]
But seek ye first the kingdom of God, and his righteousness; and all these things shall be added unto you. Matthew 6:33.
[in wreath bottom right]
But godliness with contentment is great gain. 1 Timothy 6:6.
Category:
Birth and Baptismal Certificate (Geburts und Taufschein)
Media Type:
Manuscripts
Source:
Rare Book Department
Notes:
Hand-drawn; hand-colored; hand-lettered. The main text is handwritten in German Fraktur and German script. Above and below the text are undulating vines with sheaves of grain protruding on each side. On the sides are rose stems and wreaths surrounding Biblical verses hand-written in Fraktur and German script. In the center are two clusters of various farm tools.
Notes:
Schaefferstown and Heidelberg are now in Lebanon County.
Associated Names:
Münch, Karl E.
Bibliography:
"Karl Münch" in Russell D. and Corinne P. Earnest, Papers for Birth Dayes: Guide to the Fraktur Artists and Scriveners (East Berlin, Pa.: Russell D. Earnest Associates, 1997), 2nd ed., vol. 2, pp. 566-568.
Pennsylvania Dutchman (15 April 1951), published on p. 6, fig. 34.
Secondary Place Town/Township:
Geographic Coverage State/Province:Pennsylvania
Geographic Coverage City/Town/Township:Schaefferstown
Geographic Coverage Note:Based on artist's location
Geographic Coverage Region/County:Lancaster [now Lebanon]
Creation Place Town/Township:
Creation Place Note:Based on location of birth
Region/County:Lancaster [now Lebanon]
City/Town/Township:Heidelberg Township
State/Province:Pennsylvania
Creation Year (Single Year or Range Begin):
1799
Image Dimensions Width:
33.5 cm
ShelfMark:
FLP 2
Creator Name:
Karl E. Münch (1769-1833) - Decorator
Karl E. Münch (1769-1833) - Scrivener