New Year's Wish (Neujahrswunsch) for Elisabetha Bähr
Fraktur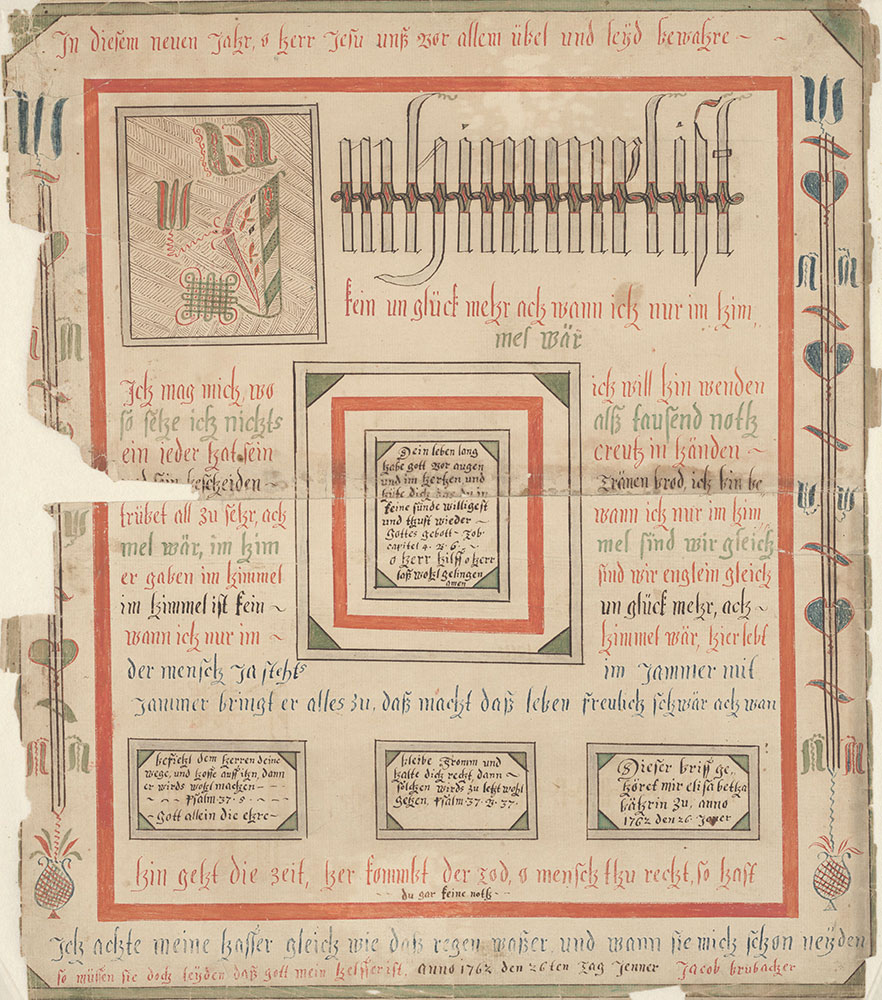 Item Info
Item No: frk00107a
Title: New Year's Wish (Neujahrswunsch) for Elisabetha Bähr
Creation Date:
1/26/1762
Scripts/Text:
Fraktur
Language:
German
Weiser Number:
898
Physical Description:
Leaf
Material:
Laid paper; watercolor; ink
Watermark:
Pro Patria G R and Crown in circle, IV, marks
Transcription:
In diesen neuen Jahr o Herr Jesu unß vor allem übel und leyd bewahre
[in frame]
Im Himmel ist \ kein unglück mehr ach wann ich nur im him \ mel wär. \ Ich mag mich, wo ich will hin wenden \ so sehe ich nichts alß tausend noth \ ein jeder hat sein creutz in händen \ und sein bescheiden Tränen brod, ich bin be \ trübet all zu sehr, ach wann ich nur im him \ mel wär, im himmel sind wir gleich \ er gaben im himmel sind wir englein gleich \ im himmel ist kein unglück mehr, ach \ wann ich nur im himmel wär, hier lebt \ der mensch Ja stehts im Jammer mit \ Jammer bringt er alles zu, daß macht daß leben freulich schwär ach wan \ hin jetzt die zeit, her kommht der Tod, o mensch thu recht so hast \ du gar keine noth.
[in central box within large frame]
Dein leben lang \ habe got vor augen \ und im Hertzen und \ hüte dich, das du in \ keine sünde willigest \ und thust wieder \ Gottes Gebott Job \ capitel 4. v. 6. \ O Herr Hilff O Herr \ laß wohl gelingen \ amen
[in three small boxes]
Befiehl dem herren deine \ wege, und hoffe auff ihn, dann \ er wirds wohl machen \ Psalm 37.5 \ Gott allein die ehre
Bleibe Fromm und \ halte dich recth, dann \ solchen wirds zu letzt wohl \ gehen. Psalm 37.v. 37.
Dieser briff ge= \ höret mir Elisabetha \ bährin zu anno \ 1762 den 26. Jenner
[below frame]
Ich achte meine hasser gleich wie daß regen waßer und wann sie mich schon neyden \ so müssen sie doch leyden daß gott mein helffer ist, anno 1762 den 26ten Tag Jenner Jacob brubacher
Translation:
In this new year, o Lord Jesus, protect us from all evil and suffering.

[in frame]
In heaven there is no more misfortune; oh, if only I were in heaven! I may turn where I will, I find nothing but a thousand needs; each has his cross in hand and his modest tears as bread. I am distressed too very much; if only I were in heaven. In heaven we are all gifted equally; in heaven we are like the little angels; in heaven there is no misfortune; oh, if I were only in heaven. Here people live always in woes; with woes he passes all his time. That makes life quite difficult. Even if time goes away, there comes death. O man, do right and you will have no needs.
[in central box within large frame]
All your life have God before your eyes and in your heart, and avoid to enter into sin, and do God's command. Job 4:6. Oh Lord, help Oh Lord, let it go well. Amen.
[in three small boxes]
Commit your way unto the Lord; trust also in him; and he shall bring it to pass. Psalm 37:5. To God alone be glory.
Remain pious and keep yourself upright; for those it will all be well in the end. Psalm 37:37.
This letter belongs to me, Elisabetha Bährin, anno 1762, the 26th January.
[below frame]
I note my haters like the rainwater, and if they envy me, they must suffer that God is my helper. Anno 1762 the 26th day January Jacob Brubacher
Category:
New Year's Wish (Neujahrswunsch)
Media Type:
Manuscripts
Source:
Rare Book Department
Notes:
Hand-drawn; hand-colored; hand-lettered. The central text is within a vertical, rectangular frame, beginning with large Fraktur letters. At bottom of frame two sections of verse from Psalms and an inscription for the owner appear within three horizontal smaller rectangular frames; in center of frame is another passage from Job within a vertical, rectangular frame with multiple borders. Frame is flanked by potted vine with tulips and hearts; date and signature are inscribed across the bottom.
Associated Names:
Brubacher, Hans Jacob
Provenance:
Henry S. Borneman
Bibliography:
"Hans Jacob Brubacher" in Russell D. and Corinne P. Earnest, Papers for Birth Dayes: Guide to the Fraktur Artists and Scriveners (East Berlin, Pa.: Russell D. Earnest Associates, 1997), 2nd ed., vol. 1, pp. 132-134.
David R. Johnson, "Hans Jacob Brubacher, Fraktur Artist," in Pennsylvania Mennonite Heritage 9, no. 1 (January 1986): 11-17; published on p. 12.
Creation Place County:
Creation Place Note:Based on artist's location
Region/County:[Lancaster]
State/Province:[Pennsylvania]
Image Dimensions Width:
38 cm
ShelfMark:
FLP 107a
Creator Name:
Hans Jacob Brubacher (c. 1730-1802) - Decorator
Hans Jacob Brubacher (c. 1730-1802) - Scrivener