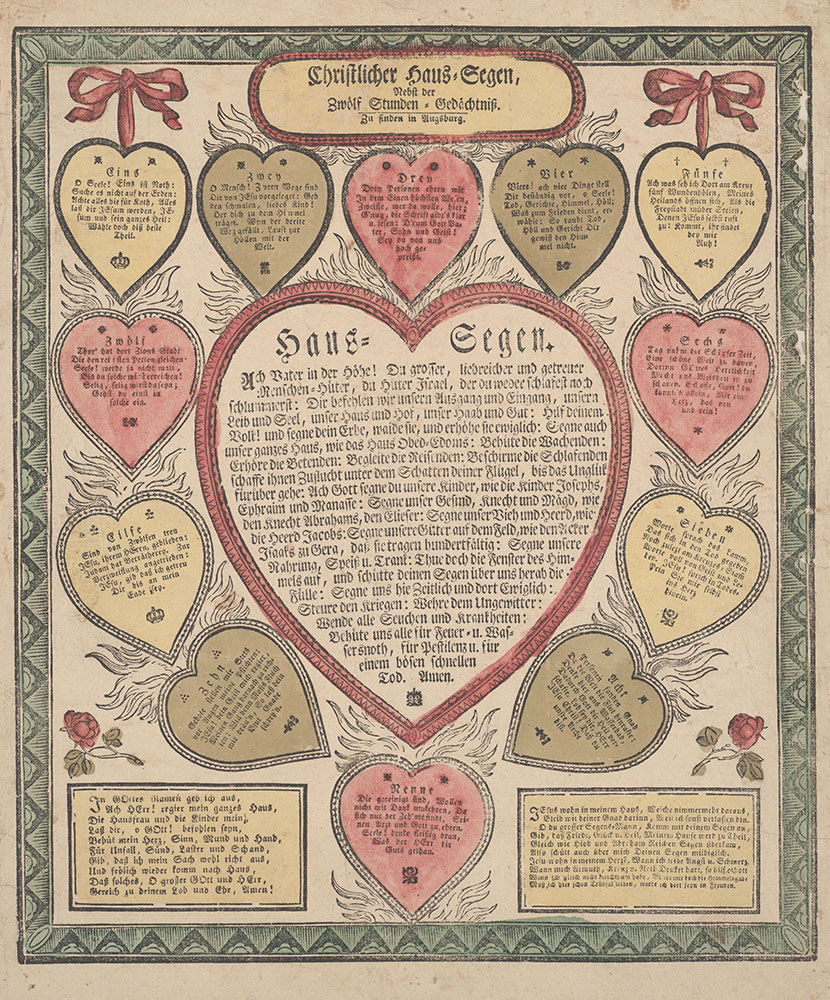 Item Info
Item No: frk00157
Title: House Blessing (Haussegen)
Scripts/Text:
Fraktur
Language:
German
Physical Description:
Leaf
Material:
Laid paper; ink
Transcription:
Christlicher Haus=Segen, \ Nebst der \ Zwölf Stunden=Gedächtniß. \ Zu finden in Augsburg.

[in central heart]
Haus=Segen. \ Ach Vater in der Höhe! Du grosser, liebreicher und getreuer \ Menschen=Hüter, du Hüter Israel, der du weder schlafest noch \ schlummerst: Dir befehlen wir unsers Ausgang und Eingang, unsern \ Leib und Seel, unser Haus und Hof, unser Haab und Gut: Hilf deinem \ Volk! und segne dein Erbe, waide sie, und erhöhe sie ewiglich: Segne auch \ unser ganzes Haus, wie das Haus Obed=Edoms: Behüte die Wachenden: \ Erhöre die Betenden: Begleite die Reisenden: Beschirme die Schlafenden \ schaffe ihnen Zuflucht unter dem Schatten deiner Flügel, bis das Unglük \ fürüber gehe: Ach Gott segne du unsere Kinder, wie die Kinder Josephs, \ Ephraim und Manasse: Segne unser Gesind, Knecht und Magdt, wie \ den Knecht Abrahams, den Elieser: Segne unser Vieh und Heerd, wie \ die Heerd Jacobs: Segne unsere Güter auf dem Feld, wie den Acker \ Isaacs zu Gera, daß sie tragen hundertfältig: Segne unsere \ Nahrung, Speiß u. Trank: Thue doch die Fenster des Him= \ mels auf, und schütte deinen Segen über uns herab die \ Fülle: Segne uns hie Zeitlich und dort Ewiglich: \ Steure den Kriegen: Wehre dem Ungewitter: \ Wende alle Seuchen und Krankheiten: \ Behüte uns alle für Feuer= u. Was= \ sersnoth, für Pestilenz u. für \ einem bösen schnellen \ Tod. Amen.
[in small hearts, starting in upper left, going clockwise]
Eins \ O Sele! Eins ist Noth: \ Suche es nicht auf der Erden: \ Achte alles hie für Koth, Alles \ laß dir JEsum warden, JE= \ sum und sein ganzes Heil: \ Wähle doch diß beste \ Theil.
[in small hearts, starting in upper left, going clockwise]
Eins \ O Sele! Eins ist Noth: \ Suche es nicht auf der Erden: \ Achte alles hie für Koth, Alles \ laß dir JEsum warden, JE= \ sum und sein ganzes Heil: \ Wähle doch diß beste \ Theil.

Zwey \ O Mensch! Zween Wege sind \ Dir von JEsu vorgeleget: Geh \ den schmalen, liebes Kind! \ Der dich zu dem Himmel \ träget. Wem der breite \ Weg gefällt, Lauft zur \ Höllen mir der \ Welt.
Drey \ Drey Personen ehren wir \ In dem Einen höchsten Wesen, \ Zweifle, wer da wolle, hier: \ G'nug, die Schrift gibt's klar \ u. lessen: D'rum Gott Va= \ ter, Sohn und Geist! \ Sey du von uns \ hoch ge= \ preißt.
Vier \ Viere! Ach vier Dinge stell \ Dir beständig vor, o Seele! \ Tod, Gerichte, Himmel, Höll! \ Was zum Frieden dient, er= \ wähle: So raubt Tod, \ Höll und Gericht Dir \ gewiß den Him= \ mel nicht.
Fünfe \ Ach was seh ich dort am Kreuz \ fünf Wundenhölen, Meines \ Heilands öffnen sich, Als die \ Freystadt müder Seelen, \ Denen Jesus selbst ruft \ zu: Kommt, ihr findet \ bey mir \ Ruh!
Sechs \ Tag nahm der Schirfer Zeit, \ Eine schöne Welt zu bauen, \ Darinn GOttes Herrlichkeit \ Macht und Weisheit ist zu \ schauen. Schaffe, Gott! du \ kannst's allein, Mir ein \ Herz, das neu \ und rein!
Sieben \ Worte sprach das Lamm, Das sich in den Tod gegeben \ Noch zuletzt am Kreuzes=Stam? \ Worte voll von Geist und Le= \ ben. JEsu! Sprich in Todes= \ Pein Sie mir selbst \ ins Herz \ hinein.
Acht \ Personen fanden Gnad \ Da die Welt die Flut hinrafte: \ Denke hier ans Wasserbad, \ Dadurch Gott dir Heil ver= \ schafte. Lob sey dir, Herr \ JEsu Christ! Daß du \ unsre Arche \ bist.
Neune \ Die gereinigt sind, Wollen \ nicht mit Dank umkehren, Da \ sich nun der Zeh'nte findt, Sei= \ nen Arzt und Gott zu ehren. \ Seele! Denke fleißig dran, \ Was der Herr dir \ Guts gethan.
Zehn \ Gebote stellen mir Stets \ vor Augen meine Pflichten: \ JEsu! Dein Geist mich regier, \ Meinen Gang darnach zu rich= \ ten: Will den Moses Fluch \ mir dräu'n, So laß dein \ Blut Gnade \ schey'n.
Elfe \ Sind von Zwölfen true \ JEsu, ihrem HErrn, geblieben: \ Judam hat Verrätherey. Zur \ Verzweiflung angetrieben: \ JEsu, gib daß ich getreu \ Dir bis an mein \ Ende sey.
Zwölf \ Thor' hat dort Zions Stadt \ Die den reichsten Perlen gleichen, \ Seele! werde ja nicht matt, \ Bis du solche willst erreichen! \ Selig, selig wirst du seyn; \ Gehst du einst in \ solche ein.
[in lower left]
In GOttes Namen geh ich aus, \ Ach Herr! regier mein ganzes Haus, \ Die Hausfrau und die Kinder mein, \ Laß dir, o GOtt! befohlen seyn, \ Behüt mein Herz, Sinn, Mund und Hand, \ Für Unfall, Sünd, Laster und Schand, \ Gib, daß ich mein Sach wohl richt aus, \ Und frölich wieder komm nach Haus, \ Daß solches, O großer GOtt und HErr, \ Gereich zu deinem Lob und Her, Amen!
[in lower right]
JEsu wohn in meinem Haus, Weiche nimmermehr daraus, \ Bleib mit deiner Gnad darinn, Weil ich sonst verlassen bin, \ O du grosser Seegens=Mann, Komm mit deinem Segen an.\ Gib, daß Friede, Glück u. Heil , Meinem Hause werd zu Theil, \ Gleich wie Hiob und Abraham Reichen Segen überkam, \ Also schütt auch über mich Deinen Segen mildiglich, \ Jesu wohn in meinem Herze, Wann ich leide Angst u. Schmerz, \ Wann mich Armuth, Kreuz u. Noth Druket hart, so hilf mir o Gott \ Wann ich gleich nicht Reichthum habe, Bleibt mir doch die Himmelsgabe \ Muß ich hier schon Trübsal leiden, werde ich doch seyn in Freuden.
Translation:
Christian House Blessing, with a meditation on the twelve hours. To be found in Augsburg.

[in central heart]
House Blessing. Oh, Father high above! You great, loving and faithful guardian of men, you guarding of Israel, you, who does not sleep or slumber: To you we command our coming and going, our body and soul, our house and farm, our possessions and goods: help you people! and bless your inheritance, nurture them, and elevate them eternally: bless, too, our entire house, like the house of Obed-Edom, Guard the awakened: Hear the praying: accompany the traveling: shelter the sleeping. Offer them refuge in the shadows of your wings until the calamity is passed. Oh, God, you bless our children like Joseph's children, Ephraim and Manasses: Bless our charges, farmhand and maidservant, like Abraham's farmhand, Eliezer: Bless our cattle and herd, like Jacob's herd: Bless our goods in the field, like the acre of Isaac of Gera, so they may yield hundredfold: Bless our nourishment, food and drink: Open the windows of Heaven and pour your blessings over us in abundance: Bless us here temporally and there eternally: Lead the war: resist the storm: Avert all plagues and diseases: Preserve us all from the afflictions of fire and water, from pestilence and from an evil, quick death. Amen.
One. O soul! One is need: Don't look for it on earth: regard everything here as dirt; let everything be Jesus and his whole goodness to you: choose this best part.
Two. O Man! Two paths are shown to you by Jesus: Go the narrow one, dear child! That will carry you to heaven. He who likes the wide path will go to hell with the world.
Three. Three people we honor in the One highest being. Doubt here whoever wants to: Enough, the Scripture exists clear and to read: Therefore, God Father Son and Ghost! You be praised highly by us.
Four. Four! Oh, four things imagine constantly, o soul! Death, Judgments, Heaven, Hell! Choose what serves peace: Then Death, Hell and Judgment will not rob Heaven from you.
Five. Oh what do I see at the cross. Five caves of wounds of my Savior open themselves as the refuge of tired souls. Jesus himself is calling to them, Come, you will find peace with me!
Six days time took the Creator to build a beautiful world. In it, God's Glory, Power and Wisdom is visible. Create, God! you alone can do it, a heart for me that is new and pure!
Seven words spoke the lamb that gave itself to death, at last at the crosses' trunk. Words full of spirit and life. Jesus! say them yourself into my heart in the pains of death.
Eight people found mercy when the world was destroyed in the Flood. Think here of the water bath through which God brought you salvation. Praise to you, Lord Jesus! that you may be our ark.
Nine that are cleansed do not want to return in gratitude, because now the tenth one was found, who will honor his doctor and God. Soul! Think diligently at the good that the Lord has done for you.
Ten Commandments always put before my eyes my duties. Jesus! may your spirit command me to arrange my path accordingly. Will Moses' curse threaten me, so let your blood show mercy for me.
Eleven out of twelve remained true, Jesus, to their Lord: Judas was pushed by betrayal to desperation. Jesus, grant that I will remain faithful to you until my end.
Twelve gates Zion's city has, that resemble the richest pearls. Soul! Do not get tired until you reach them! Blessed, blessed you will be when you enter into them.
[in lower left]
In God's name I go forth. Oh Lord! command my entire house, let the wife and the children of mine, o God! be under your command. Preserve my heart, mind, mouth and hand, from accident, vice and shame. Grant that I will do my work well, and return home joyfully; that this, o great God and Lord, will suffice for your praise and honor. Amen.
[in lower right]
Jesus, dwell in my house, never leave it, live in it with your grace because otherwise I will be abandoned. Oh you great man of blessings, come with your blessing. Grant that peace, happiness and grace will become part of my house. Like Job and Abraham, shower me with your abundant blessings. Jesus, live in my heart. When I suffer from fear and pain, when poverty, hardship and need weighs on me hard, help me, o God. When I no longer have wealth I will still be left with the gifts of heaven. Even though I may suffer sadness here I will be in joy.
Category:
House Blessing (Haussegen)
Media Type:
Letterpress Prints
Source:
Rare Book Department
Notes:
Hand-colored; printed form. The main text is within a large heart in the center of the document. The twelve meditations are in small hearts around it. Two verses are in rectangular frames in the lower corners. Above each of them is a rose. The two hearts in the upper corners are suspended from box knots. The entire document is enclosed in a decorative border, of sawtooth or triangular shapes.
Bibliography:
Don Yoder, The Pennsylvania German Broadside: A History and Guide (University Park, Pa.: The Pennsylvania State Univ. Press for The Library Company of Philadelphia and the Pennsylvania German Society, 2005), pp. 200-202.
Russell D. Earnest, Corinne P. Earnest, and Patricia Earnest Suter, God Bless This House: The Printed House Blessings (Haus-Segen) of the Pennsylvania Germans 1780-1921 (Clayton, Del.: Russell D. Earnest Associates, 2015), p. 16.
Creation Place Town/Township:
Creation Place Note:Based on location of printshop
City/Town/Township:Augsburg
State/Province:Germany
Creation Year (Single Year or Range Begin):
ca. 1800
Image Dimensions Width:
43 cm
ShelfMark:
FLP 157
Creator Name:
Anonymous - Decorator
Anonymous - Printer/Publisher
Subjects