Writing Exercise (Vorschrift) (The gate is narrow [Die Pforte ist Enge])
Fraktur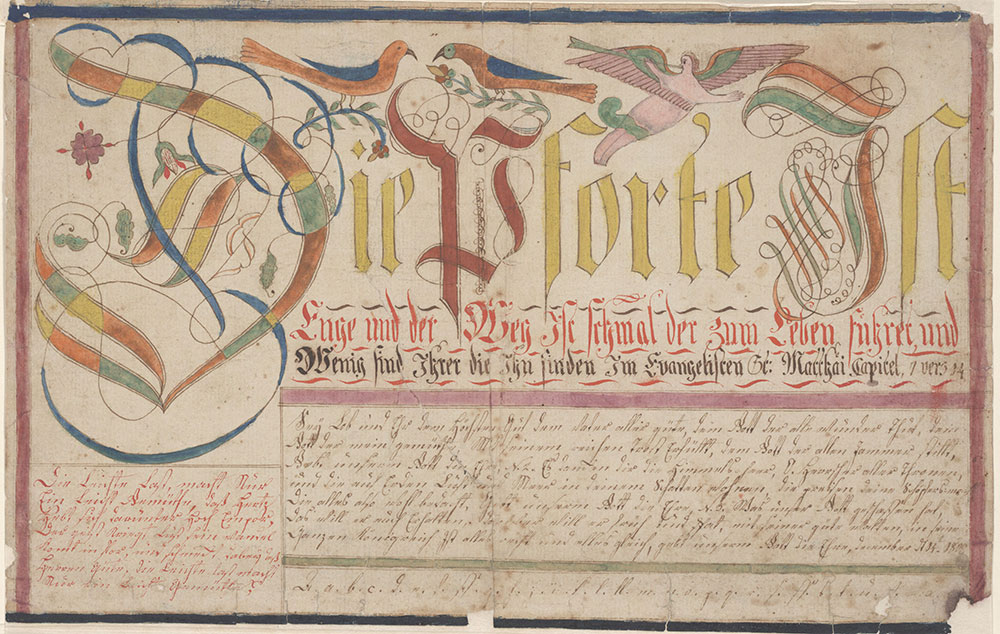 Item Info
Item No: frk00360
Title: Writing Exercise (Vorschrift) (The gate is narrow [Die Pforte ist Enge])
Creation Date:
12/14/1809
Scripts/Text:
Fraktur; German script
Language:
German
Weiser Number:
952
Physical Description:
Leaf
Material:
Laid paper; watercolor; ink
Transcription:
Die Pforte Ist \ Enge und der Weg Ist schmal der zum leben führet und \ Wenig sind Ihrer die Ihn finden Im Evangelisten St. Matthäi Capitel 7 vers 14
Sey Lob und Ehr dem Höchsten Gut dem Vater aller güte, dein Gott der alle Wunder thut, dein \ Gott der mein gemüthe Mit seinem reichen Trost Erfüllt, dem Gott der allen Jammer stillt, \ Gebt unseren Gott die Ehr, V.2. Es dancken dir die Himmels=heer, O Herrscher aller Thronen, \ und die auf Erden, Luft und Meer in deinem Schatten wohnen, preisen deine Schöpfers=macht \ die alles also wohl bedacht, Gott unserm Gott die Ehre V. 3. Was unser Gott geschaffen hat, \ das will er auch erhalten, darüber will er früh und spät, mit seiner güte walten, in seinem \ ganzen Königreich ist alles recht und alles gleich, gebt unseren Gott die Ehre, december d. 14, 1809. \
A. a. b. c. d. e. f. g. h. j. i. k. l. ll. m. n. o. p. q. r. s. st. s. t. u. v. w.
[in lower left]
Die Leichte Last, macht Nur \ Ein Leicht Gemüthe, daß Hertz \ Hebt sich darunter hoch Empor, \ Der geist kriegt Lust sein Wandel \ komt in flor, wird Schmuck dabey deß \ Herren Güte, die leichte last macht \ nur ein Leicht Gemüthe.
Translation:
The gate is narrow and the path is tight that leads to life, and few are there who find it in the Gospel of Matthew 7:14.
Be praise and honor to the highest good, that father of all goodness. Your God who does all wonders, your God who fills my spirit with his rich comfort, the God who quiets all complaints, give our God the honor.
Verse 2. The heavenly army thanks you, o ruler of all thrones, and those who live on earth, air and ocean in your shadow, praise your Creator's might that considers everything well, give our God the honor.
Verse 3. What our God has made, that he also wants to preserve, he will rule over it early and late with his goodness, in his kingdom everything is right and equal, give our God the honor. December 14, 1809.
A. a. b. c. d. e. f. g. h. j. i. k. l. ll. m. n. o. p. q. r. s. st. s. t. u. v. w.
[in lower left]
The light burden makes only a light spirit, the heart underneath rises up high. The spirit gets aroused, its change comes in a veil, the Lord's goodness becomes adornment with it, the light burden makes only a light spirit.
Category:
Writing Exercise (Vorschrift)
Media Type:
Manuscripts
Source:
Rare Book Department
Notes:
Hand-drawn; hand-colored; hand-lettered. The main text, with the first three lines in Fraktur and the remainder in German script, extends across the entire document. The first line is written in particularly prominent and decorative calligraphy. Above it are two birds and an angel playing a trumpet. The text in script is within two rectangular frames in the lower portion of the item. The entire document is enclosed by a decorative border.
The text is taken from a hymn by Johann Jacob Schütz that appeared in the Fraconia Conference Mennonite hymnal as well as other German Protestant hymnals.
Provenance:
Henry S. Borneman
Creation Place State/Province:
State/Province:[Pennsylvania]
Creation Place Note:Based on design characteristics
Image Dimensions Width:
20.3 cm
ShelfMark:
FLP 360
Creator Name:
Anonymous - Decorator
Anonymous - Scrivener