Writing Exercise (Vorschrift) (God is a Spirit [Gott ist ein Geist])
Fraktur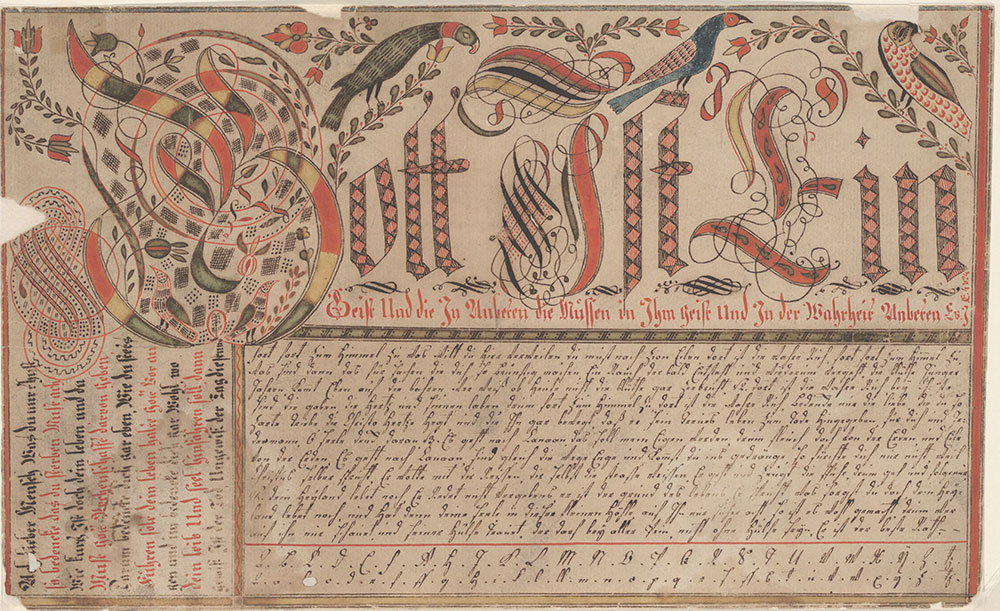 Item Info
Item No: frk00372
Title: Writing Exercise (Vorschrift) (God is a Spirit [Gott ist ein Geist])
Scripts/Text:
Fraktur; German script
Language:
German
Weiser Number:
964
Physical Description:
Leaf
Material:
Laid paper; watercolor; ink
Transcription:
Gott Ist Ein \ Geist Und die In Anbeten die Müssen in Ihm geist und In der Wahrheit Anbeten Ev. J. C. 4 v 24.
Fort fort zum Himmel zu was wilt du hier verweilen, du must nach Zion Eilen dort ist die wahre Ruh, fort fort zum Himmel zu \ was sind dann das für Harfen, die dich so brünstig machen. Ein Rauch der bald Entsteht und wiederum vergeht, die blüthe Jünger \ Jahren kommt Eben auf die bahren, wer weiß ob heute nicht die blüthe gar zerbricht. V 2. dort ist die wahre Ruh bey Christo \ sind die gaben, die Hertz und sinnen laben drum fort zum Himmel zu dort ist die wahre Ruh Bedenke nun die liebe die du so \ zarte Triebe die Christo Hertze hegt und die Ihn gar bewegt, daß er sein treues leben zum Tode hingegeben, für dich und Je= \ dermann, O Seele denk daran. V 3. Es geht nach Canaan, das soll mein Eigen werden, drum fleuch doch von der Erden und Eile \ von der Erden, Es geht nach Canaan, sind gleich die wege Enge und kommst du ins gedränge, so fürchte dich nur nicht, weil \ Christus selber spricht, Er wolte mit dir Reissen, dir selbst die strasse weissen, Er geht und zeugt die spuhr, drum geh und folge mir \ V 4. dein Heyland lebet noch Er Redet nicht vergebens er ist der grund des lebens Er spricht, was sorgst du doch dein hey= \ land lebet noch, und hat drum deine Seele in dieser kleinen Höhle auf Ihn nur sicher acht, so ist es wohl gemacht drum wer \ auf ihn nur schaut und seiner Hülfe traut, der darf bey aller pain, nicht ohne Hülfe seyn. Er ist der beste Rath.
A. B. C. D. E. F. G. H. J. K. L. M. N. O. P. Q. R. S. T. U. V. W. X. Y. Z. tz. \ A. a. b. c. d. e. f. ff. g. h. i. k. l. ll. m. n. o. p. q. r. s. s. ss. s. t. u. v. w. x. y. z. tz.
[in lower left corner]
Ach lieber Mensch was du nur thust \ so bedencke das du sterben must ach \ Wie kurz Ist doch dein leben und du \ Must Gott Rechenschaft davon geben, \ Darum bedencke dich gar eben, Wie du stets \ führen solt dein leben halte Gott Vor au \ gen und im [word omitted] bedencke dich gar wohl wo \ dein leib Und seel hingefahren soll dann \ gewiß Ist der Tod, Ungewiß der Tag diesenn.
Translation:
God is a Spirit and they who worship him, must worship him in spirit and in truth. Evangelism John 4:24.
Away, away to heaven. Why do you want to remain here, you must hurry to Zion, there is true rest. Away, away to heaven, what types of harps are these which make you so ardent? A smoke which soon appears and then again disappears. The flower of young years comes onto the bier. Who knows whether today the flower breaks to pieces.
V. 2. There is true rest. With Christ are the gifts that nurture heart and mind. Therefore, away to Heaven, there is true rest. Consider now the love that drove you so tenderly, that is in Christ's heart and moved him so that he gave his dear life in death for you and everybody. O soul, think of it.
V. 3. It goes to Canaan. This shall become my own. Therefore I flee from earth and hurry from earth. It goes to Canaan. If soon the paths are narrow and you come under pressure, so do not fear, because Christ himself speaks. He wants to travel with you, to show you the road himself. He goes and shows the path, therefore go and follow me.
V. 4. Your Savior still lives. He speaks not in vain. He is the reason for life. He speaks, what are you worried for, your Savior still lives, and he therefore has your soul in this little cave. Pay steady attention to him, then it is rightly done. For who looks to him steadily and trusts his help may not be without help in all pain. He is the best counsel.
A. B. C. D. E. F. G. H. J. K. L. M. N. O. P. Q. R. S. T. U. V. W. X. Y. Z. tz. A. a. b. c. d. e. f. ff. g. h. i. k. l. ll. m. n. o. p. q. r. s. s. ss. s. t. u. v. w. x. y. z. tz.
[in lower left corner]
O, dear man, whatever you do, consider that you have to die. O, how short is your life and you must give God account of it. Therefore remember well how you shall always lead your life. Hold God before your eyes and in your [word omitted]. Remember well where your body and soul may go, for death is certain, uncertain is the day of it.
Category:
Writing Exercise (Vorschrift)
Media Type:
Manuscripts
Source:
Rare Book Department
Notes:
Hand-drawn; hand-colored; hand-lettered. The text in Fraktur and German script covers the entire document. The first three words are written in particularly prominent and decorative calligraphy. Above them are leafy vines of flowers and three birds. The main text in German script within a rectangular frame is in the lower right portion of the item. One verse in fraktur is written vertically in the lower left corner. The entire document is enclosed by a decorative border.
Johann Adam Eyer taught school in Bucks County, followed by a brief period in Lancaster and then Chester Counties. From c. 1792-1800 he taught in Mount Bethel Township, Northampton County. Around 1800, Eyer and other family members moved to Hamilton Township, Northampton County (now part of Monroe County), where he taught until c. 1820.
Associated Names:
Eyer, Johann Adam
Creation Place State/Province:
Creation Place Note:Based on design characteristics and artist's location
State/Province:[Pennsylvania]
Creation Year (Single Year or Range Begin):
ca. 1820
Image Dimensions Width:
19.8 cm
ShelfMark:
FLP 372
Creator Name:
[Johann Adam Eyer (1755-1837)] - Decorator
[Johann Adam Eyer (1755-1837)] - Scrivener