Writing Exercise (Vorschrift) (Christ is the true light [Christus ist das warhaftige Licht])
Fraktur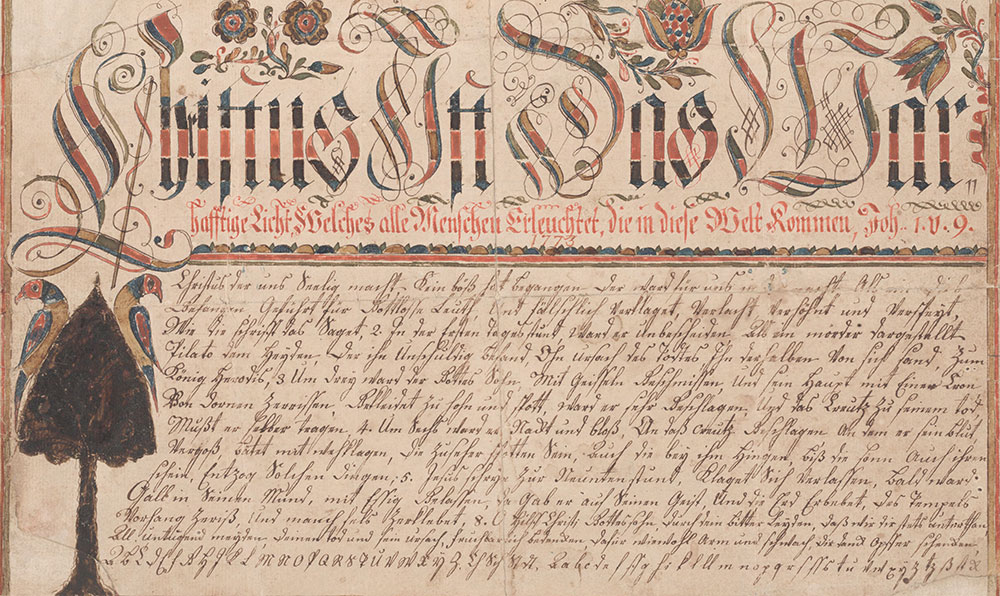 Item Info
Item No: frk01113
Title: Writing Exercise (Vorschrift) (Christ is the true light [Christus ist das warhaftige Licht])
Scripts/Text:
Fraktur; German script
Language:
German
Weiser Number:
249
Physical Description:
Leaf
Material:
Laid paper; watercolor; ink
Transcription:
Christus Ist Das War \ haftige Licht, Welches alle Menschen Erleuchtet, die in diese Welt kommen, Joh. 1. v. 9. \ 1773
Christus der uns Seelig macht, Kein böß hat begangen, Der ward für uns in der nacht All wie dieb \ Gefangen, Geführt für Gottlose Leuth, Und fälschlich verklagt, verhaftet, verhöhnt und verspeyt, \ Wie die Schrift das Saget, 2. In der Ersten Tagesstund ward er unbescheiden, Als ein mörder dargestellt \ Pilato dem Heyden, Der ihn Unschuldig Befand, Ohn ursach des Todtes, Ihn derhalben von sich sand, zum \ König Herodis, 3. Um drey ward der Gottes Sohn, Mit Geisseln Geschmissen, und sein haupt mit Einer Cron \ Von Dornen Zereissen, Gekleidet zu Hohn und spott, ward er sehr geschlagen; Und des Creutz zu seinem tot, \ Mußt er selber tragen, 4. Um Sechs war er Nackt und bloß, An daß creutz geschlagen, an dem er sein blut \ vergoß, bätet mit wehklagen, Die zuseher spotten sein, Auch die bey ihm hingen, biß die sonn auch ihren \ schein, Entzog Solchen dingen; 5. Jesus schrye zur neunten stund, Klaget Sich verlassen, Bald ward \ Gall in seinem Mund, mit Essig gelassen, da gab er auf seinen Geist, Und die Erd Erbebet, der Tempels \ Vorhang Zeriß, Und manch fels zerklebet, 8. O Hilf Christi Gottes Sohn, durch dein bitten leyden, daß wir die stets unterthan \ All Untugend meyden, deinen tod und sein ursach, fruchbarlich bedencken, dafür wiewohl arm und schwach, Dir danck opfer schencken, \ A B C D E F G H J K L M N O P Q R S T U V W X Y Z Ch Sch St st, A a b c d e f ff g h i k l ll m n o p q r s ss s t u v w x y z tz ß st ck
[on reverse]
Phillip Heyl

Translation:
Christ is the true light which enlightens all people who come into this world. John 1:9. 1773
[1.] Christ, who makes us blessed, committed no evil, was taken for us in the night, caught like a thief, lead before godless people and wrongly accused, arrested, mocked, and derided, as the scripture says.
2. In the first hour of the day he was arrogantly presented as a murderer to Pilate, the heathen, who found him innocent, without cause for death. For this reason he sent him away to King Herod.
3. At three o'clock, God's son was flagellated and his head was torn by a crown of thorns, dressed for derision and mockery he was very much beaten. And the cross to his death he had to carry himself.
4. At six o'clock, he was, naked and bare, hammered to the cross on which he shed his blood. Pray with lamentation. The spectators mocked him, also those who were hanging next to him, until the son withdrew its light from such things.
5. Jesus cried at the ninth hour, lamented his abandonment. Soon gall was put into his mouth with vinegar. There he gave up his spirit and the earth trembled, the temple's curtain tore, and many a rock was broken.
8. [sic] O help, Christ, God's son, through your bitter suffering that we may always be subject to you, avoid all vices, contemplate fruitfully your death and its cause. For, even though poor and weak, we give you thanksgiving.
A B C D E F G H J K L M N O P Q R S T U V W X Y Z Ch Sch St st, A a b c d e f ff g h i k l ll m n o p q r s ss s t u v w x y z tz ß st ck
[on reverse]
Phillip Heyl

Category:
Writing Exercise (Vorschrift)
Media Type:
Manuscripts
Source:
Rare Book Department
Notes:
Hand-drawn; hand-colored; hand-lettered. The text extends across the document. The first two lines in Fraktur are separated from the remainder of the text, which is in German script, by a border. The first line is written in particularly prominent and decorative letters. Above it are various flowers, including a tulip. In the lower left corner is a tree with two birds. The document is framed on the sides by decorative bands.
Associated Names:
Kolb, Andreas
Provenance:
Scott Francis Brenner
Bibliography:
"Andreas Schwartz Kolb" in Russell D. and Corinne P. Earnest, Papers for Birth Dayes: Guide to the Fraktur Artists and Scriveners (East Berlin, Pa.: Russell D. Earnest Associates, 1997), 2nd ed., vol. 1, pp. 453-455.
Mary Jane Lederach Hershey, "Andreas Kolb, 1749-1811," in The Mennonite Quarterly Review 61, no. 2 (April 1987): 121-192.
Creation Place County:
Creation Place Note:Based on design characteristics and artist's location
Region/County:[Montgomery]
State/Province:[Pennsylvania]
Creation Year (Single Year or Range Begin):
1773
Image Dimensions Width:
19.7 cm
ShelfMark:
FLP 1113
Creator Name:
[Andreas Kolb (1749-1811)] - Decorator
[Andreas Kolb (1749-1811)] - Scrivener